Kevin Eastman Turns Out For Turtle Month
Mar 11, 2013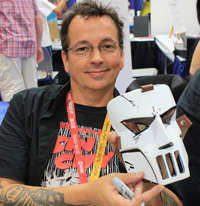 In this PREVIEWSworld Exclusive interview, Teenage Mutant Ninja Turtles co-creator Kevin Eastman tells how he's back in the saddle again for making more high-caliber mischief for the heroes in a half shell, kicking off the "City Fall" storyline with issue #22 of IDW's ongoing series.
PREVIEWSworld: IDW's cover page in the PREVIEWS catalog has Dirk Wood rendered as a turtle, since March is being touted as "the month of the turtle." Your story in Teenage Mutant Ninja Turtles #22 must be pretty big for that kind of promotion. Enlighten us, Kevin. What's going on with the "City Fall" storyline that's being dubbed "the biggest story arc"?
Kevin Eastman: Just to get it said right off the bat so there is no question where I stand on the new series for the fans out there, I think Tom Waltz is a genius! I could not be MORE impressed with the "re-invention/re-structuring/re-launch" of the TMNT's he created and directed, backed up by Ted (Adams), Greg (Goldstein), and the rest of the awesome IDW crew--especially series editor Bobby Curnow (a talented Dude whom is so much more than that) who can be both deadline drill Sergeant and story Surgeon in the same sentence, and always be 100% on top of his game. This entire series has been carefully, thoughtfully, and masterfully overseen by Nickelodeon — who have been 1000% supportive — letting out all the creative rope needed when needed, and course correcting when needed as well. A perfect creative storm in my opinion.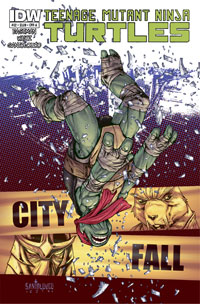 That needed to be specifically said, because in this wonderful new TMNT world I have been given the opportunity to become fully re-immersed in my "co-creation" (with a huge tip of that hat to the awesome Peter Laird of course) and simply have the best time of my life, not only drawing the Turtles like I did in the early days, but enjoy them as much as I did back then. Plus, I get to contribute here and there to one of the coolest TMNT overall storyline/mega-arcs.
What is so cool about the exciting NEW foundation created here is that it has been carefully and specifically designed. It's been built on and/or inspired by the 29 years of TMNT stories and universes (the original comics, animated series(s), movies, etc.), but re-configured with incredibly cool new original ideas. If the fans have been digging what Tom has been doing so far, along with what I think is some of the hottest new artists working out there today (Dan, Andy, Ben, Mateus, and the awesome one shot comic teams), "City Fall" WILL rock your world! In almost every way, this next arc has been building since issue one of the series, and I personally think it is fantastic — which is easy for me to say as Tom has done ALL the serious heavy lifting. But I can say that I not only get to be an inspiration but a brother in the trenches, and a fan of Tom's talents.
The issue I'm currently doing all the art chores on is TMNT #21, and I'm also co-plotting stuff with Tom and Bobby. We're expanding on how the Turtles need to train and grow as martial artists — both in discipline and spiritual abilities--and wouldn't this be an ongoing series sub-plot we hope to bring front and center in another sixty page Annual soon... hint... hint... hint. I will tell you this, I simply could NOT be having more fun drawing the TMNT's like this again. Pure joy in my life.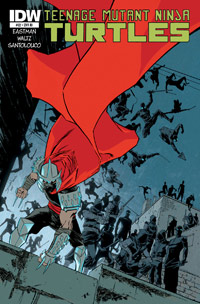 PREVIEWSworld: Mateus Santolouco takes over as the ongoing artist starting with issue #22. How did this lucky guy get the gig? Who did he bribe?
Kevin Eastman: Like the incredible talents on the TMNT series that came before Mateus Santolouco (who also guested in TMNT #5) I look at the work they are doing and it makes me want to break all my pencils and find another job! I'm a fan of comics and the people that create them — especially the artists — in all types of skill and shapes and sizes. And being one of them, I feel like I know what goes into making them good--and these guys make them look REALLY good. When I saw the work Mateus was doing on the "Secrets of the Foot Clan" series my jaw literally hit the floor — the work is fantastic. Brilliant! I will follow whatever new projects he'd be working on, TMNT's or not--but I feel like I can speak for all the fans, I'm just glad he's staying with the Turtles!
PREVIEWSworld: A wide range of your work is being showcased in March, with IDW offering your work in "Color Classics" #10, as well as your previous work in the Volume 5 TP, "Krang War." With this much previous material, and the ongoing stuff you're still cranking out, have you or anyone else discussed plans for a future Omnibus or Artist's Edition of TMNT material?
Kevin Eastman: I think what always blows me away with the reprint work is how many fans, new and old, come back and embrace the original material! The fact that it sold the first time around was amazing enough, but the second and the third time is such a huge compliment I accept with great pride. I will say, out of ALL the collections done over the years, the IDW collections blow them all away--it is even hard for me to recall a close second place runner up. Seriously.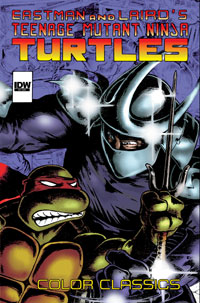 The oversized hardcover "Ultimate Collections," the "Change is Constant" Deluxe Editions, the Super Limited Handmade Editions with the original drawn plates, all of those to me are beyond fantastic. Being a collector that couldn't wait for the IDW "Stevens/Simonson/Mazzuchelli/Romita/Argones/Toth/Wood/etc" collections to come out, I can't express the honor of having some of the work Peter and I did collected in the same style editions. We stand on the shoulders of these guys, and what a privilege it is to be in those ranks!
PREVIEWSworld: When you go to conventions, what do you hear fans say today that they weren't saying back when you were doing things as old as Bodycount with Simon Bisley. What new TMNT developments are fans excited to talk about at the shows?
Kevin Eastman: Well, firstly you'd be amazed at how many of the "same things" they are saying--especially when they're talking about the new IDW series. Most of them say how much in "storytelling tone" the new series is to the original black and white series, and how much they love it, and many more talk about how their first introduction to the TMNT series was the animated series or the films. They say how awesome it is to see so many elements they grew up on and loved from those shows written for an older audience. It's like the series has been revamped and intended just for them--the original fans--and that to me is the coolest. I really love that I have been able to start getting back out to the shows again, and I'm doing about one a month this year. The fans are the best in the world to me. They have given me a dream job, and a career of a lifetime. I would be honored to have a single fan, but the TMNT fans are really incredible. I'm very blessed.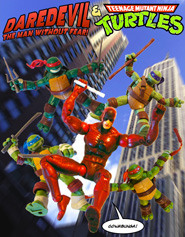 PREVIEWSworld:. So if you had a chance to entertain a fantasy, and have the Turtles do a crossover with another comic book super team, which team would get the nod, and why?
Kevin Eastman: Daredevil/TMNT's plain and simple--not even a close second on the horizon. I have been a lifelong Daredevil fan, and still have some original Gene Colan pages around the my studio, next to Kamandi as a creation. DD is my all time favorite comic character … period. I still clearly remember when a newcomer was introduced in Daredevil #158 named Frank Miller. Frank is a personal hero I put on the same level as Kirby, Corben, Bode, and Severin as my most important artistic influences. Frank's work had my mind blown for the next thirty four issues. I would love, love, LOVE to do a 100 page crime/ninja war/character epic Daredevil/TMNT. I would pay to let someone let me do it--I might have to just do it even if it never sees print just to get it out of my system! That would really be a dream come true — and I want to write it with Tom.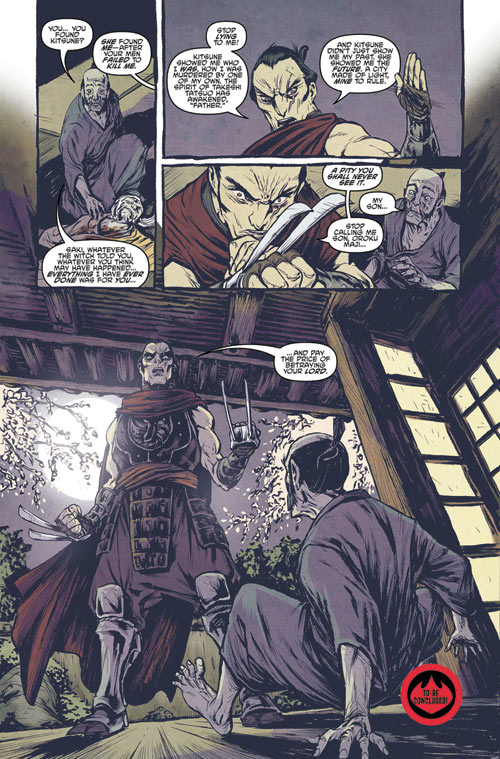 *Sneak Peek at Teenage Mutant Ninja Turtles #22!