Sneak Peek: House of Gold and Bones #1
Mar 01, 2013
Dark Horse Comics has parted with some of the interior pages for Corey Taylor's new horror comic book, House of Gold and Bones. This book is scheduled to hit shops in April. Corey Taylor (lead singer of Slipknot and Stone Sour) has said repeatedly that he's totally pumped to be working with Dark Horse on this project. We think that after glancing over some of these interiors you'll understand his excitement!
**********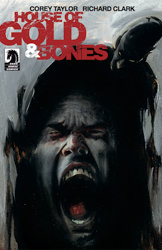 House of Gold & Bones #1
Publisher: Dark Horse Comics
(W) Corey Taylor
(A) Richard Clark
(Covers) Dan Jackson, Jason Shawn Alexander
Trapped in an alternate reality, the Human must make his way to the House of Gold & Bones as he is chased by a crazed mob, and taunted by mysterious ally, Allen.
What the Human discovers on his journey will be his salvation . . . or his destruction.
Item Code: FEB130008
Price: $3.99
PREVIEWS Page #40
In Shops 4/17/2013
Check out our previous interview with Corey Taylor here.