Zenescope Unleashes Monsters and Hunters on Grimm Universe
Feb 28, 2013
Tieing in directly with the Grimm Fairy Tales Universe, Zenescope's latest Grimm event, UNLEASHED, delves into the world of classic horror monsters and the hunters who take them down. Grimm Fairy Tales UNLEASHED is the main seven issue mini-series that begins when hundreds of formerly trapped vampires, werewolves, demons and zombies are all released on Earth by a very powerful entity known as "The Being." Now, four separate monster hunters (who fans will get to know in separate "Unleashed" mini-series), must join forces along with Grimm's kick-ass heroine Sela Mathers in order to stop them.
The five other mini-series will lead directly into UNLEASHED and follow the terrifying stories of the monsters that exist within the Grimm Universe. These series are The Eternal (Vampires), The Unseen (Demons), The Hunger (Werewolves) and The Cursed (Zombies). The fifth series entitled "The Hunters: Shadowlands" will follow those who are chosen to hunt these wretched creatures, including Zenescope's reimagined Van Helsing.
PREVIEWSworld talked with writer Pat Shand about the 24-issue UNLEASHED event, the possible teaming-up of Sela and Belinda, and all of the new hunters and the monsters they'll face (including the mysterious "Being") as horror is released onto the world. If you're new to the Grimm Universe, the UNLEASHED event is the perfect place to start, and returning fans will not want to miss this interview.
***********
PREVIEWSworld: According to the Unleashed release schedule this crossover event will span across 24 issues. Give us an overview of the BIG Grimm Universe Event?
Pat Shand: The elevator pitch is basically fairy tale heroes vs. classic monsters. It's made up of six miniseries, and I think it's important to note, though, that UNLEASHED is an event – not a crossover. You won't need to get all 24 issues to get the full story.
The central and eponymous miniseries, UNLEASHED, is told in seven parts. Readers will not need to go beyond that to get the complete story for that arc. What the other series are doing is telling brand new tales about supporting characters we're introducing in UNLEASHED.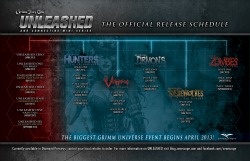 Click image to view release schedule
I feel like readers will kind of balk at hearing "Twenty-four issue event!" and I totally get that. I think when folks see the shape of it, though, they'll see that each of the series (Unleashed, Vampires: The Eternal, Demons: The Unseen, Werewolves: The Hunger, Zombies: The Cursed, and Hunters: The Shadowlands) each has a unique voice and its own thing to say.
PREVIEWSworld: How did you and the Zenescope team come up with the idea for the event?
Pat Shand: Raven Gregory asked me to introduce a new villain into the first issue of GRIMM UNIVERSE #1, and I came up with this unnamed creature, who we have been internally calling "the Being."
We kept having ideas from him and I wrote a proposal for a sort of epilogue to GODSTORM that I wanted to use to start a storyline called "Darkness Rising," but then Raven just called me and said, "Let's go bigger. The Being. Classic monsters. UNLEASHED!" and from there, the two of us just plotted this thing from top to bottom.
It's staggering in scope and is very scary for me as a writer to tackle, but I've had the time of my life working on it.
PREVIEWSworld: The Being has unleashed a legion of monsters on earth. What can you tell us about The Being and the monsters we'll see?
Pat Shand: The Being is mystery embodied. More and more will be revealed about him as the series goes on, but he has no name – and that is a plot point. He has more power than any of our previous villains combined, and the way he's playing his game sets him apart from all of our other baddies.
And the monsters, they're quite literally horror embodied. Our vampires won't sparkle and they have absolutely no interest in Kristen Stewart. Same goes for our werewolves, zombies, and demons.
PREVIEWSworld: Fighting the monsters will be four monster hunters. Liesel Van Helsing will battle the Vampires, but who will fight the demons, werewolves and zombies?
Pat Shand: Masumi, a silent female assassin, specializes in demons, the amoral and gruff hunter Roman has an axe to grind with werewolves, and the timelost badass Elijah likes whipping zombies into little bits.
Though, they definitely fight all of the monsters. You won't see Helsing take Masumi aside and go, "Hey, Masumi… I saw you take a swing at that vampire over there. Vampires? That's my thing. Go find a little girl to excise or something."
Actually, now I kind of want to write that scene.
PREVIEWSworld: Tell us how Grimm's main character Sela and her arch nemesis Belinda will be affected? Will they have to work together?
Pat Shand: Sela, along with Helsing, is probably the chief protagonist of UNLEASHED. It's world-spanning, but Sela is the flagship character of the Grimm Fairy Tales universe, so she's very central to what's going on here.
Her nemesis Belinda is back, but it's a bit more complicated than I originally envisioned. Sela witnessed Belinda sort of redeem herself by dying for a good cause, but now Belinda is back – now she has to live with her decision and see if she actually can be good. And if she can, can Sela trust her?
Even if she does, how does someone like Belinda, who has committed the evilest of acts for centuries upon centuries, gain redemption? It's impossible, I think, but Belinda is ready to try and start to redefine herself.
Writing her and Sela in the same scene is a dream come true.
PREVIEWSworld: Finally, if you aren't a regular Grimm Fairy Tales reader, tell us why Unleashed is a great place to start?
Pat Shand: It's the most new reader friendly we've been since the first issue of the series. While what happened before UNLEASHED is not ignored, UNLEASHED is a new beginning.
All of the stories that go down in the new year or so from Zenescope will be steeped in the events that will be going down in UNLEASHED. This (and I know comics companies love saying this, but this is true for these series) changes absolutely everything.
Down the line, all of the titles will be drastically changed by UNLEASHED and what our characters go through.