Manga & More Month: Stan Sakai on Usagi Yojimbo
Mar 03, 2013
Stan Sakai has been writing and drawing the adventures of Usagi Yojimbo, his anthropomorphic take on the classic samurai movies and legends of old, for nearly 30 years. Gaining popularity around the world, it's an easy concept to share with readers around the world, who can all understand and appreciate the idea of a lone swordsman who fights for justice and protects the weak. We touched base with Stan to discuss his long-running series and his current work on the adaptation of 47 Ronin…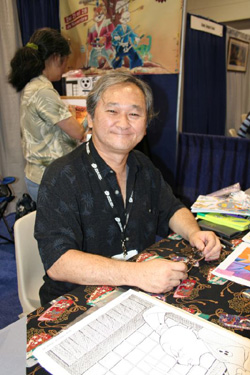 PREVIEWSworld: You created Usagi Yojimbo in 1984. What are the origins of the "rabbit ronin" and the influences you tapped for his creation?

Stan Sakai: I'm a third generation Japanese-American, and grew up in Hawaii. I always enjoyed comic books, movies, and drawing, and wanted to do a story inspired by a 17th century samurai, Miyamoto Musashi. I did a random drawing in my sketchbook one day of a rabbit with his ears tied into a "chonmage", a samurai topknot. Instead of Miyamoto Musashi, I named my new character Miyamoto Usagi ("usagi" means "rabbit" in Japanese). This was about 1982. Usagi made his first appearance in 1984 in Albedo Comics #2.

PREVIEWSworld: What constitutes your work process when beginning a new issue of Usagi Yojimbo?

Stan Sakai: Once I get an idea, I have to write it down. I get ideas from all over — sketching, reading about Japanese history or culture, or watching films. I do an outline of the story, roughly breaking it down into scenes and pages. This helps determine the pacing of the story. The next step is to do thumbnail drawings of the pages. This is for composition of the pages and panels, and acts as my script. From there, I do the pencils, lettering, and inking, and send the finished pages to my editor, Diana Schutz. This entire process takes about five weeks. This is a comfortable pace for me, and gives me time to work on other projects such as lettering the Spider-Man Sunday strips or doing stories for other publishers.

PREVIEWSworld: You have paid homage to several famous samurai characters during the long run of Usagi Yojimbo... chief among them Zatoichi and Sanjuro. Are there any famous characters or personalities you would like to incorporate into future stories?

Stan Sakai: There is a story arc I've been wanting to do for awhile. Wong Fei Hung is a doctor that lived in the early 20th century. He was also a kung fu master, so Usagi would have to face a different fighting style.

Another story arc deals with Hideyoshi, one of the great warlords of history, and the search for his hidden war chest.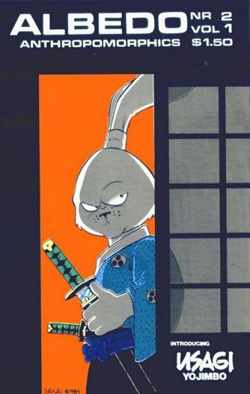 PREVIEWSworld: You're currently adapting the classic Japanese samurai legend, 47 Ronin, with Dark Horse president Mike Richardson. How has that experience been thus far?

Stan Sakai: I've known the story since the third grade. It is one of the most well known incidents in Japanese history. I'm glad to be doing the art for it. I made a pilgrimage to Sengaku-ji, where the ronin are buried, last time I was in Tokyo. This is even before Mike approached me with this collaboration. The very first panel is based on a photo I took at the temple.

In doing the research, I was surprised at how much of the story is fact, how much is speculation, and how much is fabrication. There is still debate on whether their conspiracy was in keeping with bushido, the code of the samurai. They achieved their objective of slaying Kira, but, by waiting so long, did they compromise their honor? If Kira died a natural death before they carried out their plan, the ronin would be remembered with shame rather that being idealized as the epitome of samurai loyalty.

Mike is great to work with. He provides me with full scripts, but is very open to my own ideas. I send in penciled pages, on which he writes his final script for letterers Tom Orzechowski and Lois Buhalis. I took my inspiration for the art from Japanese woodblock prints, as did colorist Lovern Kindzierski, who is doing an excellent job. I couldn't be happier.
PREVIEWSworld: While adapting 47 Ronin, you've been working closely with manga giant Kazuo Koike of Lone Wolf and Cub fame. What does he bring to the project?

Stan Sakai: Mike has known him for years, and he acts as a go-between for Koike-sensei. I do know he likes the art.

PREVIEWSword: Where do your tastes fall in samurai film directors "Old School" like Akira Kurosawa (Seven Samurai, Yojimbo), or "New Wave" like Takashi Miike (13 Assassins, Hara-Kiri: Death of a Samurai)?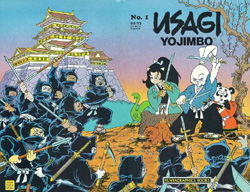 Stan Sakai: I grew up with Kurosawa, Inagaki, and the old school directors, but appreciate the current wave. The older ones tend to keep the idealized flavor of the samurai, whereas the newer directors go for the visuals and the action, such as that ending to 13 Assassins where the group traps the lord and his entourage in the village and it's an all-out spree from there.

PREVIEWSworld: In a previous interview, you remarked that Usagi Yojimbo was very big in Poland. Has your series found popularity in any other countries, and has it found a larger audience in Japan?

Stan Sakai: Usagi has been translated into twelve or thirteen languages, though not Japanese. Besides Poland, it does especially well in France and Spain. There has never been a Western comics series that has made any type of significant dent in Japan's manga market. It could be the types of stories or the Western pacing don't appeal to their market. I was in Japan for a manga/comics symposium, and was frankly surprised that people knew my work.

PREVIEWSworld: Since many comics creators are also fans, is there any kind of artwork or form of pop culture that you personally collect?

Stan Sakai: Like many comic book people, I have an eclectic collection of original art, old comics, toys, etc. I do have a nice selection of original drawings of Usagi done by other professionals. These include Sergio Aragones, Frank Miller, Geoff Darrow, Alphonso Azpiri, Guy Davis, and even Stan Lee.

PREVIEWSworld: 2014 marks the 30th anniversary of Usagi Yojimbo. Do you have any special plans you can discuss for this landmark anniversary?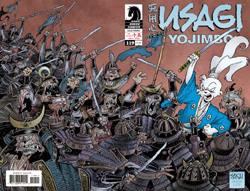 Stan Sakai: I'm anxious to finish 47 Ronin and get back to Usagi. The plan is to start with a mini-series that is totally out of continuity with the regular books. What if the Martians had sent a scout ship to earth 200 years before H.G. Wells' War of the Worlds? This will take place a few years in Usagi's future, and there will be samurai armies attacking the bullet-shaped craft, ninja versus Tripods, and samurai fighting aliens. It won't be historically accurate, but it will be fun! I have wanted to do this story for years, but was always in the middle of one story arc or another. This would be the perfect opportunity.

After the mini-series, I go back to the regular Usagi comics. I have already done more than 200 issues, and the story will continue where I left off.

PREVIEWSworld: Finally, with the popularity and critical success of Usagi Yojimbo over the years, where do you see your series' place in the overall history of comics and popular culture?

Stan Sakai: Usagi is certainly one of the longest running creator owned/independent comic series. He's broken into popular culture with appearances in the Teenage Mutant Ninja Turtles, and I've had major exhibitions in the U.S. and Europe. I will be speaking at the Museum of Fine Art in Boston in May, and at the Japanese-American National Conference in July. All this aside, though, I'm just happy to be doing what I'm doing!