Manga & More Month: Interview with Mike Richardson
Mar 12, 2013
PREVIEWSworld: Dark Horse is currently celebrating its 25th Anniversary for publishing manga. Can you discuss the history — so far — of Dark Horse Manga for those readers who are unfamiliar with the line?
Mike Richardson: I had always had a fascination with Japanese culture; from the animation I watched when I was young to the films of Akira Kurosawa while in college. I collected the Japanese art books I could find while growing up and finally discovered Japanese manga. And, of course, there were the Japanese monster movies.
The influence of Kurosawa's samurai films led to my discovery of the "baby cart" films, as they were known then, and that ultimately led to Kazuo Koike and Goseki Kojima's epic manga series. I believe it was John Bruno, director and special effects wizard, who coined the term "Lone Wolf & Cub," as the characters were later known. I was able to come up with copies of the Japanese Action comics in which they appeared and ended up chasing those rights for ten years before Dark Horse was finally able to land them.
Almost immediately after launching Dark Horse, Randy Stradley and I began discussing how we'd approach Godzilla comics differently than Marvel had. We decided to go after the rights and found they were held by Hank Saperstein and his company, UPA. In 1987, we published our very first manga project, Godzilla: King of the Monsters. It was followed quickly by others, including the aforementioned Lone Wolf & Cub, Otomo's Akira, Shirow's Ghost in the Shell, Nightow's Trigun, Samura's Blade of the Immortal, America's longest-running manga series, Oh My Goddess! by Fujishima and, more recently, an overall deal with Japanese superstars CLAMP.
PREVIEWSworld: What criteria does Dark Horse use in choosing which titles to publish?

Mike Richardson: Obviously we have our own favorites here, and our line has featured a very strong seinen lineup, with titles such as Hellsing, Gantz, Berserk, Ghost in the Shell, etc. Our choices, however, reflect the approach we take with our overall line; that is, we are not looking to focus on a specific type of comic, but a wide variety of the BEST comics. Our manga line also features such hits as Oh My Goddess! and the assorted CLAMP titles.

PREVIEWSworld: What current trends do you see in manga publishing?

Mike Richardson: For Dark Horse, it's been business as usual. Obviously, the larger market has seen shrinking sales. The days of experiencing meaningful sales with mediocre work are gone. The key to success as we move forward is to focus on the best series and the most talented creators. A strong digital strategy is also key to bringing in new readers.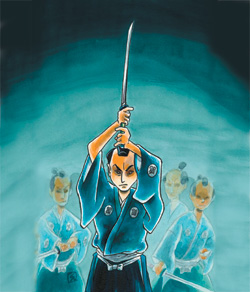 PREVIEWSworld: You're currently working on an adaptation of 47 Ronin with Usagi Yojimbo creator Stan Sakai. How is this collaboration working so far?

Mike Richardson: A beautiful collaboration with a great creator. We've worked very well together and I'm really proud of the book. Stan is a dream to work with. Judging from 95 percent of the reviews and 100 percent of the mail, the readers love the series.

PREVIEWSworld: While adapting 47 Ronin, you've been working closely with manga giant Kazuo Koike of Lone Wolf and Cub fame. What does he bring to the project?

Mike Richardson: Koike urged me to go forward with the project. He's discussed my outlines and scripts and kept me in the right direction. As a historian, his viewpoint is invaluable. Just as important, his eye on the work makes sure that I understand the nuances of the legend and its historical importance. He also understands the difficulty in bringing this story to an American audience in a manner that is interesting and entertaining. His hope, and mine, is that the series will inspire people to research the historical event itself. It is very complex and as many have said, has much to say about Japan's cultural heritage. One saying I've picked up and used is, "To know the 47 Ronin is to know Japan."

PREVIEWSworld: Can you tell us about any upcoming manga projects or series?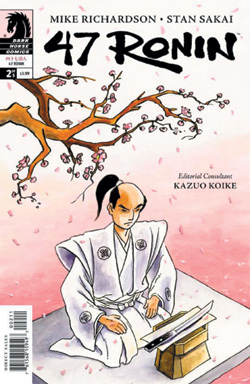 Mike Richardson: Well, in addition to Hiroaki Samura's Emerald, which will be released in February, there are a number of new titles coming from Dark Horse in 2013, including omnibus editions of classic series, like Lone Wolf & Cub, as well as new collections from our fruitful partnership with CLAMP. In addition to continuing our omnibus program with this Japanese creative powerhouse, we will also be releasing the first volume of Blood-C, their creative partnership with the creators of the hit Blood+ anime. We are also releasing the omnibus collection of Tokyo Babylon, one of CLAMP's earlier works. We are acquiring new titles all the time. Other companies may be slowing down, but Dark Horse is still as committed to manga as we've ever been.

PREVIEWSworld: What series would you recommend to someone who is new to manga?

Mike Richardson: I think two series that are tailor made for readers looking to check out Japanese comics for the first time are Kazuo Koike's masterwork, Lone Wolf & Cub, and Hiroaki Samura's Blade of the Immortal. Both of these series have a feel that could grab fans of American comics, as well as movie buffs who have enjoyed films by the likes of Quentin Tarantino and Robert Rodriguez. However, it's important to remember that, much like what we think of as "traditional comics," manga has something for everyone.