Indie Edge March 2013: Kieron Gillen
Feb 15, 2013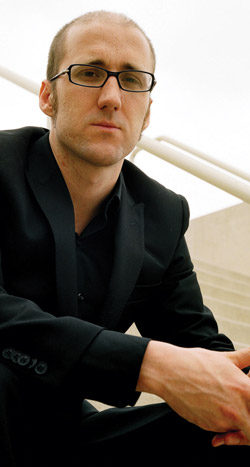 This month's featured creator is…
Kieron Gillen

I'm Kieron Gillen. When I'm not obsessing over random B-sides of girl indie groups of the 90s, I write comics. Which means that after the obsessing is done, I have 23 minutes a day to write a bunch of stuff.
I was doing self-publishing, editorial, and webcomics in the early 2000s before getting my big break at Image with Phonogram: Rue Britannia.
From then, I've alternated between Indie and WFH stuff. I've been doing my own stuff alongside my Marvel books, but it basically seems to have taken until now to get any of it out.
I AM BASICALLY EXTREMELY PREGNANT WITH COMICS. INDUCE ME! INDUCE MY COMIC BABIES.
Breathing now.
Kieron Gillen, what are some of your favorite projects?
Phonogram is still one of the most magical experiences of my life. The first was our rough and raw first album. The second – The Singles Club – is something that I'm still a little astounded I managed to get away with.
I could have died after releasing the first Phonogram and still have considered my life to be a success. Everything else is just gravy.
Kieron Gillen, what are you currently working on?
Bar my works over at Marvel (Iron Man, Young Avengers), I'm mainly deep into the projects I've got coming out this year. I'm up to issue 9 on Uber, and doing my polishes on Phonogram: The Immaterial Girl and Three for Image. The latter is Ryan Kelly and me doing a story about what happens when 300 Spartans are sent to hunt down three Helots (Slaves). The former is Jamie McKelvie and me returning to the dancefloor for a third set.
Avatar Press will release my cops-on-mercury / sci-fi action story (The Heat) at some point. Otherwise, I'm at the point where I'm choosing which big, personal project I want to take on next. Everything is potential. It's all painfully exciting.
Here is a sneak peek at Uber, Kieron Gillen's epic new book from Avatar.

Kieron Gillen, what are you reading?
This has been a great year. Ongoing stuff? Some of what everyone loves: Saga, Fatale, Manhattan Projects, Morning Glories, etc. Revival is great. And that goes for Storm Dogs, too, which is really not getting as much attention as it deserves.
It's fantastic to see Fashion Beast finally come sauntering into the light. Crossed: Wish You Were Here is just incredibly good, finding a real heart among the total utter brutality of the Crossed. I had to buy the trade, even though I follow it weekly online.
I've had the pleasure to see the script of Sex Criminals by Fraction/Zdarsky, which is many excites. Everyone's read The Tao Of Brown by now, yeah? Astounding work by Dillon. I could go on.
Comics are amazing.

Are you following PREVIEWSWorld on Twitter yet? Follow @PREVIEWSworld