In Comic Shops 2/20/2013: Eternal — Zachary's Story GN
Feb 20, 2013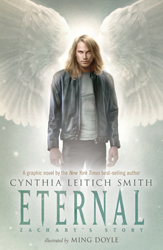 Publisher: Candlewick Press

(W) Cynthia Leitich Smith
(A) Ming Doyle
(Cover) Sam Weber
Reckless guardian angel Zachary has an unusual assignment. He's meant to save the soul of Miranda, high-school theater wannabe turned glamorous royal vampire.
Completely devoted to Miranda, Zachary takes his demotion to human form in stride, taking a job as the princess's personal assistant.
Of course, this means he has to balance his soul-saving efforts with planning the Master's fast-approaching Death Day gala.
---
Item Code: DEC120967 In Shops: 2/20/2013 Price: $19.99

---
ETERNAL: ZACHARY'S STORY. Text copyright © 2013 by Cynthia Leitic Smith. Illustrations copyright © 2013 by Ming Doyle. Front Jacket illustration copyright © 2013 by Sam Weber. Reproduced by permission of the publisher, Candlewick Press, Somerville, MA.
Are you following PREVIEWSWorld on Twitter yet? Follow @PREVIEWSworld