Staff Picks (March 13): Suicide Risk #1
Feb 15, 2013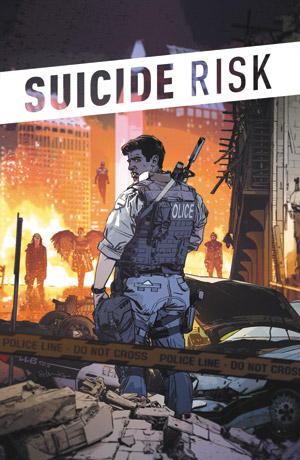 Publisher:
BOOM! Studios
It is no secret that the boys in blue face some pretty harrowing situations in their line of work. Just turn on the news and you'll inevitably be bombarded with news of violent crimes in the form of muggings, domestic assaults, murders, and more that the police have to meet face to face every day. What would happen if the criminals they faced had super powers too?
I never really considered the impact of throwing supervillians into the mix but then I never had to. There was always someone there to save the day. In
Suicide Risk #1
, by Mike Carey (
The Unwritten
,
Lucifer
) we are asked what would happen if there wasn't a hero? Just the thought of some petty burglar with the ability to melt my face with his laser eyes would make me reconsider my career path. How would the police cope?
Pick up
Suicide Risk #1
and delve into the melee pitting the police against an army of drug fueled supervillians. Can the police hold the line or will this new super powered crime wave send civilization hurtling toward anarchy?
~
Matt Demory
Item Code:
MAR130918
In Stores:
$3.99