The Beauty of the World's Ugliest Kid
Jan 31, 2013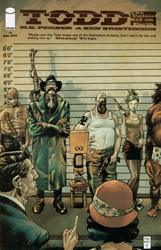 Once in a while a comic book comes along that turns our heads around like Linda Blair in The Exorcist. And Todd, The Ugliest Kid on Earth is that comic. Ken Kristensen's acerbic wit and M.K. Perker's cinematic art made this book an instant sell-out. Could it be that this is Charlie Brown for a new generation growing up on Adult Swim? In this exclusive interview, we asked the book's creators if they were for real — or hyper-real.
**********
PREVIEWSworld: Ken, in a previous interview you say how your 4-year old nephew helped to inspire the character of Todd because you noticed how his brain took a beautiful approach towards an ugly scene. It really is a great point-of-view to use in creating comedy out of chaos. Now that you've wrapped up the series, do you think you may use that same point-of-view for writing in the future?
Ken Kristensen: Before we get into this interview, MK and I would like to thank the retailers who believed in TODD and helped make issue #1 a hit. For it to sell out at the distributor level on the day of release was a huge show of faith in a book that didn't have a lot of ad support.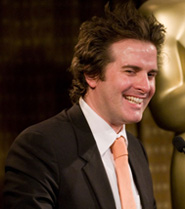 Now to your question…what was it again? Oh, yeah: the blind obsession that drives Todd as a comedic character. That character trait was indeed inspired by my 4-year old nephew, who stayed with me for a couple weeks in New York and interpreted all the ugliness of that city in the most unflappably positive way. M.K. and I had been noodling around with the Todd character for a short time, trying to figure out his personality. Once my nephew showed up, it became crystal clear that my nephew's point of view could be transplanted into Todd – and amped up tenfold. Of course, that kind of character has roots that go all the way back to Cervantes's Don Quixote, and all the way up to Adult Swim's Moral Orel. What I think is so effective about the blind obsession is that it contains inherent dramatic irony – and any time I find an opportunity for dramatic irony I latch onto it like a face-hugger.
Not only do I think I will be using that point-of-view in the future, I know I will – because this four-issue limited series is not the end of Todd. We have countless stories to tell in the Todd universe – the Todd -iverse. Todd is about skewering the ugliness that surrounds us every day. As long as there is ugliness in the world, the world will need a kid with a bag on his head to totally mis-interpret the hell out of it.
PREVIEWSworld: MK: you grew up in a very dangerous neighborhood in Istanbul, surrounded by thugs and criminals. Does your past have anything to do with how you accentuate your artwork for Todd? Do you try to convey that same claustrophobia in Todd: The Ugliest Kid on Earth?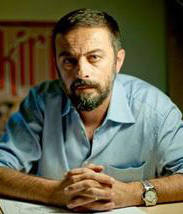 M.K. Perker: As a kid, my art was an escape. I was surrounded by criminals – in my neighborhood and in my immediate family. I was expected to become a criminal, but instead I disappeared deeply into my art – I was driven there by the ugliness of what was going on around me. It drove me to become the best artist I could. Comic art literally saved my life. See, most of the guys I grew up with are dead or in prison.
I have different styles that I use depending on the story. What I'm doing with Todd is vastly different from what I did on The Unwritten last year, or on Air before that. And if you look at my illustrations in The New York Times you'll see yet another radically different style from my comic art.
It's tough for me to say for certain if the style I'm using on Todd — or the claustrophobia you are sensing from the art — is directly influenced by my upbringing. Working on a book about a kid growing up in America — even a hyper-real America like the one we've created for Todd — is extremely gratifying. See, as a kid I wanted to be an American. I loved American pop culture — comics, movies, TV — America's greatest exports.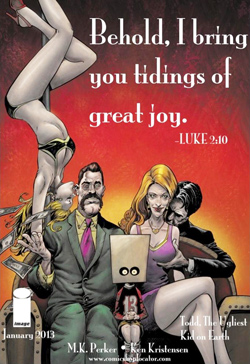 Ken loves to tell this story. A few years ago I went to take my American citizenship test. And the test is oral – so there's this man at the U.S. Immigration office asking me questions. And one of the questions is "If the United States were to go to war with your birth country, do you promise to fight on the side of America?" And I looked at the guy and I said, "I made that decision when I was five years old."
I passed the test, by the way.
PREVIEWSworld: Ken, you are a lifelong comic fan and collector, with a collection you estimate that hovers around 15,000. Which books would you look to for inspiration if you needed more fuel for the fire? What books would get your mojo working if you wanted to push more boundaries for Todd?
Ken Kristensen: I'm a true comic book junkie, and one of my regrets is that I don't have a house big enough for my collection. I mean, it's sad to think that the vast majority of my comics are sitting in a storage facility. I dream of having everything easily accessible in a huge library with pullout drawers. And one day I will. The stuff that I pull out, when it comes to books that really make me laugh are the old Keith Giffen/J.M. DeMatteis Justice League International and Justice League Europe. And Kevin McGuire's art style fits perfectly. Man, is that funny stuff. Or Ambush Bug. Insanely great subversive, groundbreaking comics. Sometimes I look at that what Giffen and DeMatteis did with mainstream superhero books and I think "who the hell was asleep at the editorial wheel long enough to let those geniuses get away with what they were doing?" I would love to be given the reigns to a superhero book that historically had very little humor in it, and give it a new voice without compromising its integrity or making a joke out of the character, or the world.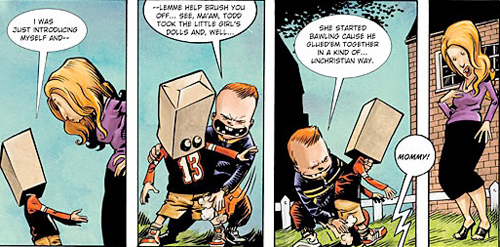 There's plenty of room for more humor in mainstream comics. Most comics take themselves so damn seriously. Life has humor in it, and books that don't recognize that often feel lifeless. Tragedy needs comedy. That's easier said than done, because a story's tone can be jeopardized by the wrong balance. But that's the storyteller's job, to find the right balance of everything.
PREVIEWSworld: MK, you've said that "nerds of comics and movies and underground culture " are your audience for the book. Ken, you've added that the book is "edgy, irreverent, and politically incorrect." Can you gents think of other books on the market that might be on the same wavelength as Todd if you had to draw comparisons? What would those books be? Or do you guys think you're paving a new road?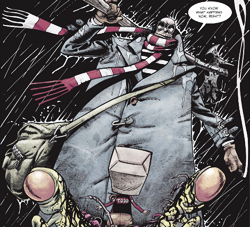 Ken Kristensen: We are working in a hybrid of genres – Todd is a crime book (one of our main characters is a cop, the main antagonist is a serial killer), a superhero book (our central character wears a mask, and has the power to cloud his own mind), a family comedy (Modern Family on acid). So you could say we are influenced by all the great books across many genres. I'm a huge fan of the Luna Brothers, Robert Kirkman, and Jason Aaron's Scalped.
M.K. Perker: Right. And this goes back to what Ken was saying earlier about the balance of comedy and tragedy. When Eric Stephenson announced Todd at New York Comic-Con, he said fans who appreciate Chew would appreciate Todd – which is a huge compliment. We've been fans of Chew since it started. And we think that book has managed to strike just the right balance, which is key to its success. We hope Todd stands on its own, has its own voice that's distinct from everything else. That's the beauty of comics these days, and Image especially: new distinct voices are being heard.
PREVIEWSworld: If the two of you could offer a guess on the future of Todd, what might you see in the crystal ball?
M.K. Perker: We've got dozens of Todd-iverse stories to tell. In fact, I just pitched Ken another one yesterday about a team of assassins that descends on Todd's world with a mission to…well, let's just say they have a very odd modus operandi. We want Todd and his family to live well beyond this limited series, and we're hoping Image Comics is looking at the same crystal ball.
Ken Kristensen: Issue #2 comes out February 13th. Issue #3 comes out March 13th. Todd wears the number 13. So my crystal ball says Todd's in for a world of pain. Speaking of Febuary 13, for our retailer and convention signings we are holding "Ugliest Kid On Earth Contests" – the person who brings an ugly picture of themselves as a kid — or, even better, a person who actually brings in an actual ugly kid — gets a gift certificate to the store! And for those of you out there (Brad and Angelina, I'm talking to you) with gorgeous children – we've had parents dress their kids up as ugly. That's okay too. Break out the Halloween make-up and the fake teeth. Go for it.
Our next "Ugliest Kid On Earth Contest" is at Meltdown Comics in Los Angeles, February 13. Hollywood, bring us your ugly children!
Here's the winner from our last contest (see below).