PREVIEWSworld Exclusive: B-Movies Help Chris Ryall Make The Colonized
Feb 10, 2013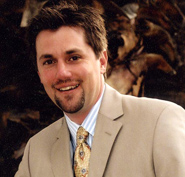 You may ask from time to time if there is such thing as a pocket universe. A time/space continuum where the sun rises and sets on 38 hour days rather than 24. If such a dimension exists, IDW's Chris Ryall has found it and set up a beach house, where in between running IDW he's also writing The Colonized (FEB130311.) In this exclusive interview, Chris explains how he bends time, and has more fun with zombies while he's doing it.
**********
PREVIEWSworld: State your name, occupation, favorite guilty pleasure, and reason for writing The Colonized. Zombies terrorizing aliens? Come clean with us, Chris. How did this happen? What B-movie marathon had you pulling an all-nighter?
Chris Ryall: Ryall, Chris. Rank: Chief, Editor-in-/Chief Creative Officer. And doing a series with zombies and aliens is something that plays right into my main comic-book pursuits: aliens and zombies. Having already written a series with aliens in it (Groom Lake) and a series with zombies in it (Zombies vs. Robots), it seemed time to combine the two, albeit in different fashion than I'd done in the past. IDW owner/CEO mentioned wanting a series with both these things, and that was enough to get me to pull the two out of my head and mash them into the special sauce that became The Colonized.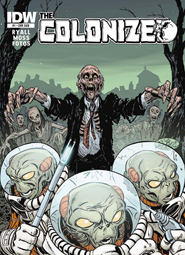 As for b-movie marathons, you're right about the movies but not necessarily the timing — there was no all-nighter needed, because I've pretty much been preparing for this kind of thing with my entire movie-viewing life. I can't get enough alien or zombie b-movies, never could, never will.
PREVIEWSworld: How did you approach Drew Moss for the artwork, and what was his initial take on this series? Give us an idea of how those email/Twitter exchanges went at the conceptual stage for this project.
Chris Ryall: I got to know Drew through a Kickstarter reward for Womanthology — one of his friends "bought" a portfolio review for Drew, knowing how good he was and how he deserved more attention. I then worked with Drew officially (albeit unpaid) for a western short story for Outlaw Territories that I believe will finally be surfacing in April from Image. We'll see. But Drew was great there, and I wanted to get him paying work. So I brought him on for a story for a Zombies vs Robots Annual. But that was written by someone else -- I still wanted to work with Drew on something longer, and I ran this by him. I mentioned I had a sort of "Wally Wood" aesthetic on it, and he jumped at it. His alien designs really reflect exactly the look and feel I wanted, and every page makes me happier and happier that Drew and I could do this together.
PREVIEWSworld: What is the fascination with zombies? You could have easily chosen vampires, werewolves, etc. What do zombies bring to the table in terms of their impact for this story?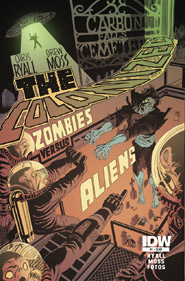 Chris Ryall: Well, actually, zombies were essential here because the opening scene is something I had in mind long before this all coalesced into a series. I loved the idea of tweaking the old sci-fi trope of aliens innocently (well, sort of) using their tractor beam to levitate a human to their ship. Only in this case, the tractor beam managed to re-animate the dead, so the body the aliens bring onto their ship is actually a zombie.
I set the story in a separatist camp, to isolate the humans a bit and play with the dynamic of two generations of separatists (the older paranoid generation who fear the government and their grown-up kids who just want to make the town a zero-footprint sort of place). Tonally, it all made for a different kind of story than I usually do, which was my goal here. I didn't want to just repeat myself, so this one is a bit more serious (less sarcastic) than what I normally do.
PREVIEWSworld: You've got Dave Sim doing covers for this series. How did you pull that off? Do you and Dave know each other from back-in-the-day, or what?
Chris Ryall: We don't, no--I'd never talked to Dave before he met with Scott Dunbier and Ted Adams last fall. Dave signed on to not only do some Cerebus cover projects here, but he also wanted to stretch a bit and do some different kinds of covers, too. Dave and I talked a bit after he did his "Mars Attacks Cerebus" variant cover and have developed a good relationship-by-fax since. Dave liked the idea of doing covers for this one, and I liked the idea not only because it's Dave Sim doing covers for my book (!) but it also wasn't a licensed kind of thing where Dave would needed to conform to any real guidelines. I wanted him to stretch and have fun here, and you can tell he is with the first three covers he's done for the series.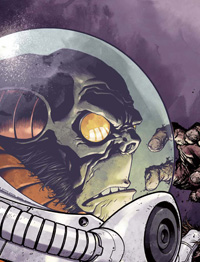 As an added bonus, I also reached out to some high-falutin' artist friends to do variant covers for the series, too. John Byrne did issue 1 (invoking "Wally Wood" is always a good way to entice JB), Zach Howard did #2, Gabriel Rodriguez #3, and Sam Kieth is doing #4.
PREVIEWSworld: So tell us why fans should check out The Colonized? What teaser can you provide that shows us how this book's going to rock?
Chris Ryall: Hopefully the above helps tell people why this thing will be fun, and something a bit different than norm. And hopefully those fans have an abiding love for b-movies, too. But beyond what I mentioned already, there'll be some zombie'd farm animals, a zombie riding on a zombie horse, a giant train crash, and the answer to what happens when an alien gets bitten by a zombie.
As for teasers, hopefully the covers in this article (as well as some of Drew Moss interiors) will further arouse interest in this one!