Mark Waid's Green Hornet: No Ph.D. Required
Feb 03, 2013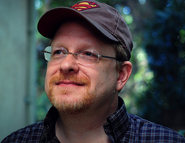 Mark Waid needs no introduction. A prolific writer who has won multiple awards (most recently for his work on Marvel's Daredevil), Mark has done it all when it comes to superheroes, and then some. But one, he would argue, should never limit his writing to just superhero books alone.
As he shows with his latest work for Dynamite Entertainment, the new book Mark Waid's Green Hornet (JAN131019 and FEB130917) shows he has more to talk about than just capes and spandex.
**********
PREVIEWSworld: Well, Mark Waid's Green Hornet is an ongoing series for you now. That's a pretty tall order. A considerable commitment on your schedule. How do you connect with the character, the Green Hornet, to the level where it warranted an ongoing series? What made this worth your time?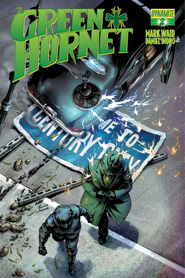 Mark Waid: Several things. One, I love the older pulp and radio characters and have never really had a shot at one before. And it helps that I came up with a new, additional role for Kato that I don't think we've seen before, one that has to do with helping the Hornet maintain his reputation as a leading underworld figure. But most of all, I see huge, huge potential in Britt Reid, the Hornet's alter-ego. To me, he's the real hero of the strip--the newspaper publisher who uses the Daily Sentinel as a bully pulpit for social activism and justice. I love heroes who attack the status quo rather than maintain it.

PREVIEWSworld: How long have you worked on the concept for this series? Meaning, what previous print/audio/video Green Hornet material have you digested over the years, and of that material what did you reference for your own work?

Mark Waid: I've been aware of the Hornet since I was a little boy, and my father introduced me to the radio dramas, so I've delved into them quite a bit over the years--and of course, I dig the '60s TV show. But it's the radio drama that has the biggest influence on me. I've had this story in my head for over ten years, to tell the truth--and now's the time to tell it.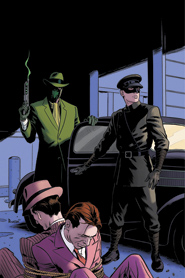 PREVIEWSworld: With The Spider and The Shadow already back in stores, you doing Green Hornet, and Miss Fury being announced as the latest pulp character to make a comeback, it seems that these books are being received favorably by the fans. What do you think makes pulp characters attractive today? Is it their familiarity? Their fame? Or is it the retro thing? The stories of an age long gone?

Mark Waid: I think it's all those things but also their purity, their simplicity of concept. That you don't have to have a Ph.D. in comics continuity to understand them.
PREVIEWSworld: Fascism is underway in the 8-issue Masks mini-series. A police state seeks to keep Joe Q. Citizen under its thumb, and the costumed crusaders are out to stop the jackboots. Is what you're doing in this Green Hornet series somehow connected or an extension of that storyline?

Mark Waid: It's not directly related, but the spirit's the same--the earliest caped heroes were very much voices of freedom and liberty, and we'll reflect this in what we're doing, trust me. (Also, I really dig Masks.)

PREVIEWSworld: Tackling social issues isn't new for you. In Kingdom Come, you show the failings of our protectors (superheroes) when they try to rule above us, instead of working "with" us. Is that sort of what we'll see in Green Hornet? The social crusader who goes too far implies the dangers of journalism when left unchecked?

Mark Waid: Not only implies, but demonstrates--because that's the heart of the first arc, the moment that Britt believes his own press (literally) too much and goes a step too far. I pitched the story as Citizen Kane by way of Lawrence of Arabia, and it's all there. I'm really excited because I can't think of the last time I saw hubris as a major theme in a superhero work.