Viking's Vengeance: 5 Questions with Helheim's Cullen Bunn
Jan 22, 2013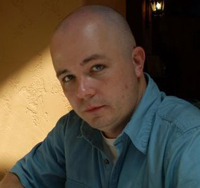 Many of you probably know writer Cullen Bunn from his work on Oni Press' The Sixth Gun series. But now the writer has a new project in the can that doesn't involve arid deserts, gunplay, and cowboys. This time we travel back to when Vikings did the killing. The name of the book is Helheim (JAN131225), and it hits stores on March 6th.
**********
PREVIEWSworld: Aside from writing The Sixth Gun saga, you've produced this new series set in the age of Vikings. So we've gone from the wild, wild west to a time when cleaving heads with an axe was as common as fresh snow on the ground. Why the focus on stories set in time periods outside of the 21st century? Were you a history major in college? Give us some insight as to your fascination with telling stories about people not dependent on electricity.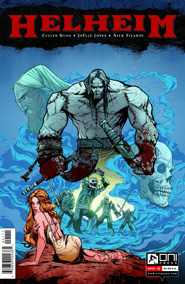 Cullen Bunn: I was not a history major. But I was a history minor! I'm not sure how much of that plays into my choices to write stories with historical (or more accurately historical fantasy) settings. While I enjoy contemporary stories as much as the next guy, I think the stories set in the past lend themselves to the fantastic. The settings are removed from our own world. It provides an easy escape route for the reader. In addition, I feel that these historical settings give the artist something to sink his or her teeth into. Visually, the past just looks cooler in my opinion.

PREVIEWSworld: This book is said to be a "gothic horror story of witchcraft, night creatures, and the undead." So what hardcover books with human skin slipcovers did you consult for brainstorming this nightmare? Or was the madness a culmination of other forms of sensory overload?

Cullen Bunn: I have an old copy of the Necronomicon that I picked up at Waldenbooks back in the day. I tried to use it to make love potions back in junior high, but they never worked. The book should have come with a tee shirt that read "I used the Necronomicon, and all I got was a head full of wacky ideas!"

Actually, I think your suggestion of "sensory overload" is right on target. This story came about because of my love of Viking and Conan stories, Beowulf, old horror movies (specifically Frankenstein), Harryhausen flicks, and all sorts of other books, comics, and movies.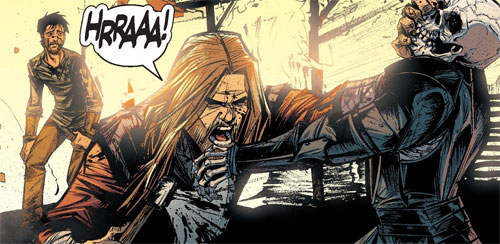 There are definitely moments of Lovecraftian horror... only if Lovecraftian horrors took the battlefield against an army of vikings!

PREVIEWSworld: Rikard, the hero of the story, pays the ultimate price in battle. And yet, he is denied Valhalla. So why do the Gods laugh at him? What's the skinny on how he was denied a mug of ale in the big hall? Is this scenario a play on any aspect of Viking mythology that we might gleam from some ancient tome? Or is this Mr Bunn just having some fun?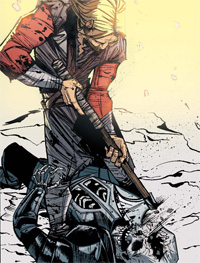 Cullen Bunn: This was about me having fun.

Rikard is denied Valhalla because of a particularly nasty bit of magic that is worked on him after he dies. He becomes an unliving weapon in this Witch War. At first, he believes that he might be able to achieve an honorable death once he completes his quest... but he soon learns that the things he might be required to do would deny him Valhalla for all time.

PREVIEWSworld: Some well-rendered gloomy art accompanies your book's first solicitation in the January 2013 PREVIEWS catalog. How were you paired up with Joëlle Jones for this series? Was it Oni Press playing connect-the-dots, or did you two know each other from some other chance meeting or collaboration?

Cullen Bunn: I pitched Helheim without an artist attached. The editors at Oni suggested Joëlle as a good choice of artist. During San Diego Comic Con a couple of years ago, Joëlle and I sat down over breakfast and talked about the series. She was very excited to draw something visceral and violent and mean. And, as you can see, she's really nailed it. I could not possibly be happier with how this book is turning out.

PREVIEWSworld: Cullen, what details might you be able to leave us with regarding the supporting characters in this book, and how they have a role in the destiny that lies ahead for Rikard?

Cullen Bunn: Rikard's world will be greatly influenced by the people who surround him. Bera, the love of his life, will play a huge role in his transformation into a draugr (or walking dead man). His father, Kirk, will be tormented by what his son has become; he will plot to see the undead monstrosity destroyed. But it is a young girl named Kadlin (who appears in issue 3) who will give Rikard a new sense of purpose and set him on a new path... that might lead to redemption.