Indie Edge February 2013: Rick Remender
Jan 18, 2013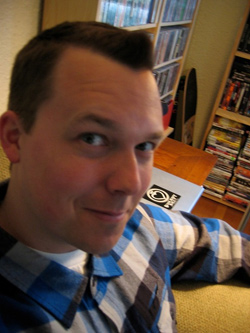 This month's featured creator is…
Rick Remender
Rick Remender is the writer/creator of such comics as Fear Agent, Strange Girl, Night Mary, The End League, XXXombies, Gigantic (APR090025), Sorrow and The Last Days of American Crime. For Marvel he's written such titles as Uncanny Avengers, Captain America, Uncanny X-Force, Secret Avengers, The Punisher, and Venom.
Outside of comics, he's served as lead writer on EA/EPIC/PCF's Bulletstorm video game and was a writer on the Electronic Arts hit game, Dead Space. Prior to this, he worked on films such as The Iron Giant, Anastasia, Titan A.E., and Rocky and Bullwinkle; penciled books such as The Last Christmas, Bruce Campbell's The Man with the Screaming Brain, and numerous issues of the Teenage Mutant Ninja Turtles while also inking books such as The Avengers and The Terminator. He's also provided album covers and art for bands such as NOFX and 3 Inches of Blood.
For many years he taught storyboarding, animation and comic art at San Francisco's Academy of Art University.
Rick Remender, what are some of your favorite projects you've contributed to over the past decade?
Sticking to my indie work I'd say: Fear Agent (Volume 1 HC back in stock shortly!—JUN120037), The Last Days of American Crime (FEB118165), XXXombies (FEB082130), The End League (JUN080060), Sorrow (JAN082060), Night Mary (DEC053081), and Strange Girl (MAY110474).
Rick Remender, what are you currently working on?
For Marvel I'm doing Uncanny Avengers and Captain America. In the world of creator-owned I'm doing Devolution and Low, both to begin publication in 2013. I have more creator-owned projects in the works for 2014 and plan on maintaining a balance between the Marvel work and the creator-owned. The last couple of years have been exclusively Marvel projects, which has been a great boon for my career, craft and visibility. But I've begun to really miss doing whatever I want in exactly my voice and style with my friends, so I'm going to strive to strike a better balance between the two moving forward.
Rick Remender, what are you reading?
Prison Pit (AUG090885) by Johnny Ryan. Stream-of-consciousness with no self-editing. Johnny just let's it happen. He's the best.
Black Beetle (NOV120030) by Francesco Francavilla. Pulp shenanigans from one of the best. Mood and fun somehow rolled up into one.
The Infinite Horizon (FEB120448) by Gerry Duggan and Phil Noto. Touching and introspective, Gerry got an Eisner nod for this and deserved it. Phil's art is fast and free. A great read!
Polly and the Pirates (MAY063338) by Ted Naifeh and Robbi Rodriguez. Perfect craft and big high adventure. Two of the most underrated creators in comics!
Palestine (STAR14596) by Joe Sacco. Not really fun. Like a brilliant documentary drawn on paper. I bought the HC reissue and found it incredibly interesting.
Are you following PREVIEWSWorld on Twitter yet? Follow @PREVIEWSworld