PREVIEWSWORLD Exclusive: David Wohl Comes Out of the Shadow
Jan 08, 2013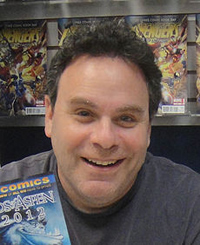 David Wohl is what you call an insider. He's been around comics since he did a high school internship at Marvel. And that was a loooong time ago. Since then, David served a good many years working at Top Cow, moving the needle on titles like Witchblade, among others. Now David is spreading his wings further on a new book from Aspen MLT titled The Legend of the Shadow Clan (DEC120840). In this interview, he offers up some details about the upcoming project.
**********
PREVIEWSworld: The cover for Legend of the Shadow Clan #1 makes me think, "Here's a girl that shows up to a bar in full gear." She's in line for the hardcore show. Which I guess is appropriate because the Arashi family has a long history of kicking tail. Sound about right?
David Wohl: Yes the family does come from a long line of "tail-kickers," but it's been a very long time since they've actually used their full abilities. As a matter of fact, they've spent so much time assimilating — trying to fit into American society — that they've long forgotten the fact that they were special at all. It definitely still comes out once in a while, when they least expect it, but when the story starts, it's more of an unconscious thing. It's instinct. Unfortunately for the Arashis, the group that will reveal themselves to be their rivals, the Ghost Clan, have also been around for centuries, but they've NEVER tried to assimilate. They are all highly trained experts who are well aware of where they came from, and what they can do. And unlike the traditional ninja we hear about in stories — the ones with swords, blowguns, hiding in the shadows, droplets of poison down strings, and all that stuff — these guys have no problem using the best weaponry available, from assault weapons to ultra-high-tech drone aircraft.
And they just happen to want to kill every single living member of the Arashi family.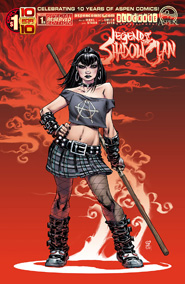 PREVIEWSworld: Okay. So Miss Cover Girl wearing the anarchy shirt and holding a staff. What's her opening line? Where does she fit in the book?
David Wohl: The cover girl is my favorite character in the story. She's Morgan Arashi.
She's the middle child, caught between (in her words) "a loser older brother and an annoying, know-it-all younger brother." Morgan is definitely an example of not being able to tell a book by its cover. She dresses the part of a punk girl, but she's actually a straight-A student who studies for hours every day, and still has time for dance classes, the school newspaper, and Krav Maga, of course. Her rebellious streak, such as it is, comes out in the way she dresses, and since she's otherwise the perfect child, her parents never say anything about it. It's just Morgan being Morgan.
PREVIEWSworld: The Reserved Edition covers hint at players coming in the future storyline. How many issues have you plotted out so far?
David Wohl: My co-creator, Brad Foxhoven, and I have plotted out the first story arc, pretty much the origin story of the Arashi family coming to grips with the fact that they are part of the Shadow Clan, and having to fight to stay alive against an enemy that is much more self aware, and better equipped, than they are. And, since three of the members of the clan are still in high school, they need to balance their newly discovered birthright against the MANY demands of a typical high school student. Suffice it to say that there will be many challenges for them over the course of the first five issues.
After that, we have some ideas for where we'd like to take the story, so hopefully the readers like what they see, because we'd love to keep the story going!
PREVIEWSworld: Legend of the Shadow Clan #1 ties into the rest of the Aspen universe...yes?
David Wohl: Actually, Legend of the Shadow Clan takes place in its own separate universe, similar to popular Aspen properties like Fathom and Soulfire, which maintain their own respective worlds. But, there's always opportunities for fun little Easter Eggs that we put into the books to remind folks it's an Aspen book, as fans of Executive Assistant and Fathom have come to discover. But yeah, Legend of the Shadow Clan will exist in its own universe as planned.
PREVIEWSworld: What can you tell us about Aspen's "10 for 10"?
David Wohl: It's a hugely ambitious project that we've all taken on to bring to our audience ten new series, including five returning titles over a span of ten consecutive months. It's to celebrate Aspen's 10th anniversary as a publisher and the kicker is that each debut #1 issue is only $1. So, for the price of only $10, you get ten new titles to try out, and if you're already an Aspen fan you'll see some exciting new story arcs in your favorites. And it all starts with Legend of the Shadow Clan in February, so of course I'm excited. It's really a perfect time to jump on if you haven't tried an Aspen book yet.