The Four Horsemen Ride In Hickman's East of West
Dec 30, 2012
The new January PREVIEWS catalog cover features EAST OF WEST (JAN130468) from Image Comics. A brand new, ongoing, monthly comic from the award-winning team of Marvel's FF, Jonathan Hickman and Nick Dragotta.

It's a Sci-Fi Western set in a dystopian America where all hope for the future rests in the Four Horsemen of the Apocalypse…who just happen to be trying to kill the President of the United States.

We talked with Hickman, who currently writes The Manhattan Projects, about his new creator-owned title.


---

PREVIEWSworld: Give us a thumbnail of East of West. America's fate is in the hands of the Four Horsemen of the Apocalypse?

Jonathan Hickman: East of West is a story about that feeling we're experiencing collectively right now, as a society, that the world is in a bit of a death spiral. The tagline of the book is, "The things that divide us are stronger than the things that unite us." You know, the end times are imminent and we all hate each other too much to come together and solve our problems. Our final destination is imminent, and it is the Apocalypse.

And then, in the face of all that despair and gloom, somehow there is still hope.

That's East of West.

PREVIEWSworld: Describe how you will portray the Four Horsemen. They won't be riding white, red, black and pale horses will they?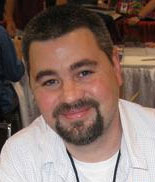 Jonathan Hickman: No. Most of the time they'll be kids. Scary adolescents, Children of the Corn, etc. But we'll see them as adults as well. There's a bit of reincarnation going on.

PREVIEWSworld: How much do you enjoy writing a sci-fi western?

Jonathan Hickman: Well, I like doing different things, so this has been a lot of fun in that it has a different visual and storytelling language. Obviously, a lot of credit goes to Nick for how he's making the ideas concrete.

PREVIEWSworld: You've had success in the past teaming with artist Nick Dragotta and now you are reunited with him on East of West. Talk about working with Nick?

Jonathan Hickman: Nick's great. Probably the most expressive artist I've had the pleasure of working with. With Nick, you know that he's going to nail the small, subtle stuff that really makes a story click. We're both pretty excited to be working on this and doing it together.

PREVIEWSworld: Finally, describe what's it like doing another creator-owned title for Image Comics?

Jonathan Hickman: Oh, I don't think there's anything more important than creating your own stuff, and I know that there's absolutely no better place than Image Comics to do that. I've never had anything but the full support of Eric Stephenson and the Partners and, honestly, I feel honored that they treat projects in which I'm involved with the respect and appreciation they do.

So, no surprise, these are exciting times.


Click on the preview images to see larger size
Pre-order East of West #1 (JAN130468 ) from Image Comics now at your local comic shop!

Go to http://www.comicshoplocator.com or call 1-888-COMIC-BOOK to find a shop near you!