What To Do During Skip Week? We've Got Ideas!
Dec 23, 2012
Due to holiday shipping schedules sometimes the comics world experiences a "Skip Week." 2012 is one of those times.

New comics were shipped a week early to your local comic shop to go on sale on Wednesday, December 26th.

The list of comics isn't as large as normal week, so we came up with a few things you can do with your extra time.

It's Skip Week, but there are still NEW Comics!
The first thing you need to do is go to your local comic shop and get the new books coming out on December 26th. It's not a huge list, but it's a quality list of great comics from Dark Horse, DC, Image, Marvel, Avatar, BOOM! and Dynamite.

See the full list of NEW RELEASES here!


Organize your comics!

We all do it. Each Wednesday we pick up a bunch new comics and rush home to read them all. Those comics might get stacked in a pile or two and then the next week comes and we get more new comics and so on.

But when was the last time we bagged and boarded them and filed them away alphabetically or by whatever system we use?

Pick up some of those much needed supplies at your local comic shop and get organized.

Don't wait until spring to clean up your comics, do it now during skip week.

Look through past issues of PREVIEWS!
Grab some of your past issues of the PREVIEWS catalog and scan through them to see what comics you might have missed.

Your local comic shop might have them in stock. Maybe there was a trade paperback or graphic novel you thought about getting but didn't.

Looking through a past issue of PREVIEWS should remind you of what you missed.

Pre-order some Toys, Action Figures or Statues!

The best way to make sure you get the toys or pop-culture merchandise you want is to pre-order.

Then as soon as the toys are released you'll be able to get them at your local comic shop.

Don't miss getting the toys you desire, especially limited editions. Check out some of the cool toys you can pre-order now over at ToyChestnews.com!

Dress up like a superhero!
Some people already do this regularly as cosplay is now more popular than ever. Ask anyone who has been to a comic con lately.

Costumes aren't just for Halloween anymore. Your local comic shop sells them and other apparel to help you look super.

Be creative and try making your own costume. Simple masks and capes can be made using things already in your home.

Your family of four could become The Fantastic Four!

So if you haven't done it yet, take time this week to become a superhero - or at least try to look like one.

Learn to Draw Comics!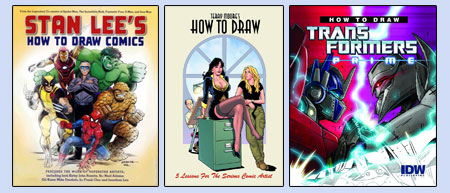 You may never make a living being a comic book artist, but you could still have fun trying to draw comics.

Terry Moore's How To Draw (SEP120731) from Abstract Studios, Stan Lee's How To Draw Comics (AUG101309) from Random House and How To Draw Transformers (JAN120456) from IDW Publishing are just a few of the many "Learn To Draw" books you can get at your local comic shop!

So get out that sketchpad and a pencil and give it a try. Maybe we'll be reading one of your comics someday.

Plan for Free Comic Book Day 2013!
The first Saturday in May is a big day. It's Free Comic Book Day!

Have you seen all the great comics you can get on May 4th, 2013 yet?

They have all been announced and can be seen now at FreeComicBookDay.com.

Put it on your calendar! The month of May will be here before you know it, so let the Free Comic Book Day countdown begin!

One Last Thing (at least for us here at PREVIEWSworld)
We are going to spend time enjoying photos of our co-worker Todd (the Alliance Marketing Guru & GTM Scribe) being manhandled by celebrities.

For some reason it seems to happen to him at almost all of the conventions he attends.

Don't get us wrong, we love Todd and enjoy working with him. Guess you just have to work here to understand.

Happy Skip Week and Happy Holidays from all us at PREVIEWSworld!