Two Fisted Tales From Oni's Top Gunslingers
Dec 20, 2012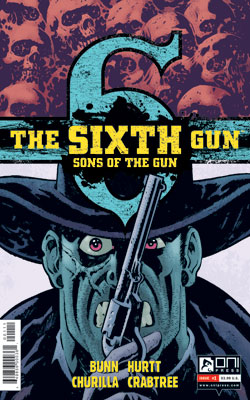 Western-themed comics are not common reading fare today, yet The Sixth Gun from Oni Press has done remarkably well, and a new spin-off is testament to its popularity. We asked writer Cullen Bunn, artist Brian Hurtt, and colorist Bill Crabtree of the new series, Sons of the Gun, to weigh in on how things were going with the book, and what they thought of the TV treatment.
**********
PREVIEWSworld: So for those who aren't familiar with the history of The Sixth Gun, who wants to recap why this "western" comic book is a must-read?
Cullen Bunn: The Sixth Gun is the story of six cursed pistols that are destined to destroy the world. While the story is set in the Old West, it's more of an epic fantasy than anything else. We have our fair share of shoot-outs and stagecoaches, but we also have swashbuckling adventure, castles, hidden societies, black magic, the undead, romance, and lots and lots of monsters! We also have an expanding cast of characters I think are very engaging, headed up by a strong female lead in Becky Montcrief.
Bill Crabtree: As a fan of comics, this is the type of book I would have in my pull-box if I wasn't working on it. When I found out I would be coloring the book starting with issue 6, I went out and bought the first two issues. The next day I was back in the store to pick up three through five. I was hooked! As far as the book being a "western," I feel that doesn't even begin to describe what the book is like. I think of it more as a period horror/ supernatural story, the period being post-civil war America. There are horses and cowboy hats, but the story has taken us to New Orleans, Mexico, and into a blizzard, and has been populated by twisted versions of werewolves, zombies, wendigos, and even a mummy. Brian and Cullen continue to raise the bar, expanding the 6th gun universe far beyond what I ever imagined, and it's an absolute joy to color. This book is absolutely a labor of love for the three of us, and I know it shows in the comic we produce every month. I truly believe we give readers more bang for their buck than any other title out there.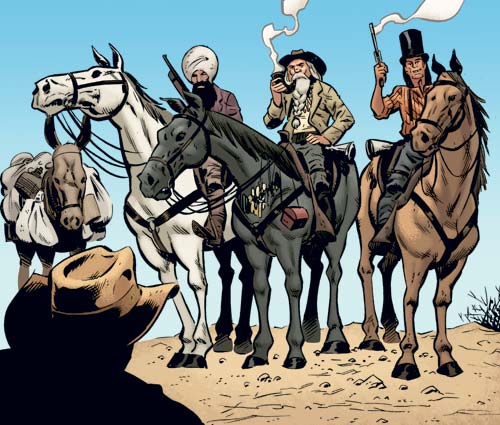 PREVIEWSworld: The historical detail for The Sixth Gun is quite intense. What resources do you guys consult to "get the look" for this book?
Cullen Bunn: You'll have to ask the artistic types what they use. They definitely go out of their way to make the world come alive in a realistic way. My take on the Old West is more "cinematic" than "historic," but I do research online to try to make things seem "real." I also have a set of old Time/Life Old West reference books that are fun for brainstorming!
Bill Crabtree: I reference a lot of landscape photographs to make Brian's environments have unique and accurate color palettes.
Brian Hurtt: My research mainly involved re-watching Deadwood (half-kidding). I also watched some documentaries and such but a majority of my research is done through old photos in books and on Google image search, honestly. I also love a website called shorpy.com which has a very rich library of high resolution old photos. This was especially handy when working on the New Orleans story arc.
But, more than anything, I'm relying on the visual language of American "pop" comics--hence the brighter colors and big sound effects—blended with a European sense of storytelling that I find a little more reserved--yet cinematic--and still "readable." I want anyone, no matter if it's their first comic, to be able to pick it up and read it and understand the flow of the panels and the action and so forth.
PREVIEWSworld: Lost's Carlton Cuse is developing The Sixth Gun for NBC. How does this sit with you guys? Did you have creative input? Do you think the show will stay true to the book? Have you been privy to any preliminary discussions concerning the show?
Cullen Bunn: I couldn't be more thrilled that Carlton is working on this! I'm a big fan of Carlton's previous western The Adventures of Brisco County, Jr., as well as Lost. Based on the conversations we've had, and the materials we've seen, the show will be true to the book. Obviously, there are some things that would need to change for a television adaptation, but the spirit of the work remains the same.
Bill Crabtree: I couldn't be more excited about this as Lost was my favorite show on television! I haven't had a lot of input on the developement of the show, but I've been very lucky to be included in the loop of discussions, script drafts, etc. From all indications, the show seems to be following the comic version pretty faithfully, which is wonderful.
Brian Hurtt: I think we are all coming from the same place on this television development in that we are all very supportive of the approach that is being taken and excited about the prospect of seeing our work brought to life. The most encouraging aspect for me is the respect that those involved in the show have shown to the material. They all seem to be genuine fans of the book and just as excited as we are in telling the story of The Sixth Gun.
PREVIEWSworld: So the new title, The Sixth Gun: Sons of the Gun #1, kicks off with a focus on "Bloodthirsty" Bill Sumter. What can you tease us with as to how things will play out in this new series?
Bill Crabtree: I would say that the readers will enjoy getting to know the four horsemen more intimately.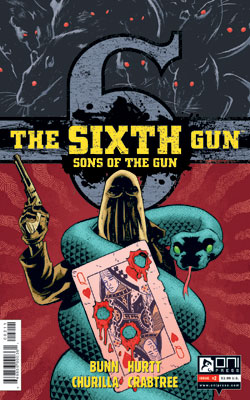 Cullen Bunn: The series picks up right after General Hume is killed during the Civil War. Without their master, the horsemen are lost. They all head their separate ways and we get to learn a little more about each of them individually. I'd love to tell you that we reveal that these guys are all really villains with secret hearts of gold, but that's not the case. These are bad, bad guys, but I think readers will have a better understanding of what made them tick. In the end, though, this is a story about "getting the band back together," sort of like Blues Brothers... only, instead of leaving a trail of songs, they leave a bloody trail of bodies.
Brian Hurtt: Sons Of The Gun is a five-issue series, and the structure of it allows us to have each of the first four issues focus on one of the General's horsemen, and their own particular journey. Each issue is a story unto itself while also tying into an overall arc for the series. What I'm most excited about is the individual voice that each issue has. There is betrayal and revenge, romance and tragedy, and outright horror—and that is just in the first three issues!
PREVIEWSworld: The Sixth Gun has its own Facebook page. Do the lot of you decide on when you'll be uploading new stuff for Sons of the Gun to get everyone pumped ? And will you also be posting information elsewhere, like on Twitter?
Bill Crabtree: You can find me on Twitter under the handle @crabtree_bill.
Cullen Bunn: A few of us have a hand to play in the Facebook page. Hopefully, we'll be posting lots of new stuff there soon. In addition, I sometimes post stuff on Twitter (@cullenbunn), on my website (www.cullenbunn.com), and on Tumblr (http://cullenbunn.tumblr.com/).
Brian Hurtt: I imagine that we'll start teasing some art and process stuff for Sons Of The Gun on the Facebook page sometime in early 2013. I would also encourage people who may want to ask us questions or interact with us directly to also post on the Facebook page. We'd also love to see encourage more people to post their fan art on the page!
I also post on Twitter (@brihurtt) and Tumblr (http://brihurtt.tumblr.com)