Ennis Ventures Into New Territory With 'Red Team'
Dec 18, 2012
Red Team is the first in a series of new crime books from Dynamite Entertainment. Writer Garth Ennis (The Boys, Preacher) has been know to write about the darker side of life and Red Team fits that mold by taking a police unit down a dark and dangerous path.
PREVIEWSworld talked with Ennis about the new hardcore crime drama that will hits stores in February.

---

PREVIEWSworld: Give us a capsule of what the seven-issue series Red Team is all about?

Garth Ennis: The four members of the NYPD's elite strike unit Red Team, driven to distraction by their inability to nail a particularly vicious suspect, decide to cut a few corners and kill him. Then things get bad.

PREVIEWSworld: You've done several military-themed comics like Battlefields and superhero-themed comics like The Boys. What elements will you take from those or is this completely new territory for you?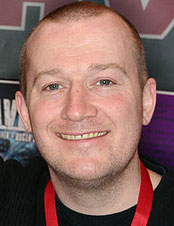 Garth Ennis: The only element in common would be the notion of a small, tightly-knit group of specialists dedicated to combatting a particular opponent.

PREVIEWSworld: Tell us more about the main characters who make up the Red Team?

Garth Ennis: Eddie Mellinger and Trudy Giroux are the junior members, although both are very experienced officers. Trudy is more committed to the team's dangerous new direction- Eddie's conscience is giving him a certain degree of trouble with it. The older pair are Duke Wylie and George Winburn, two veteran officers who leave nothing to chance.

PREVIEWSworld: Did you do any research into the NYPD or other police departments for this comic?

Garth Ennis: A little, but this story obviously goes into territory that the vast majority of cops never venture anywhere near.

PREVIEWSworld: What is it like to work with artist Craig Cermak?

Garth Ennis: Craig is terrific- keen, professional, expert storyteller, great sense of character, a nice clear style that still allows for plenty of atmosphere. I feel very lucky to be working with him, actually- I imagine his career's about to take off big time.

PREVIEWSworld: Finally, what do you like best about writing for Dynamite?

Garth Ennis: I get the deal I want and an expert team I know are dedicated to making the book look as good as it can. I can relax and do my part, knowing that everyone else will do the same.
---
Click on the cover images below to see larger size