Indie Edge January 2013: Joe Keatinge
Dec 14, 2012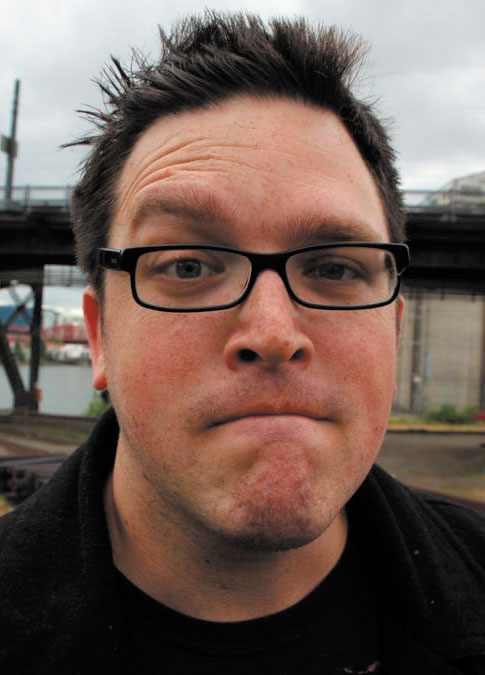 This month's featured creator is…
Joe Keatinge

Joe Keatinge is a Eisner and Harvey Award-winning comic book writer of Image, Marvel and DC Comics titles including Hell Yeah, Glory, Morbius: The Living Vampire, The Amazing Spider-Man and Intergalactic. His collaborators have included Michael Allred, Erik Larsen, Rich Elson, Ross Campbell, Andre Szymanowicz, Jim Rugg, Dean Haspiel, Simon Fraser, Joe Infurnari, Michael Cavallaro, Tim Hamilton, George O'Connor and Michel Fiffe. He also writes for the premiere French-language magazine on American comics, Comic Box. This all goes down at Portland's Greatest World's Greatest Comics Studio, Tranquility Base.

Joe, how did you go about developing the central hero character in Hell Yeah in a way that makes him stand out from other archetypes of the genre?

Some of it comes from life experience. Some of it comes from a lifetime of reading comics. I wanted to have a protagonist who is far from the traditional mold of a guy who fights crime because it's noble or he feels like it should be right. No one in Hell Yeah really wants to save the world, even when they have to. While I absolutely love working with Marvel, I'm also a big fan of having a total blank canvas with the complete freedom to do my versions of what superheroes could be like. Hell Yeah was conceived from the ground up, without decades upon decades of history behind it.


Classic or Current works by Joe Keatinge...

Hell Yeah! Volume 1: Last Days on Earth TP (JUN120469)
Morbius: The Living Vampire #1 (NOV120653)
Popgun Volume 1 TP (SEP071958)
Popgun Volume 2 TP (MAY082176)
Glory Volume 1: The Once and Future Destroyer TP (JUN120461)
Joe Keatinge, what are you reading?
Savage Dragon by Erik Larson. Been my favorite super-hero comic book since 1992.
Savage Dragon Volume 1: Baptism of Fire TP (STAR13080)

Casanova by Matt Fraction & Gabriel Ba. Yeah, I get that it's not a traditional superhero series by any stretch, but I'm counting it.
Casanova Volume 1: Luxuria TP (NOV100629)

Pretty Much Everything from Millarworld. I'm a big fan of Mark Millar's rotating superheroes series. I cannot wait for Jupiter's Children.
Kick-Ass TP (APR110670)
Nemesis TP (JUN120708)
Are you following PREVIEWSWorld on Twitter yet? Follow @PREVIEWSworld