Coldplay's Mylo Xyloto #1 — The Director's Cut
Dec 05, 2012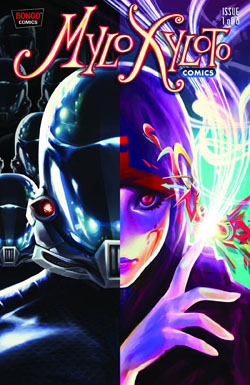 Coldplay's Mylo Xyloto began life very differently than most musical works. The 2011 platinum-selling album was initially conceived as a spectacular and imaginative storytelling fusion of both sight and sound. We caught up with Phil Harvey — Coldplay's creative director and the official fifth member of the band — and Mark Osborne, the Academy Award®-nominated director of Kung Fu Panda and the upcoming The Little Prince, to discuss the inception of the project and the new six-part mini-series Mylo Xyloto solicited from Bongo Comics in the December PREVIEWS catalog.
PREVIEWSworld: When and how did you know Mylo Xyloto would be a graphic story as well as a record?
Phil Harvey: The story and the music developed side by side, each informing the other. At first, we thought the story would get told as a movie, but as we got deeper into it, we realised that a series of comics would do a better job.
Mark Osborne: The graphic story came out of all the development art we were doing for a collaborative animation project. It was an exciting surprise to see it all come together in an unexpected way first–as a series of comic books. Doing this gave us a great way to further define and explore the visual universe.
PREVIEWSworld: The coloring in this book definitely speaks volumes about setting. Tell us a little bit about Mylo Xyloto's world.
PH: Mylo lives in a world where sound and color have been outlawed as a means of governmental control. And the population is so addicted to a government-provided virtual reality that they don't even care. But there's a small band of rebels who use magical, noisy graffiti to keep the streets alive. Unfortunately, it's Mylo's job to destroy them.

MO: The inspiration is equal parts modern street art and old school graffiti, Orwellian-type dystopian settings, Moebius-style alien universes, and experimental "visual music" animation by the likes of Oskar Fischinger and my CalArts mentor Jules Engel. Steve Hamaker did an amazing job of combining the spirit of all of these disparate influences into a color story that is cohesive, engaging and surprising. His version of a "colorless" world (which is not necessarily a novel concept) is so interestingly and creatively realized.
PREVIEWSworld: Often a dystopia carries a message or warning for society. What kind of ideas are you hoping to explore with this story?
PH: The story's arch villain Major Minus is a personification of various forms of corruption and power hoarding–from empire building to mass media domination. I guess if there's an underlying message in the story, it's "Ask questions–don't passively accept what you're spoon-fed." And the Hypnofeed, Major Minus' source of power, could be seen as a warning of where telecommunications and entertainment technologies might go if we're not careful.
MO: The themes that fueled the series from my perspective were those of youth in rebellion, rising up against oppressive forces, and the importance of self-expression and discovering one's true voice. Our dystopia is a warning to not get too comfy believing everything you see and read, and don't get too detached from the real world, spending too many hours glued to screens that deliver an unending supply of stimulation.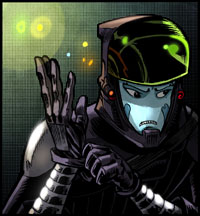 PREVIEWSworld: What is the connection to street art and graffiti?
PH: It's a very pure form of self-expression. Say what you want, how you want. No rules. No censors. People have been expressing themselves on walls since cavemen. Time after time though history, authoritarian regimes have come up against groups of insubordinate graffiti artists. And it's the graffiti that's survived, not the regimes.

MO: It is pure expression and about getting a message across. Graffiti on subway cars was a way to get your name spread all over the city. It was a way to be noticed, to be respected. It has evolved greatly into an art form that is now used in a more thought provoking way. This whole history of the art form was something we wanted to capture and use for the purposes of our story.
PREVIEWSworld: What do you think fans of the album, and your larger catalog, are going to enjoy most about the comic?
PH: When they read the comic, fans of the album will recognise loads of motifs and phrases from the album's music and artwork. Hopefully, it'll give them a new perspective on some of the songs. But our main hope is that they just enjoy the story!
PREVIEWSworld: How did you find the right team to work with on this project? Was it challenging to shift between mediums?
PH: Mark approached us before we'd even laid down a note of the album, so it was always going to be Mark and his team of animators and illustrators. It's definitely been a challenge working in a new medium. But I've really enjoyed bouncing script and storyline ideas with Mark and the band and watching a universe take shape in front of me.
MO: When we were developing the animation project, a friend named Kazu Kibuishi was helping out with some of the art. He is the creator of the AMULET comic series and the editor of the FLIGHT anthologies, and so when we started talking about creating a comic series, he helped me find artists who would be a good fit. Of all of the FLIGHT artists he knew it was Alejandro Fuentes' art that inspired me the most and reminded us of Moebius. Sure enough, Alex was a huge fan of Moebius and could really visualize what we were trying to do. I had also met Jeff Smith and Steven Hamaker when I was very interested in trying to help bring BONE to the big screen, and so Steve was the first one I called on for color when the series was starting to be a reality. For the writing, the band and I developed the outline of the story for all six issues, and I wrote the first one, but I turned to a great friend and writing collaborator Dylan Haggerty to write issues #2-6. I knew his sensibilities would be a perfect fit since we had spent a great deal of time collaborating on a project with similar themes. And for me the shift from animation to comics was not that difficult, since story and character are always my focus. I just liked it because it was so much faster than animation production!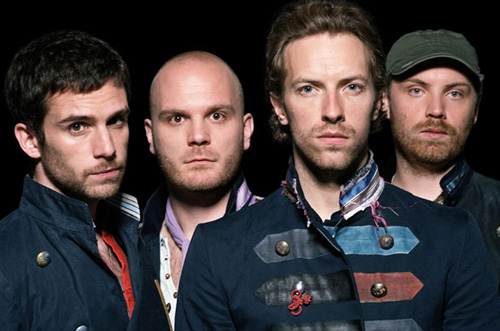 PREVIEWSworld: Who in the band has a history with comics?
PH: We all loved comics growing up: from Whizzer and Chips through to 2000 AD. I'm also a big fan of Little Nemo in Slumberland.
PREVIEWSworld: How have you liked the process so far? Can you see yourselves working on another story in the future?
PH: We've loved it. I don't think this is the end.
MO: I loved the process, and I would love to do more. It's the perfect way to explore a new universe.
PREVIEWSworld: Any other thoughts you'd like to offer our readers?
PH: Just thanks for taking the time.
MO: If you want to see the comic in motion and get some backstory to series, check out Coldplay's music video below that I directed for Hurts Like Heaven--featuring the introduction of Mylo himself!
Mylo Xyloto #1
Bongo Comics
(W) Coldplay, Mark Osborne
(A) Alejandro Fuentes
(Cover) Arthur Hugot
Every album begins with the germ of an idea, every song tells a story, and now it is finally revealed that there is a secret other worldly narrative behind Coldplay's newest hit album and its enigmatic title: Mylo Xyloto. Three years ago, Coldplay teamed up with Mark Osborne (Kung Fu Panda, MORE, The Little Prince) to create Mylo's epic story that has gone on to inspire chart-toppers like "Every Teardrop Is a Waterfall," "Paradise," "Princess of China," and "Hurts Like Heaven" - which has its own Mylo Xyloto comic-themed music video providing insight into the backstory of this new universe, and a glimpse of Mylo himself. Prepare to experience the world of Coldplay in a whole new way with this brand-new 6-issue mini-series.
Item Code: DEC120895
Price: $3.99
PREVIEWS Page #258
In Shops: 2/13/2013