Bad Kids Go 2 Antarctic — And The Movies
Dec 01, 2012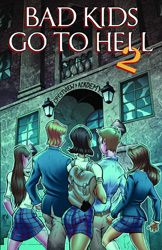 Bad kids get sent to bed early. Bad kids don't get ice cream. Bad kids go to hell, too. And they even go to the movies. Don't believe us? It's true. Antarctic Press debuts Bad Kids Go To Hell 2 in the December PREVIEWS, and the new movie hits theaters December 7th! We spoke with BKGTH co-creators Matthew Spradlin (MS) and Bazz Wernick (BW) to get the scoop on what's going down for the kids this time, and how things are shaking out with the popcorn and soda crowd.
PREVIEWSworld: The BKGTH movie opens Dec 7th in select theaters across the country. Tell us, was the movie made first, and then the comic? Or vice versa? And how is the comic different from the movie?

MS/BW: We wrote the comic book series as a movie first. But with the Writers' Strike of 2007, our friend and creator of Occult Crimes Taskforce, David Atchison, pushed us in a different direction. So it actually was published as a comic before it became a movie! We were very fortunate to have made the comic book first because we spoke a lot with and learned even more from our fans. And in large part, because our fans were so engaged (they even helped with suggesting whom to cast), we were able to rework our story and add some new twists and turns in the movie version that our fans will love. We have been able to keep the movie fresh and add some surprise twists, while not veering away too much from the graphic novel. Without giving away any spoilers, the big difference between the graphic novel and movie: The comic for Bad Kids Go To Hell is the greatest COMIC BOOK in the history of everything known to man. Whereas, the movie of Bad Kids Go To Hell is the greatest MOVIE in the history of everything known to man.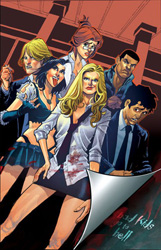 PREVIEWSworld: Although you have strong characters in the film, it is the school which acts as the backdrop for impending disaster. Did you look at previous horror movies like House, The Amityville Horror, House by the Cemetery, and others for story inspiration? Throw them in a blender and see what happens? Or were there other influences that went into the storyline?

MS/BW: We definitely are fans of the original takes on those horror movies (meaning from the 1980's- BIG love for those films), so 'yes' it was a conscious decision to make the school its own entity. Honestly, not as much as we wanted, because it was decided to spend as much time with the characters in this film as possible. Can we give a shout out to Coscarelli's Phantasm in this question? We love that guy and that movie. The mausoleum is sooo frikkin' scary in that film. Let's just say, Bad Kids Go to Hell 2 gets a little deeper into the school and its secrets.

PREVIEWSworld: The first story arc was released as single issues, and then collected in a trade paperback. Are there plans to offer that TP again, or are you concentrating more on moving forward with the new story arc being published by Antarctic Press?

MS/BW: That's funny you ask, because we kinda like how the original 4 issues have become this very cool collector's item. (WE can't even find any for ourselves, so if you get a lead on some, please let us know!) So we may leave any further prints of the original series alone and make that something special for the people who got in on the ground level, you know? It's like, "this was for believing and taking a chance on the new guys." We plan to just concentrate on this new three-issue mini-series from Antarctic. By the way, one thing we will continue to include are pictures of the fans from different Cons and signings. Our fan base is so crazy and diverse and are so important to the lifeblood of this series, we always want to keep a good repartee with them.

PREVIEWSworld: Tell us about the new storyline in Bad Kids Go To Hell 2. How is this story different from the previous one? And are you as involved in this new story arc as the last one?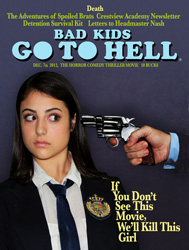 MS/BW: We liken the new storyline to the difference between Appetite for Destruction and the Use Your Illusion albums by Guns N Roses, meaning that the original was hard hitting, raunchy, and in your face - but much simpler in presentation. The new comic series has a similar set up, but by the end of the first act, we are going in a much stronger /crazier/ yet sophisticated direction than the original. With a much more intricate plot line. Everyone liked the twists of the original, and we wanted to keep this as a mystery as well -- but with an even stronger story wrapped around it.

PREVIEWSworld: Where do you see the property of BKGTH in the next 5 years? Have other people come to you and suggested a future course of action?

MS/BW: We have some plans, and we've talked to some good people lately, but we shall see if we can steer the boat in the right direction. It's crazy how difficult it is to keep a unifying vision of something once you get into the development stage with a Network or Studio. We have been fortunate as the creators to be asked to develop the movie or television series as opposed to having a network or studio come to us with their own writers in mind. And while we have been focused on developing a television series at the moment (for the edgier networks), we REALLY like dealing with video game companies at the moment. Those guys are smart. For us, it is finding the right team to partner up with on this. We know they're out there. Somewhere.
Check out these advance interior pages for Bad Kids Go To Hell 2 #1.