Shoot 'Em Up: 5 Questions with Nathan Edmondson
Nov 25, 2012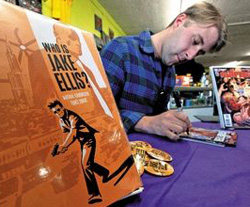 We spoke with Nathan Edmondson at San Diego Comic Con this past summer where he was able to leak that Where Is Jake Ellis? was on the horizon from Image Comics. Now the time for teasing is over. The book is out, and Nathan's fans are once again strapping themselves in for another roller coaster ride. So what moves Nathan to produce such twists and turns that fans may need a sedative when they read his books? We set to find out.
**********
PREVIEWSworld: Can you bring us up to speed on where things left off with Who Is Jake Ellis?, and how that transitions into Where Is Jake Ellis?
Nathan Edmondson: Who Is Jake Ellis? left Jake and Jon in a path divided, and Where Is Jake Ellis? shows what that division costs the two characters. The mysterious organization behind Jon and Jake's mental connection is still after them. And Tonci Zonjic is still on art duties.
PREVIEWSworld: With titles like Dancer and The Activity under your belt, everyone's got a pretty good feel for your style of writing. You excel at crafting storylines that involve heavy artillery. But the Jake Ellis storyline is different. What is the muse for the character and storyline?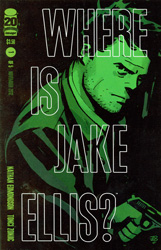 Nathan Edmondson: It's not easy to point to a specific muse. Since the release of the first volume, I've come to know Jon and Jake much more personally. That's what drives me to write this series. Jon and Jake have a story, and Tonci and I are meant to tell it.
PREVIEWSworld: Walk us through how you get your head together to create the plotline for the Jake Ellis saga. Is it a combination of energy drinks and 24 DVD box set marathons that get the creative juices going, or some other magical elixir?
Nathan Edmondson: I try to keep my writing habit healthy and disciplined. 6 a.m., a cup of coffee, no music, no distractions. Or sometimes, like right now, 30,000 feet in a 737.
PREVIEWSworld: Tell us about your fascination with two-way street head games, and why you bring that to comics. Why is reading a book by Nathan Edmondson like walking through a maze of tunnels?
Nathan Edmondson: I'm not sure I can always put a finger on why I'm compelled to write a particular story. I enjoy subverting expectations. I like grounded character stories turned on their heads. I find myself often layering genres. We'll see what comes next. I'm just getting started.
PREVIEWSworld: Has anyone approached you about your stories, and how they may translate to the silver screen? Your work seems ripe for Hollywood.
Nathan Edmondson: The 737 I'm on is a return flight from LAX. Hint, hint.