Venditti To Launch X-O Manowar Invasion Of 'Planet Death'
Dec 04, 2012
Valiant Entertainment is on the verge of something big. In January they will begin Planet Death — a six-part modern epic that will see X-O Manowar attempt to save Earth from an alien onslaught by mounting a one-man invasion of The Vine homeworld!

The epic begins with the two-part Prelude to Planet Death in X-O Manowar #9 and #10 by New York Times best-selling author Robert Venditti (The Surrogates) and comics superstar Trevor Hairsine (X-Men: Deadly Genesis)! Then, the invasion begins in full force with Planet Death — Part 1 (of 4) in X-O Manowar #11, featuring the triumphant return of Eisner Award-winning artist Cary Nord (Conan).

We caught up with Robert Venditti to get all the details on Planet Death before it begins.


---
PREVIEWSworld: Describe what it has been like for you to write the X-O Manowar series for Valiant?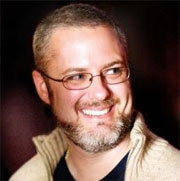 VENDITTI: When I take on a project, I hope for two things. First, I want to be challenged as a writer, to be forced to work outside my comfort zone. Second, I want to have fun—every writer has a limited number of words they're going to write in their lifetime, so you might as well write things you enjoy. X-O Manowar has more than accomplished those two things for me. To get to build a series from the ground up, to get to work with the other Valiant writers and Warren Simons on shaping an entire universe, those aren't the kinds of opportunities that come along very often.

PREVIEWSworld: In the comic, Aric of Dacia has bonded with the X-O Manowar armor, the Vine want it back and humanity hangs in the balance. Tell us about the Vine and why Aric is such a threat?

VENDITTI: Aric isn't just a threat to the Vine solely because of the raw power he wields as a result of his bond with the Manowar armor. The very idea of him—a human wearing the Vine's most sacred relic—is a threat to the Vine's entire culture. They've been waiting since longer than any of them can remember for a Vine soldier to be chosen by the armor, and now a 5th Century Visigoth has come along and filled that void. The Vine aren't quite sure what that means, but they know it isn't good.

PREVIEWSworld: The six-part Planet Death storyline is coming soon. Let's first talk about what we can expect in the Prelude to Planet Death (X-O Manowar #9 and #10)? Any new characters introduced?

VENDITTI: No new characters in those two issues, but there will be major changes for just about every character we've seen so far. Actually, I think it's every character. Every single primary character in the series will leave Issue 10 vastly different from how they were at the beginning of Issue 9. Some of them won't leave Issue 10 at all.

PREVIEWSworld: Planet Death Part 1 (of 4) then begins in March with X-O Manowar #11. What you can you tell us about the invasion? Will we be shocked?

VENDITTI: We have some big twists in store, and some even bigger revelations. These are plot elements that we've been building up to since the opening pages of the series. A lot of questions are going to be answered, but just as many new questions will be raised.

PREVIEWSworld: How has it been working with multiple artists like Cary Nord, Trevor Hairsine and Lee Garbett?

VENDITTI: It's an embarrassment of riches, really. These guys are all amazing storytellers at the tops of their games, and they each bring something unique to the page. To be writing stories for all three of them at the same time is surreal.

PREVIEWSworld: Anything else you want to tell us about the future of X-O Manowar?

VENDITTI: Planet Death is the big payoff of the series' first long-form storyline. We're putting all of our effort into it, and we're leaving nothing on the table. I hope readers enjoy it as much as we're enjoying creating it. Because we're having a blast.


X-O MANOWAR #9 - ON SALE IN JANUARY 23

Click on preview pages below to see larger images
X-O MANOWAR #9 - ON SALE JANUARY 23
Written by ROBERT VENDITTI
Art & Cover by TREVOR HAIRSINE (NOV121333)
Pullbox Exclusive Variant by CARY NORD (NOV121334)
Variant Cover by CLAYTON CRAIN (NOV121335)
$3.99/Rated T+/32 pgs.

X-O MANOWAR #10 - ON SALE FEBURARY 20
Written by ROBERT VENDITTI
Art & Cover by TREVOR HAIRSINE (DEC121266)
Variant Cover by CARY NORD (DEC121267)
$3.99/Rated T+/32 pgs.