J. Michael Straczynski: Moloch, Superman, & Digital Speculation
Nov 25, 2012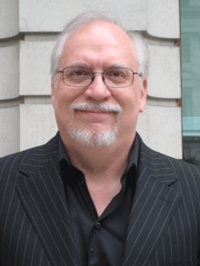 J. Michael Straczynski is one of those talents that make you think you were shortchanged in the brain department. A prolific writer for television series like Babylon 5, and a comic scribe on books like his own Rising Stars and Midnight Nation, the man's mind seems to run as fast as an Olympic sprinter on energy drinks. We were able to catch JMS in between laps around the track to see what he's up to these days, as his latest Before Watchmen title just hit the comic shops.
**********

PREVIEWSworld: Your tenure on the Before Watchmen titles has shifted gears. Rather than writing about the heroes (Nite Owl, Dr. Manhattan) you're now writing about the villains (Before Watchmen: Moloch). Why the "bring on the bad guys" approach? Was that DC's suggestion, or yours?
J. Michael Straczynski: Well, there's just the one villain here, Moloch, so I wouldn't see this as a trend or "bring on the bad guys." I know that from day one Dan really wanted to tell that story, because Moloch is so instrumental to the events of Watchmen and to the history of the other characters, but didn't think we could fit in another book. When I got all my scripts in early, and finished ahead of schedule overall, he asked if I could take a shot at it. I was more than happy to do so, as the character is fascinating as a tragic figure.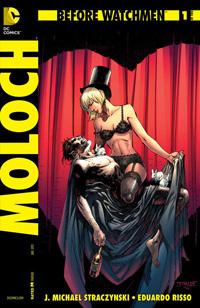 PREVIEWSworld: Do you have any other plans for writing more stories in the Before Watchmen universe? Or do you find your time getting tighter with the approaching re-launch of Joe's Comics?
J. Michael Straczynski: Insofar as I know, this is it for the Before Watchmen books. Dan had a very specific vision of the cycle he wanted to investigate, and never once mentioned anything about this turning into some kind of long-term franchise. Not to say that might not happen someday, but I don't think it's on his or DC's radar at this juncture, and if it's not on theirs it's sure as heck not on mine.
So at the moment, in addition to re-launching Joe's Comics via Image, I'm writing Volume 3 of Superman: Earth One, which is going to tie together elements from the first two books and answer the key question from Volume 1: who was that guy who ordered a hit on Krypton?
PREVIEWSworld: Superman: Earth One Volume 2 touches on the theme of how the Man of Steel could affect global affairs depending on which conflicts he should or shouldn't engage. Were there specific current events you evaluated to develop the idea behind this sub-plot?
J. Michael Straczynski: Not per se, no. I was primarily interested in the moral question at the center of his story: if he has this power, and an obligation to do right as he sees it...where does that mandate begin and end? How far can he go? How far should he go? He has this awesome power, so how does he best apply that in a world that can be sloppy and chaotic and deeply suspicious of anyone who says he's here to save everybody? The last time somebody stood before the world and said I am here to save my people, and invoked massive power to do so, the echoes of the speech had barely faded before there were bombs falling on Poland.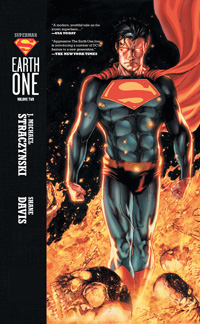 Being mortal beings we can only evaluate Superman from the perspective of our own history, and it ain't great in this regard.
PREVIEWSworld: You've had novelizations done for your previous Rising Stars comic series. Are there any plans for future novels based on your other comic works, previous and current?
J. Michael Straczynski: Not at this juncture.
PREVIEWSworld: What are your current thoughts on the digital comics revolution, and how does that play into future plans for Joe's Comics? Do you think comic page layouts translate well digitally, or would digital comics be more appealing should they adopt a more "full screen" approach?
J. Michael Straczynski: I think the digital playground is still working out its own rules for comics and the best ways in which to incorporate comics. The conceptual problem is that when a new delivery system comes up, everyone tries to shove previous content into the new venue without understanding the benefits of the new form, like trying to shove a square peg into a round hole. It's not just a new distribution system, it's a new system, and you have to adapt and create something new and suited to its rules. When television was a-borning, the fledgling networks brought in radio drama writers who wrote dramas or variety shows that were structurally identical to what they'd done in radio; playwrights brought in from New York to give the new form legitimacy wrote one-set or two-set plays that could have been produced on any stage, they just filmed the play. Digital comics = the filmed play. We're not there yet. But we'll get there.