Indie Edge December 2012: Michael Avon Oeming
Nov 16, 2012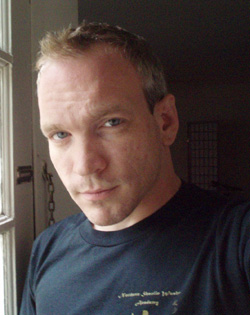 This month's featured creator is…
Michael Avon Oeming
Michael Avon Oeming began his comics career at the age of 14, breaking in as an inker. In the late '90s Mike began developing a new, simpler style as well as several projects including the Mice Templar (Vol. 1: The Prophecy; AUG082241), Hammer of the Gods (Vol. 1: Mortal Enemy; JUL090912), Quixote, and what would become Powers (Vol. 14: Gods; MAY120727) with Brian Michael Bendis.
Over the past decade he has been working on mostly creator owned projects such as Powers, Takio (DEC100634), Hammer of the Gods, Rapture (DEC090035), The Cross Bronx (JAN071926), Mice Templar, Red Sonja from Dynamite Entertainment and, currently, The Victories (JUN120025) at Dark Horse. He's also been working off and on at Marvel and DC with Batman: Legends of the Dark Knight, several Thor titles, an issue of The Spirit, Black Panther and a recently completed issue of New Avengers with Brian Michael Bendis.
Michael Avon Oeming, what are you currently working on?
The Powers TV series is still in development at FX and he continues to pitch in on that project as time permits. Takio has one more issue to go and The Mice Templar is in its final arc at Image and I'm always looking to the future to do more creator owned works. "I've been reading a lot of small press comics from No Brow Press, but alas, there is not enough time in the day to read all I would like!"
Classic or Current works by Michael Avon Oeming...

The Victories #1 (JUN120025)
The Mice Templar Vol. 1: The Prophecy (AUG082241)
Powers Vol. 14: Gods (MAY120727)
Michael Avon Oeming, what are you reading?
Fatale by Ed Brubaker and Sean Phillips. This crime noir series has everything I like in comics: sex, drugs, violence and perfect storytelling. Be it Sean's visual pacing, Val's colors or Ed's dialogue, this series is inspirational on every level. If you are a creator or you want to learn more about creating comics you should be studying this series. If you are just looking for great characters and story — Bam! — this one is for you too. I'd also suggest sharing this book with your non-comic book friends to introduce them to the world of comics beyond superheroes.
Fatale Vol. 1: Death Chases Me TP (APR120439)
Saga (by Brian K. Vaughn and Fiona Staples) has also been kicking my ass. The characters and boundless world here really stick out, but Fiona Staples' art is the real hero for me. She's handling all of it, and bringing the art of the background to a new level with her lose digital painting style, that is somehow both tight and descriptive… yet it carries enough vagueness to engage your mind in the way that HD visuals can't.
Saga Volume 1 TP (AUG120491)
The Goon (by Eric Powell) continues to deliver fun, action, storytelling, crass humor, horror and quality that just lets me soak it in like a good drink. I don't even need to be in the mood to read a comic and I can still enjoy this one instantly, anywhere and anytime. There are so many great comics out there; I wish I had more time to read! Manhattan Projects (JUN120470) and The Massive (NOV120024) also stand out these days.
The Goon Vol. 11: The Deformed of Body and the Devious of Mind TP (FEB120041)
Are you following PREVIEWSWorld on Twitter yet? Follow @PREVIEWSworld