Corey Taylor Writes Stone Sour Comic For Dark Horse
Oct 25, 2012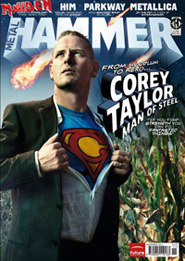 Vocalist Corey Taylor of Stone Sour promoted his new comic book for Dark Horse Comics at this year's New York Comic Con. Excited to talk about writing a comic that ties into his new album, Corey talked with us about his love for Garth Ennis' books, and the concept of his new music/comic project.
**********
PREVIEWSworld: You hit New York Comic Con on Saturday to hang out with the folks at Dark Horse. But come to find out you also took time to visit Garth Ennis at the Avatar booth. What Ennis books do you read, and why? And what other comics do you enjoy?
Corey Taylor: Garth Ennis is one of the best writers I've ever read. My favorite has to be Preacher — it's so messed up! It's funny, offensive, smart, dark — flat out amazing. I love all the titles he's written, from Hitman to The Boys. My other favorite is Warren Ellis. Transmetropolitan was phenomenal.
PREVIEWSworld: Now you have your own Dark Horse comic book, House of Gold & Bones. Tell us how you developed the story for the book as part of a multimedia experience.
Corey Taylor: I knew the story could be very visual based on how I wrote it, and knowing that this story might be 2 movies, it only made sense to try and adapt this to a comic. Having never written a comic, I knew it'd be a challenge. But as a fan, I knew I would give it my best shot, and I found the perfect company to help me do it in Dark Horse.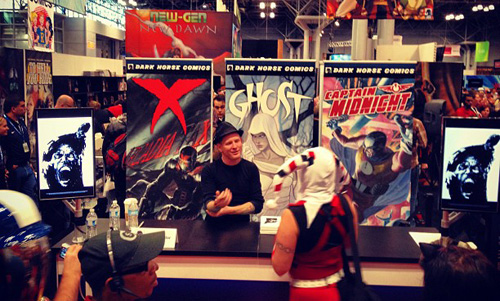 Corey meets fans at the Dark Horse booth during the New York Comic Con.
PREVIEWSworld: Is there a reason why you chose to make your comic debut on behalf of Stone Sour rather than Slipknot?
Corey Taylor: Simple - it's a story for the Stone Sour albums, so this is the first one. If this does well, I might write some more, but that doesn't mean it'll necessarily be a Knot book.
PREVIEWSworld: Do you think that comic books would be seen more as "merchandise" if they were sold on tour? Do you think fans of your music will "get it"--the comic thing?
Corey Taylor: I think metal fans are the most creative in the world. Most metal fans are also comic fans. So I definitely think they will get it, especially with the way it will enhance the story and the music. I could never look at comics as merch — it is literature through and through.
PREVIEWSworld. Stone Sour's House of Gold & Bones - Part 1 (from Roadrunner Records) comes out October 22nd, and Part 2 is due in early 2013. Some critics have called it a "game-changer." How would you like to describe the project, in terms of how it challenged you?
Corey Taylor: It was the hardest, most enriching and fulfilling project I have attempted at this stage in my career. It's some of the best music I've ever had the privilege to work with. All I can say is THIS IS ONLY THE BEGINNING.
Hear snippets from the new Stone Sour CD by clicking on these links:
http://soundcloud.com/stone-sour/tired-snippet
http://soundcloud.com/stone-sour/the-travelers-pt-1-snippet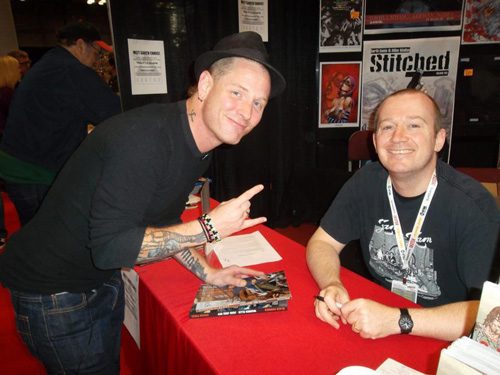 Corey meets Garth Ennis at the Avatar Press booth during this year's NYCC.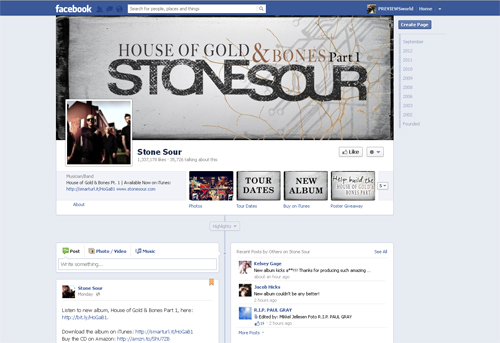 Check out Stone Sour on Facebook!