Indie Edge November 2012: Chris Duffy
Oct 19, 2012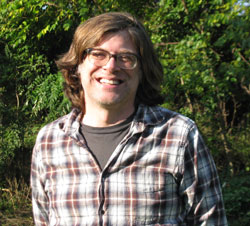 This month's featured creator is…
Chris Duffy
Chris Duffy was born, raised, and educated in Massachusetts. He moved to New York to work in comics, which eventually happened as an amateur cartoonist and assistant editor at DC Comics in the mid-90s. After that, he spent 13 years as an editor at Nickelodeon Magazine — during which time he married, moved 50 miles north with his wife and son, and learned that you put something called "primer" on wood before you "paint" it. BONUS FACT: He believes Raggedy Ann & Andy Comics #1, published by Dell in the 1940s, is the finest comic ever published and will allegedly fight anyone who disagrees with him.
Chris Duffy, what are you currently working on?
My main job is editing SpongeBob Comics. It's a blast working with the show's creator and the comic's publisher — Steve Hillenburg. We have an amazing assortment of cartoonists and writers; everyone from James Kochalka to Gary Gianni takes a crack at depicting the denizens of Bikini Bottom. I'm so grateful and honored to be able to put together a humor comic book series for kids in this day and age. As for side-projects, I'm putting together Fairy Tail Comics, a follow up to Nursery Rhyme Comics. It's coming out next fall, and David Mazzucchelli, Jaime Hernandez, Raina Telgemeier, and Craig Thompson are just a few of the reasons I'm excited about it.
Classic or Current works by Chris Duffy...

SpongeBob Comics #16 (NOV120956)
Nursery Rhyme Comics 50 Timeless Rhymes HC (AUG111068)
Chris Duffy, what are you reading?

Prison Pit Volume 1 GN (AUG090885)
by Johnny Ryan.
Yes, I know I edit kids comics. But Prison Pit is fun the way the most addictive manga horror and action stories are. Yes, it's gross, but I can take it!

Teen Boat HC (FEB120895)
by Dave Roman and John Green.
It's a young adult graphic novel about a teen who can transform into... yeah, you guessed it: A boat. This comic wears its metaphors on its sleeve (if that's possible), and is a smart, funny sea voyage graced with great art.

Jerusalem: Chronicles from the Holy City HC (FEB121003)
by Guy Delisle.
I'm no world traveler, but I really like Guy Delisle's memoir / travelogue comics. His wife works for Doctors Without Borders and he has chronicled his family's extended stays in North Korea, Burma, Shenzen, and most recently, Jerusalem. It's informative, funny, and intimate stuff — with super-charming cartooning!
Are you following PREVIEWSWorld on Twitter yet? Follow @PREVIEWSworld