Indie Edge October 2012: Billy Tucci
Sep 21, 2012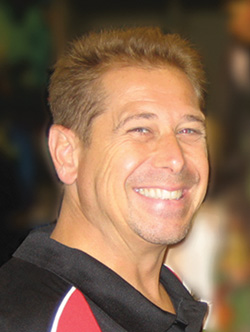 This month's featured creator is…
Billy Tucci
Billy Tucci is an award-winning illustrator, writer, and filmmaker best known for his modern-day samurai fable, Shi. Through Tucci's Crusade Fine Arts, the multi-Eisner Award-nominated Shi has been printed in five languages, sold more than 3 million comic books, and grossed over 25 million dollars worldwide.
A Child Is Born, Tucci's earnest re-telling of the Christmas story has become a crossover phenomenon garnering worldwide attention. This month, A Child Is Born returns as a special hardcover gift edition (see page 232). This forty-page marquee printing of Tucci's magnificently illustrated work offers fans and families an enduring keepsake they'll enjoy for Christmases to come.
In his Own Words: Billy Tucci
"I've been fortunate enough to support my family by doing what I love for almost 20 years now — writing, drawing, and publishing comics. My first book, the modern-day samurai fable, Shi, was nominated for three Eisner Awards and sold more than 3 million comic books worldwide. Shi gave me the chance to work with Marvel and DC, and ultimately on my "dream project," a re-telling of the Christmas story called A Child Is Born.
Billy Tucci, what are your favorite projects over the past decade?
DC Comics has honored me with so many great opportunities. From Jonah Hex to Batman, and even a stab at the epic Flash vs. Superman race, DC gave me a chance to write and draw some of the wonderful characters from my youth. But I was truly blessed to work on Sgt. Rock: The Lost Battalion, getting guidance from my comic book hero, Joe Kubert, and meeting and befriending so many real life heroes of World War II. For that alone, I am eternally grateful to my friends at DC.
Classic or Current works by Billy Tucci…
Classic or Current works by Billy Tucci…
A Child is Born One-Shot (SEP110740)
A Child is Born One-Shot—Artist's Edition (DEC110786)
Sgt. Rock: The Lost Battalion HC (JUL090238)
Sgt. Rock: The Lost Battalion TP (AUG100207)
Billy Tucci, what are you reading?
Rachel Rising by Terry Moore (Abstract Studios)
With Rachel Rising, the wonderful Terry Moore has done it again. I've been a huge fan of his since first reading Strangers in Paradise #1. All through that book and then onto Echo, I'm consistently amazed by his draftsmanship and incredible knack for capturing emotions and the in-depth humanity of his characters. Rachel Rising continues that trend. The book reads like a swift novel, making you rear from its shocking horror, but also discovering a true sense of pity in poor Rachel's innocence. Again, I'm just amazed.
Rachel Rising Vol. 1: Shadow of DeathTP (JAN120780)
Cursed Pirate Girl by Jeremy Bastian (Olympian Publishing)
Can any book out there be more beautiful? Set in 1728, Mr. Bastian's incomparable surrealistic adventure on (and beneath) the high seas takes the reader on a stunning and dangerous quest to find the heroine's lost father, a pirate captain. It's chock-full of adventure, battles, and fantastic creatures including (but not limited to) a talking parrot, giant octopi, and two human-sized "swordfish" in full-scale medieval armor. This book is truly a gem and I find Mr. Bastian's creativity to be terrifically astonishing. Everyone should give this a look; every panel flowers unending detail, and every page is a wonder to behold!
Cursed Pirate Girl Vol. 1 HC (MAR120749)
Rocketeer Adventures Volumes 1 and 2, Various (IDW Publishing)
It's no secret Dave Stevens' Rocketeer is my favorite comic book character. So, you can imagine how excited I was when IDW began publishing Rocketeer Adventures. My affection for Cliff Secord, Betty, Peevy, and the Golden Age of Comics is obviously shared by the all-star cast of creators who pay tribute to the continued legacy of Dave Stevens and The Rocketeer. Extraordinary, high-flying adventures by the very best in the business — Dave would be proud. I just pray IDW asks me to contribute someday!
Rocketeer Adventures Vol. 1 HC (MAY118115)
Rocketeer Adventures Vol. 2 HC (JUL120348)
Are you following PREVIEWSWorld on Twitter yet? Follow @PREVIEWSworld