Experience The 'Anomaly' Graphic Novel
Dec 10, 2012

Comic book artist and writer Brian Haberlin teamed up with top entertainment lawyer Skip Brittenham to create something different. They created Anomaly, a science-fiction graphic novel that is a bit of an anomaly itself. It's a 370-page hardcover book with augmented reality technology. PREVIEWSworld talked with Brian about how they were able to push the boundaries of what we normally see with a graphic novel.

PREVIEWSworld: Can you give us an overview of what Anomaly is all about?

Brian Haberlin: It's an epic adventure that combines sci-fi and fantasy elements I think in a unique way…you can think of it as Star Wars meets Lord of the Rings…sort of. We start in a space station/city orbiting around Earth in the year 2717 and follow a group sent out by The Conglomerate on an apparent first contact mission to a new world.

When the mission goes horribly awry, the crew, led by Samantha, daughter of a powerful Conglomerate executive, is stranded on the bewildering world of Anomaly. Technology doesn't work here… The terrain is lethal, and the creatures even more so.

Jon, a former Enforcer commander and war hero, is assigned as her deadly protective shadow. On Anomaly, he quickly learns that he is not the man he once was. Dark secrets surround the various species that call this world home, and Jon's actions here have the potential to ripple across the void of space, and touching everything in it…Maybe even The Conglomerate…the hyper-corporation that has claimed ownership of all companies, nations and worlds in its profit-driven grip.

But when Anomaly sprouts synthetics-eating viruses, flesh-eating mutants and deadly magic, it becomes a race against which form of death will come first. Who will survive? Who will return?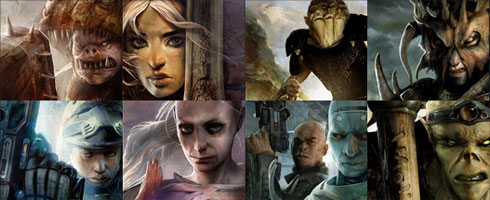 PREVIEWSworld: In addition to being the longest full-color, original graphic novel ever published, Anomaly readers can download a free app equipped with Ultimate Augmented Reality™ technology. How does UAR work?

Brian Haberlin: There are instructions in the book. Basically, the UAR works with most devices (Apple or Android) that have a camera. You download the app for free and the app will show you which pages are UAR enabled. You simply point the device at the page and it comes to life as fully interactive 3D with animation and sound. You can poke them, move around all sides of them, and they'll do things…from shooting arrows to coming at the user's screen. And there is not just eye candy here…there are also over 100 pages of appendices data in each not contained in the printed book. AND THE MOST EXCITING THING… A few months after the book comes out, you'll be notified of an app update and we can change and add to the interactivity on the fly. It's now a graphic novel that can grow and change even after publication!

That's a very exciting thought to a creator!

PREVIEWSworld: Talk about working on the book with legendary entertainment attorney Skip Brittenham?

Brian Haberlin: Well, let me tell you the stories I get! That have to remain confidential, of course. ;)

I have to say I was very wary at first. For guys like me and my studio (who do books from soup to nuts) often get hit up by "Hollywood types" who want to do comics in order to sell movies. But with Skip, I quickly found out that was not the case…as I saw when he showed me his library of comics and cool art books... I have an extensive one of my own from 20 plus years of collecting and his rivaled mine! The guy loves the comic medium, plain and simple. I mean, this was about flexing some creative muscle for him and really he could have done it in any medium…but this is the one he chose.

But getting back to the original question…what's it like working with him? Great. I mean, he's been creatively involved with great companies and people from Pixar, to Dreamworks to even Steve Jobs himself. We see eye-to-eye on most things, and when we do creatively clash, the best idea wins…though we often have to get outside opinions to judge that! ;)

PREVIEWSworld: You've done a lot in the comics industry from co-creating Witchblade, to working on Spawn and multiple Marvel and DC Comics titles. How was working on Anomaly different?

Brian Haberlin: Well, Skip and I are the bosses here, so we really get to do whatever we want. It's most comic artist's dream to do a graphic novel from start to finish and not having to worry about landing a story in 22 pages. The freedom it gives you as a storyteller, to let the story generate its own pace, is remarkable. And being able to do oversized and landscape…really cool!

PREVIEWSworld: Do you see yourself creating more books like Anomaly in the future?

Brian Haberlin: We are already 60 pages of art in on the sequel. And we have 2 completely new graphic novels coming out next year that are pretty much finished. SHIFTER, a contemporary action/mystery with a sci-fi twist, and BETWEEN WORLDS, a young adult fantasy novel, heavily illustrated like the Dinotopia books. Skip and I didn't get together to just do a one-off graphic novel…this is a new company, Anomaly Productions, with the focus being the creation of original graphic novels. All with cutting edge technology that combine print and digital to enhance the experience in ways no one else has before or at least not to the degree we're aiming for. We hope that by combining strong artwork and unique stories that build deeply immersive worlds, we will be providing a richer storytelling alternative to what's already out there in the stores. In any case, we're hoping people like what we do…cuz we're having fun doing it!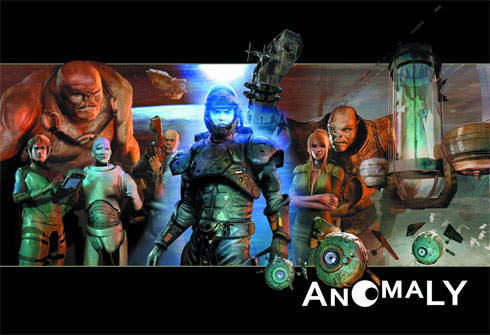 ITEM CODE: SEP120760

Anomaly is available on December 12th at your local comic shop! Go to http://comicshoplocator.com or call 1-888-COMIC-BOOK to find a store near you!