Valiant Efforts: Talking With Valiant Executive Editor Warren Simons
Aug 26, 2012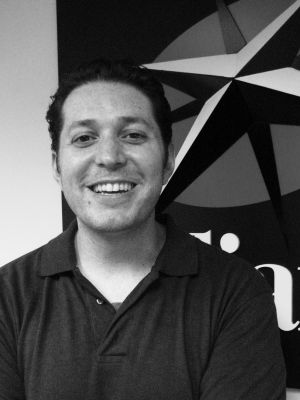 In May, Valiant Entertainment made its long-awaited return to the comics industry, introducing or re-introducing readers to its universe of characters, starting with X-O Manowar #1. In just a matter of months, Valiant has managed to emerge as a top 10 publisher (based on July 2012's unit market share report) and its line has rapidly expanded so that it now includes X-O Manowar, Harbinger, Bloodshot, and Archer & Armstrong. In November, a fifth title, Shadowman (#1: SEP121219) from Justin Jordan and Patrick Zircher, will be released and a new chapter for Valiant will begin.
Thus it seemed like this was a fitting time to talk to Valiant VP & Executive Editor Warren Simons, an industry veteran that's using his experience to collaborate with some of the finest creators working in the medium today and ensure the Valiant Universe is a place readers want to revisit every month. In our exclusive interview, Simons talks about what it's been like helping Valiant reinvent itself, working behind-the-scenes with Valiant's writers and artists, and what the publisher has planned with Shadowman #1 and other upcoming issues and story arcs.

---
Now that Valiant's been up and running for a bit, what are your impressions on how the line is doing? How does this compare to your past editing experiences?
I'm incredibly happy with how the line is doing. I'm very pleased with not only the guys and girls I'm working with and all the incredible effort they've put into the books, but also how the fans have treated us, and how the retailers have treated us. We're real, real happy with everything to date.
It's a unique and different experience than the ones I had prior. I worked as an editor at Marvel for seven years. During that time I edited a whole host of books. I edited Iron Man, Thor, Daredevil, Iron Fist; I launched Iron Fist, Iron Man, and Thor titles; I launched Magneto: Testament; I worked with a whole bunch of different creators. It was a remarkable and great experience. You know, here [at Valiant] it's unique. We're launching a publishing division, we're putting together a universe, and it's been a great experience. It's been a very rewarding experience. It's been a lot of work. I'm also real happy with my colleagues and all the guys and girls I'm working with up here.
You mentioned working for Marvel on titles like Iron Man and Thor. With Valiant, you're working with established characters, but you're also tasked with bringing all these characters together again for a brand-new universe. What is that challenge like for an editor? What's it like to work with not only so many different creators, but to manage so many different characters in different books – all part of a shared universe, which you have to build from the group up?
That's an excellent question. Part of the challenge is to determine what from the initial runs of the characters we wanted to retain, which elements of the characters we thought would speak to today's readership, what we thought would resonate with the fans, what we thought was compelling for storytelling for what we like on our end as editors, writers, and artists, what we thought we should take and what we should leave behind. Redesigning the costumes. Putting together all the pitches. Putting together all the scripts. It's a massive undertaking. It's been an extraordinarily labor-intensive process.
You know, one of the great things about working on established characters is you know who they are for the most part. You still have to tell great stories with them, but Danny Rand is Danny Rand and Tony Stark is Tony Stark, and for the most part those characters are well defined. Here, we had to make a determination about what we wanted to do with Aric Dacia in X-O Manowar and with Peter Stanchek for Harbinger, how we felt these characters resonate in today's market, who we thought they could be to today's audiences, and what's important as compared to 20 years ago. It was an extraordinary amount of work. But everyone here is a real big fan of Valiant and Valiant comics, so I felt like our hearts are in the right places. I've been really happy with how things have been received to date.
---
CHECK OUT THIS PREVIEW FOR X-O MANOWAR #4
Click Each Image for Larger Art
---
What's been the biggest surprise – whether that be good or bad – for you while getting this new Valiant incarnation off the ground?
I've been very, very happy with the work that the creators have done. I don't want to say that's a surprise, but everyone has put their heart into it. It's incredibly rewarding to get text messages at midnight about certain ideas for certain characters, to see artists staying at the board for 12 or 16 hours a day to get the work done. Also it's been really nice to see the level of collaboration we've had up here in the Valiant offices and what a great team environment it's been. Our main goal through and through is just to put out great comics. I mean, everything after that is great, but what we really just want to do is put together great comics. I edit comics for a living. My primary goal is not to make movies or television shows; it's just to make good comics. That's really what we've been focusing on.
I think that's an important goal to keep in mind nowadays, with Hollywood paying attention to comics more and more.
Yeah, I mean anyone who's in this medium as a writer or a business owner or whatever it is, should obviously be aware – and are aware – of this interest. But hopefully we're all here to tell stories that can only be told in comics. I've been reading comics my entire life. I love them. It's my favorite medium. For me, making great comics is above all what's important.

One of the things I know that's impressed many people in the industry has been the slate of creators you've had coming out of the gate. You've had some big name creators, some really respected creators, on your different books. Can you describe what it's been like bringing these people into Valiant and working with them so they know what Valiant as a whole is aiming for as well as what your hopes are for their individual books?
Everyone's been great. My heart's filled with pride with how sweet all the guys have been. [Laughs.] Robert Venditti is a guy that just goes above and beyond the call every single time out. He only wants to help us. [Joshua] Dysart has been a great collaborator that's very excited by what we're doing here, very excited about writing Harbinger and where that's going. Duane [Swierczynski] I worked with a lot at Marvel. I love Duane. He's a great guy and a great writer. He's another person who's incredibly talented and also incredibly invested in the book. And Fred Van Lente… you know, if someone locked that guy up in the trunk of a car no one would miss him. [Laughs.] Just kidding. Fred's world class as well. So I have four great writers up here, and now Justin Jordan and Patrick Zircher are knocking it out of the park on Shadowman. All of these guys are invested in Valiant it seems. They're all real sweethearts.
And the artists I'm working with are great. Having Cary Nord launch X-O Manowar for us was amazing, and now Lee Garbett is taking over with issue #5 and his stuff looks absolutely amazing. You have to see what he looks like with Stefano Gaudiano inking him. Stefano I think is the finest inker of his generation. He's an absolute genius and one of the most underrated artists out there right now. Just an incredible talent. Khari Evans is doing beautiful work on Harbinger. You know, that's true just up and down the line – Patrick Zircher, Manuel Garcia, Clayton Henry. Clayton Henry is drawing the heck out of Archer & Armstrong.
I feel really lucky to have this group of creators to work with, and I feel the guys are really invested in this. That's really something that was important to me when we were casting for the books. I didn't just want to bring someone in here that was going to give just four or six issues and be gone, or wasn't going to be invested in the work. It's a large undertaking what we've been doing here, and all the guys and girls have been amazing to work with. I think Jelena Kevic-Djurdjevic did 25 versions of the Manowar armor when she designed it, and she was incredibly great to work with. I really feel like we have a great creative medium and I'm surrounded by incredibly gifted creators every day.
---

CHECK OUT THIS PREVIEW FOR BLOODSHOT #3
Click Each Image for Larger Art

---
Along the same lines, when you were looking at putting people on different books, was that something where you thought of specific people for X-O Manowar or Bloodshot or whatever the book might be? Did names immediately pop into your head? Or were you just open to pitches?
I worked with a lot of writers at Marvel that were exclusive up there, and there are a lot of great writers at DC that are exclusive, so right away a lot of guys in my rolodex I had worked with in the past weren't available to me. I had worked with a lot of writers and artists at Marvel, you know. There I tried not to work with just established talent. I had the opportunity to work with a lot of extraordinarily talented people like Ed Brubaker and [J. Michael] Straczynski – to name just a couple – but I also had the opportunity to work with up-and-coming writers and artists like Matt Fraction and Kieron Gillen and David Aja, and I really worked closely with those guys. So when I came here and looked at the list of characters we had to work with, what I wanted to do was really see A.) who had the right voice for this, and B.) would they be able to capture what we wanted to capture with these particular characters?
A lot of that is also found through the pitch process. That's asking, "What's your take on this character?" I sit down and talk to the writer. How easy are they to work with? How much have they worked with me in the past? Have they ever worked with me in the past? Do they like me? Do they hate me? [Laughs.] All those things are very important variables. That was a key part of it certainly. Having read Surrogates with [Robert] Venditti or Unknown Soldier with [Joshua] Dysart, or having worked with Duane [Swierczynski] on Iron Fist, or having read some of his novels like The Wheelman, or having read Taskmaster with Fred [Van Lente's] stuff, and digging a little bit deeper and talking to them about what their takes are on these characters… that's how this stuff really takes shape. It's showing the guys around here who these creators are with what they wrote. "Hey, check out Unknown Solider. It's absolutely amazing. Wouldn't Josh be a good fit for this particular title based on the tone of that book and the gravitas he brought to that title?" Things like that were important to casting.
Each book in the Valiant Universe – despite being part of a shared universe – each has its own voice and themes. Obviously that can be contributed to the creators involved, but what do you have to do as the editor to make sure each book stands out and has its own unique flavor to it?
Part of it is that these books operate not only in the superhero genre, but they also operate kinda in their own genres. One of the great things about working at Valiant is that we have a great roster of characters, and we have guys like Jim Shooter and Barry Windsor Smith and David Lapham and Bob Layton, who were able to do such an amazing job with these characters in the early 90s. So I think with a lot of these characters, our job is to update them and modernize them. We have X-O Manowar, which is a sci-fi story to a certain extent; Harbinger, which may be a drama to a certain extent; and Archer & Armstrong, which may be a buddy comedy to a certain extent. Each of these characters inhabits a certain genre in addition to being superhero books that work within the larger framework of the Valiant Universe. And one of the great things that we have is a shared universe. So we do have a very diverse roster of characters that are able to inhabit their own comics, and we're real confident in the stories we're able to tell as a result of that.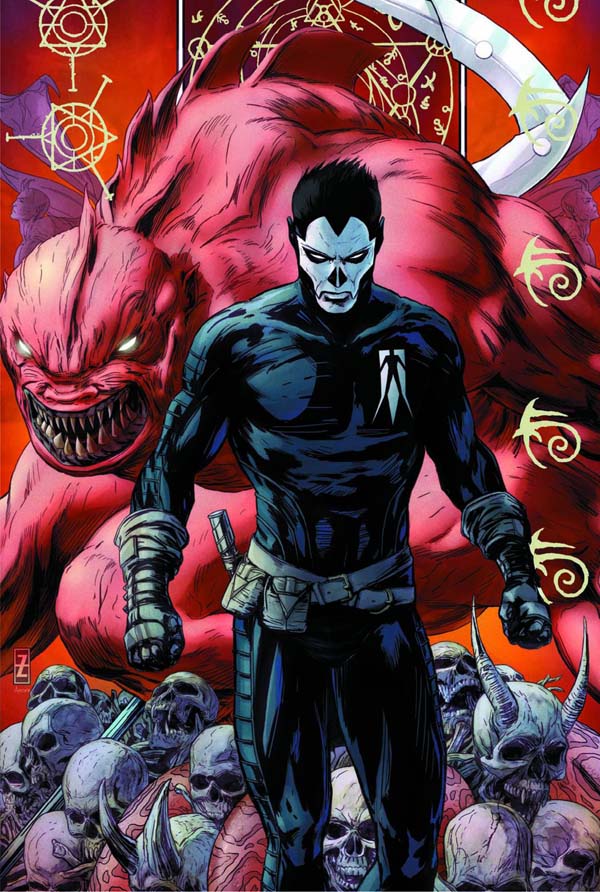 That leads us to Shadowman, the newest title featuring one of the Valiant characters. You have Patrick Zircher doing the art as well as helping Justin Jordan with the writing. Can you talk about what Patrick is bringing to this particular project? What strengths does he bring that really stand out in Shadowman?
Well, Patrick and I worked closely at Marvel for a while. He did the Terror Inc. book that I edited and David Lapham wrote, and he absolutely drew the hell out it. He also did a book called Thor: Ages of Thunder along with a couple different artists, but he was sort of the primary artist on that project Matt Fraction wrote. When I talk about Patrick, I try not to be hyperbolic, but I do feel like he's one of the finest artists working in the medium today. I think he's an extraordinary talent and well-cast on Shadowman. He fits in perfectly with what the tone of the book is from our perspective. I think his use of not just rendering, but his storytelling, his use of shadow and light within the comic, the way he creates emotion in the characters… he's an extraordinarily talented artist.
We have him working on that book, and he's doing an amazing job as the artist, and he's also working as a collaborator and co-writer of the project with Justin. He works very closely with Justin not just in terms of prepping individual issues, but the overall direction of where the book is headed, what the arcs will look like, what we have coming up in the next arc and in the coming year, and what we want to do with the character. Justin's a great writer. The Strange Talent of Luther Strode was a wonderful book by him. It was one both Patrick and I read.
Oddly enough, when I began talking with Patrick about coming onto the project, we were talking about co-writers for the project and he said, "You know, I really like this Justin Jordan cat." Justin had a pitch for Shadowman in my inbox that I had gotten before I even spoke with Patrick, so it was kind of serendipity. So I got the guys together and we began talking about the character – what we liked, what we thought we needed to flesh out, what the character's origin was, which version of the character were we using. The three of us really began to talk about that kind of stuff, and Patrick's really been an integral part of the writing process, and he's handling all the art duties as well – pencils and inks. He's an incredibly important part of this project.
You mentioned Justin Jordan and The Strange Talent of Luther Strode. What is it in particular about his voice that makes him well-suited for Shadowman?
I think without a doubt one of the things that he's done with the character is help us figure out who Jack Boniface is, what does he want, and what are his objectives as a character. It's not a one-hit thing where he put together one book that we liked. Justin put together a pitch that we talked about for a while, and he really just did an amazing job with it. After reading it, I could sense right away that this kid was a talented writer and he was someone that I wanted to bring into the fold. He also has an incredible beard. That's really important to me. [Laughs.]
I think that's something everyone should keep in mind.
One of the things that impacts the writers I work with or don't work with is the amount of facial hair that they have. [Laughs]


We talked about the creators a little bit and about who Jack is in Shadowman. If you had to distill down what Shadowman is all about for the uninitiated, how would you describe the book?
I don't want to spoil too much because the book isn't out yet, but what we'll discover is a young man named Jack Boniface, who's searching for clues about where he came from, what his past was, and what he discovers is not what he expected. Ultimately, he ventures down a rabbit hole and discovers all is not as it seems. It's really a very spoiler-heavy first issue, so I try to avoid getting into that too much, but what he's going to do is open a path for us through the Valiant Universe that we haven't seen before. He's really going to play an integral role in what's to come in the next year in the Valiant Universe. What we'll discover is what it means to be the Shadowman and what it means to be that character operating in the voodoo-entrenched area of New Orleans. It's a lot of really beautiful stuff coming down; I don't want to spoil too much of it. Within the first few pages I think you'll see a lot. A whole new facet of the Valiant Universe opens up with the appearance of Jack and Shadowman, and I think we have a really exceptional book on our hands. I'm very excited by it.
I won't push you for more than that, but we were talking before about how each Valiant book resides in a sub-genre within comics. What would you say is Shadowman's? Is it magic?
I think it's part of that, but it's more than that as well. I think it's a superhero book. I know a lot of people have reacted to the costume, saying that it's a lot more of a "plastic" superhero costume than one that we've seen before, and to a certain extent they're right. There are aspects of magic in the book, but it's not a magic book. We should be so unlucky as to have it be like Sandman, you know what I mean? That's one of my favorite books in the medium ever. I'm absolutely an enormous fan of that project and Neil's genius. So there's magic in [Shadowman], but I don't want to get too far into it just yet.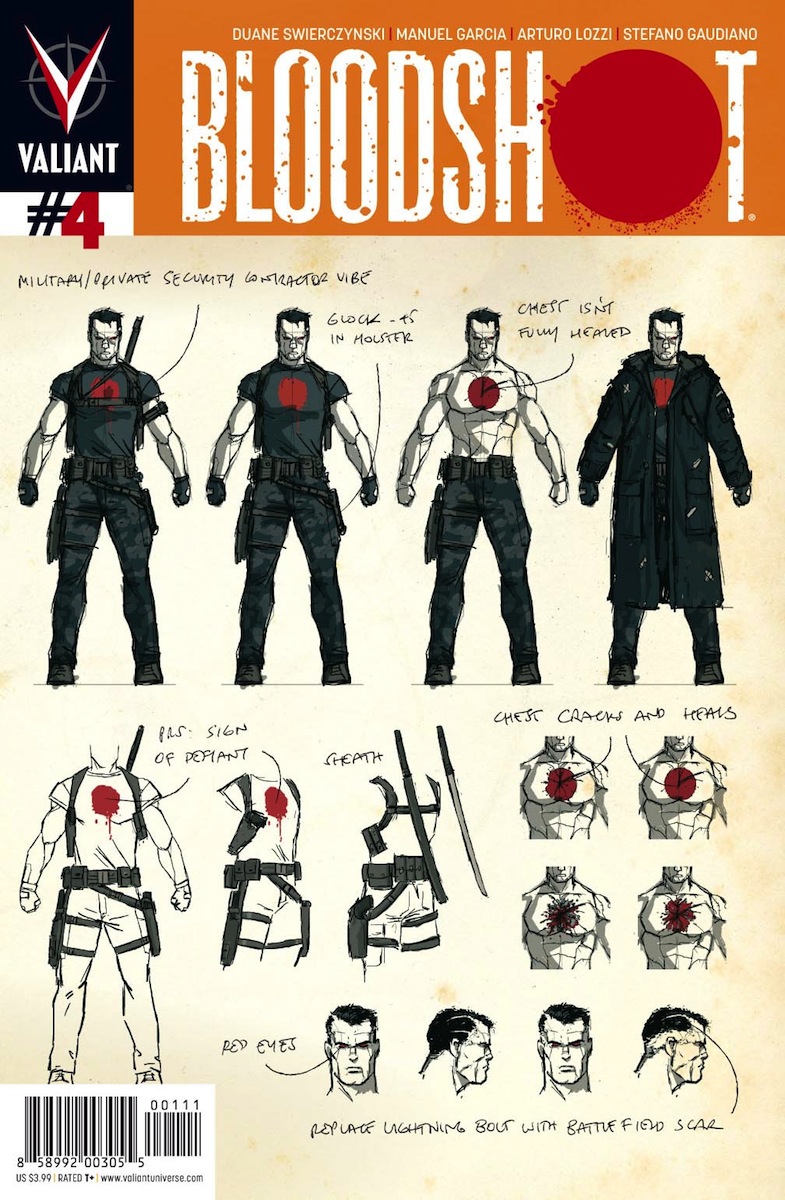 You mentioned the character's costume change, leaning more towards a superhero look. How do you approach a redesign – whether it be a character's look or who the character under the costume is? How did you approach that with the creators behind Shadowman?
I think for Shadowman, I had a couple different artists take a pass at the character. We received probably two or three different versions. I've had a couple of really extraordinarily brilliant designers and artists take a pass at designing the universe. Jelena Kevic-Djurdjevic did X-O Manowar for us, David Aja did a whole bunch of the characters for us, Khari Evans, who's doing Harbinger, also refined a lot of the characters that appear there, and Patrick [Zircher] is the other one that's done an intense amount of work for me. He did Ninjak for me; he did Shadowman; and he's got a couple others coming down the pipeline that we haven't seen just yet.
Part of it is a collaborative process, talking with Patrick about what we thought worked and didn't work with the initial character. I was really big on the mullet, but Patrick didn't want to keep it. Just kidding about that. [Laughs.] There was a lot of stuff that we wanted to update to modernize the character, so he, for example, didn't have a mullet. But by the same token we thought that the design of the guy standing in the doorway casting a shadow was a very good one, so we wanted to somehow retain that in the uniform that Jack wears.
Why does Shadowman have that? What does it mean to the character? What does it mean to wear this outfit? Why does he wear it? What does he mean as a character? What does that mean to him? What is the legacy of being a Shadowman? Those are things that we think about, and then we break it down from there visually to the design of the character. What do we like about the character visually? About his face? His hair? His gloves? His costume? We begin to iron it out and break it down and build it back up.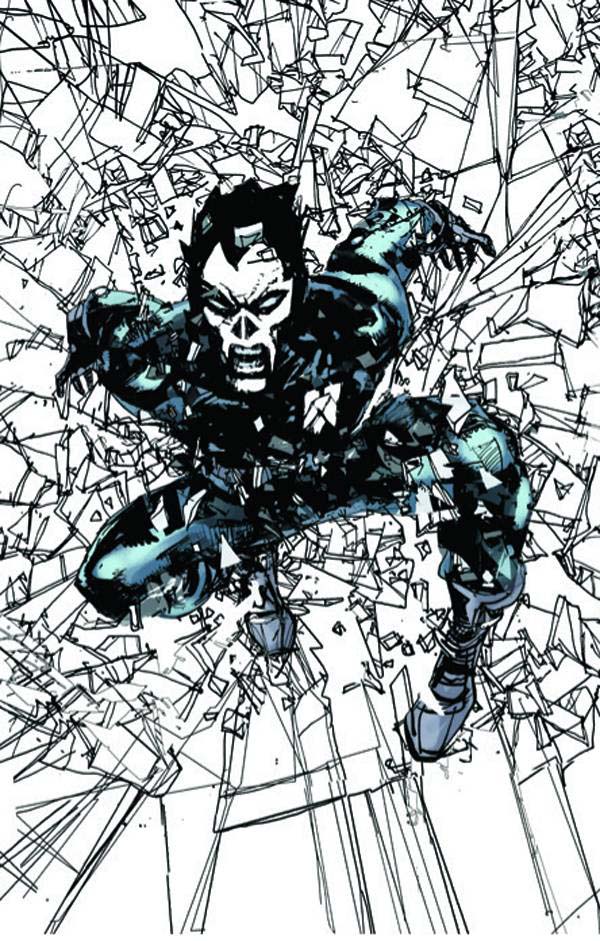 Shadowman is the new book you're soliciting in September's PREVIEWS, but Valiant is also beginning new story arcs with Bloodshot #5 and Harbinger #6. How are you approaching making sure that the books are as new-reader friendly as possible? What can you tell us about these new arcs in particular?
Part of my main focus as an editor is to make the books are as accessible as possible. It's never a perfect process in a monthly medium, but my main goal is to be able to hand any one of our comic books – whether it's Harbinger #6 or Bloodshot #5 or Shadowman #2 – to someone passing by on the street, have them understand it, understand who the characters are and what their motivations are, and what's happening. I think that's a critically important part of keeping new readers coming into our medium, making sure that the stuff is accessible, and I think that's something I've tried to do with all the books. It's not something we always succeed at, but it's something we always strive for.
With Harbinger #6, that's the start of a new arc. In this arc, we have Peter Stanchek gathering up a team of renegades. I don't want to spoil too much, but after a massive confrontation with Harada, he now goes and puts his team together. We'll see the introduction of many of the classic characters that fans love so much, including Faith, Torque, and Flamingo. So Pete goes on the road and begins to get his team together, and it's not exactly the team we knew from before, but many of the beloved characters from the past will be appearing in updated incarnations similar to Peter Stanchek and Toyo Harada.
In Bloodshot #5, we're going to have Bloodshot take the war to Project Rising Spirit. For the first four issues he's kind of been kicked around like a ragdoll. At the end of the first arc he's going to have a little bit of a better understanding of who he is. Now he's going to go and begin to take out the people that have been sending him on missions, and we're going to have a very violent and action-packed story arc coming up. I'm really excited about that.
Over in X-O Manowar, the story of X-O vs. Ninjak is continuing. How significant is it to have Ninjak back in the Valiant Universe, especially in X-O Manowar, giving the main character a force to go up against?
I think he's great. One of the strengths of working at Valiant is that we do have a shared universe, so we can introduce characters into certain arcs, as we'll see – hint, hint – in coming months. We love Ninjak up here. We think he's a great character. Rob Venditti and I were talking at C2E2, and he was saying it wouldn't make sense to have [X-O Manowar] take place on Earth without having Ninjak appear in it, and I thought it was a really great point. That was our entry point into this particular character. I think [Venditti] did an extraordinary job in introducing Ninjak, who, as we'll see, is going to be a really wonderful, complex character. The idea of this guy who's basically a ninja going up against the most powerful suit of armor is an extraordinarily interesting combination.
How is this guy going to hold his own against X-O Manowar? What we'll see taps into what makes both characters so great in the first place. That culminates in December with issue #8. It launches in September with issue #5, which is the first appearance of Ninjak in the Valiant Universe. That will be four issues, so we'll have September, October, November, and December. Then coming up in the next arc of X-O is something extraordinary, but I can't get into it too much, but it's just going to be massively huge.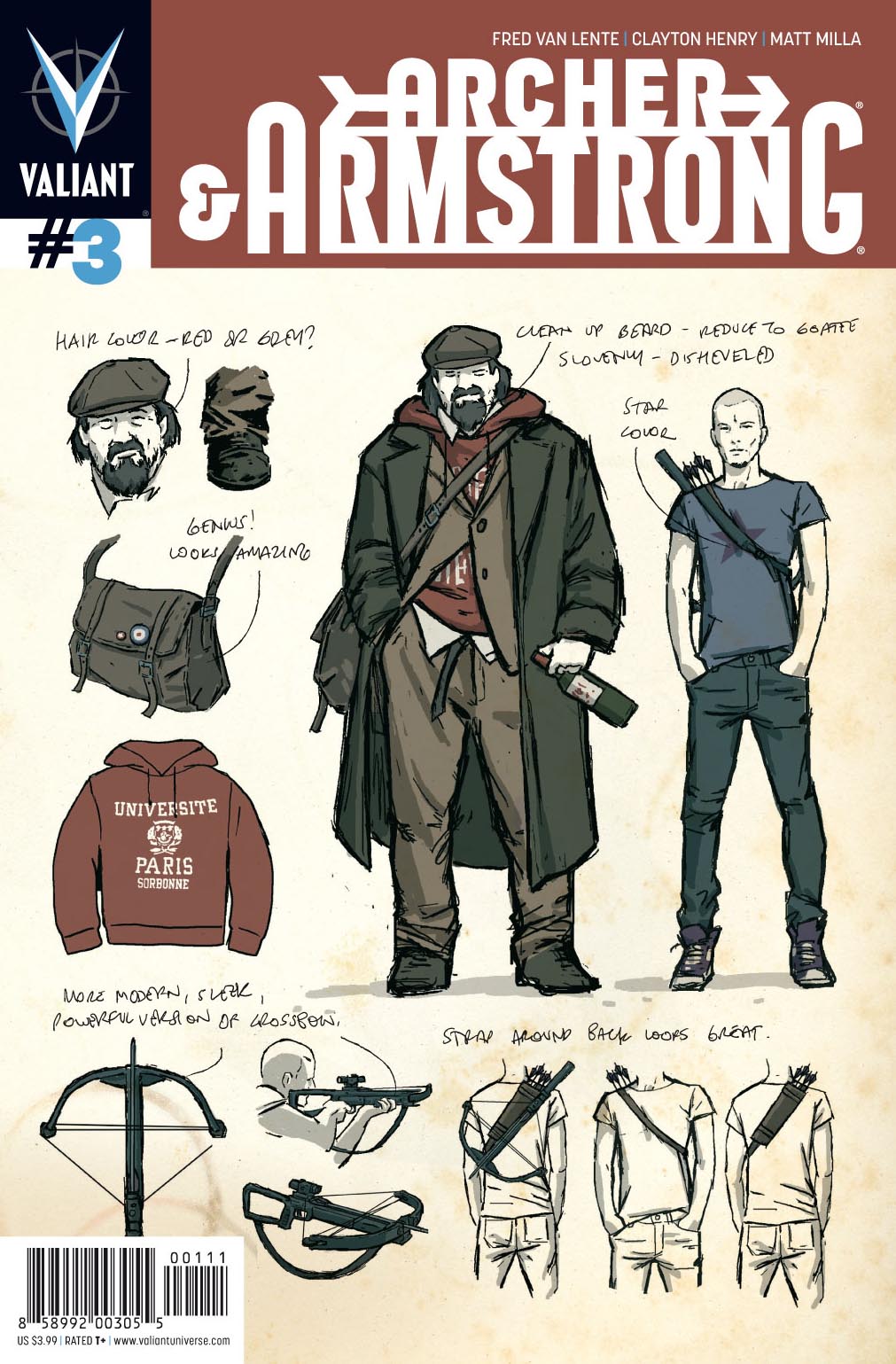 Can you tease what's going on and what's coming up in Archer & Armstrong?
I read the first issue again last night. I really love this book. It's preposterous in a wonderful way. Fred Van Lente is writing the hell out of it, and Clayton Crain is doing a beautiful job on the art. These really are the only superheroes in the entire world that have enough moxie to take on the 1%. What we'll see in the coming arc is in next issue, issue #2, they really do go head-to-head with the 1% and it's a great confrontation. Fred has done a wonderful job with it, as has Clayton. And then in the coming arc we'll begin to see what happens with the Boon, which is the device we see in the first issue, and what are these pieces The Sect are trying to assemble, why are they trying to assemble it, and how are Archer & Armstrong going to stop them… if they can stop them. That's going to take us up to issue #4, which comes out in November.
Then, in December, one of Valiant's all-time biggest characters is going to be coming back with issue #5. This is going to be something Valiant fans are going to be very excited about. We're going to see the modern incarnation of this character – hint, hint – and he or she is an absolute force to be reckoned with. It's going to be an extraordinarily action-packed issue. The next arc will be #5, 6, 7, and 8. We have a new artist coming on board, whose name I don't want to say just yet. We'll be announcing that at Baltimore Comic-Con. Clayton's done an amazing job, so he'll probably circle around after that.
I think that just about covers everything. Any other points about Shadowman or anything in your line you wanted to share?
We're really excited about Shadowman, and we think it's a knockout. Patrick's art is out of the park, and the guys are writing up a hell of a story. We have Patrick and Dave Johnson on covers, and we also have a beautiful one by Bill Sienkiewicz that's one of my favorite pieces he's ever done. So we have some extraordinarily beautiful covers coming out. Dave Johnson is doing covers for the first six issues, and he's doing a beautiful job with them. We really think the world of this book. We can't give away too much just yet, but we really think it's going to be a drop-dead gorgeous book, and it's a lot of fun. It really taps into what it means to be Shadowman in the Valiant Universe, what it means to protect this corner of the universe, what it means to be a character that's dropped into a blender and needs to find his footing very quickly if he hopes to survive. I wouldn't be surprised if he doesn't survive.
That's one of the things we're bringing to bear on the Valiant books: at any given point, you can open up one of our books, and you never know what's going to happen. That's particularly going to be true in Bloodshot #4; it's particularly going to be true in Shadowman #1. We're really going to see a lot coming down the pipeline that's going to be surprising the level that we're taking these characters to and what it means to operate and live in the Valiant Universe.

---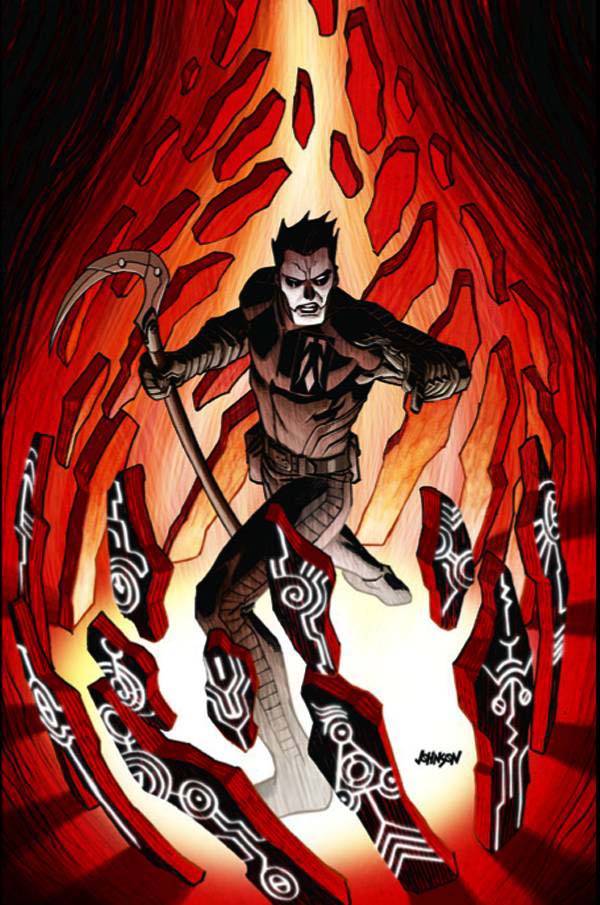 SEPTEMBER-SOLICITED VALIANT COMICS: