The Walking Dead Marathon Twitter Contest
Jul 05, 2012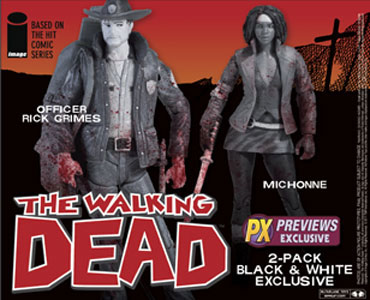 In celebration of AMC's The Walking Dead Marathon weekend and the July 11th release of Image Comics' The Walking Dead #100, PREVIEWSworld is doing a retweet contest on Twitter to give you a chance to win a PREVIEWS Exclusive action figure two-pack of Officer Rick Grimes (includes bag of weapons) and Michonne (comes with sword and tools of revenge).

No purchase necessary to win.

Simply retweet the following on Twitter (copy text below):


RT @PREVIEWSworld for a chance to WIN The Walking Dead PX Officer Rick Grimes & Michonne action figures! More info: http://ow.ly/c1YWs


Just be sure your tweet contains our Twitter handle @PREVIEWSworld and a link to this webpage as shown above. We will send a Direct Message to the winners so make sure you're following us @PREVIEWSworld.

All retweets made before 11:59am on Monday, July 9th, 2012 will be entered into the contest.

Three winners will be selected at random on Monday, July 9th, 2012 from everybody who retweets the above Tweet. The winners will be announced on Monday, July 9th, 2012 and the prizes dispatched as soon as the delivery addresses of the winners have been confirmed.


Don't miss The Walking Dead Season 3 Preview Weekend July 7th and 8th on AMC, featuring some never before seen clips from the show.

This includes the world premiere of the black-and-white version of The Walking Dead pilot episode and featured on the Talking Dead prime time special will be a preview of the upcoming third season.

All 19 episodes from the series' critically acclaimed first two seasons will air during the marathon. You can see the full schedule here!