Indie Edge June 2012: Jimmy Gownley
May 18, 2012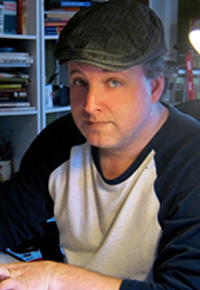 This month's featured creator is…
Jimmy Gownley
Jimmy Gownley is the award-winning creator and cartoonist of the hit kid's comic, Amelia Rules! Gownley has 13 Eisner Award nominations (two in 2012) to his name, including nods for 'Best Kid's Comic', 'Best Single Issue', 'Coloring' and 'Lettering'.
He has won Three Junior Library Guild awards and was the winner of a 2006 Cybil Award for 'Best Graphic Novel'. His final Amelia Rules! Volume, "Her Permanent Record", is due out in August 2012.
In 2011 Gownley, co-created the webcomic Gracieland with Ellen Toole Austin, it can be read at greetingsfromgracieland.com
His work has been translated into multiple languages and was even turned into a stage musical.
Jimmy lives in Harrisburg, PA with his wife Karen and twin daughters, Stella and Anna, whose own art can sometimes be found on the back of Amelia original art pages.
Classic or Current works by Jimmy Gownley…
Amelia Rules!
Vol. 4: When The Past Is A Present TP (FEB101072)
Vol. 5: The Tweenage Guid to Being Popular (JAN101094)
Vol. 6: True Things (Adults Don't Want Kids to Know) (JUL101117)
Jimmy Gownley, what are you reading?
I'm most known for my work in, and advocacy of, comics for kids. But right now I'd like to recommend a few "grown up" books which I think count among the best work being published anywhere today. Dave Sim's Cerebus was a huge influence on me as a cartoonist, and I am thoroughly enjoying his most recent series, Glamourpuss (#23, NOV110672). Where else can you get a comic book about brush-versus-pen inking styles, the fashion industry, and fateful decisions made by 1950's newspaper strip artists?
Another indie creator with an epic masterpiece behind him is Terry Moore. Rachel Rising (Vol. 1: Shadow of Death, JAN120780)is Moore's latest; it is beautifully drawn, super creepy and quite funny too!
Finally, I want to recommend Love and Rockets: New Stories (Vol. 5, MAR128030). Love and Rockets is one of the greatest comics series ever created, and incredibly, even after 30 years, it is still featuring top notch, cutting edge stories. Even if it does only come out once a year!
*********
Join Jimmy on Facebook: facebook.com/gownley, or follow him on Twitter at: twitter.com/jimmygownley
Are you following PREVIEWSWorld on Twitter yet? Follow @PREVIEWSworld