Diamond Select's Details of Battle Beasts
May 13, 2012
Marketing Supervisor for Diamond Select Toys Zach Oat gives an interview to Toychestnews to detail what's in the wings for DST's new toy line featuring Battle Beasts. Zach gets into the specifics of the release, the concept design, and tie-in to the IDW comic book series.
**********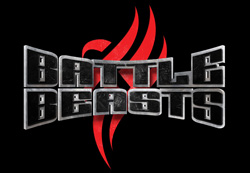 Toychestnews (TC): It was first announced in 2009 at the San Diego Comic Con that Diamond Select Toys had secured the trademark on the name "Battle Beasts." Can you tell us what's been going on behind the curtain since that announcement?
Zach Oat (ZO): We didn't want to rush toys onto store shelves without figuring out exactly how we wanted the line to play out. We knew the kind of toys we wanted to make, but we didn't know who the Battle Beasts were, where they were going, and what the line would look like in a year. So while we focused on a few other proprietary lines, we used that time to flesh out some ideas we had about the Battle Beasts, and to find a partner that would help us turn those ideas into stories. Once IDW came on board, with Bobby Curnow delivering a great script and Valerio Schiti turning in some amazing artwork, we knew it was time to get the ship underway, as it were. So we put our Minimates design team on the job, and we hope to show off Series 1 on the third anniversary of the announcement, at the same time as the first issue of the comic book comes out.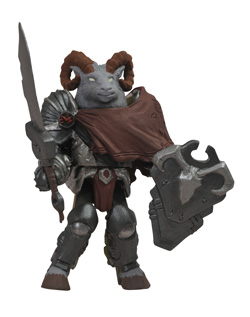 TC: Why use Minimates to bring this brand to collectors?
ZO: We've been making Minimates for ten years now, and we've found that they're a pretty adaptable toy. When Art Asylum designed them back in the day, they were fairly basic block figures along the lines of Kubricks. But as they've been adapted to brand after brand over the years -- Marvel Comics, The Real Ghostbusters, Marvel vs. Capcom -- we've found that they can be anything we want them to be, with the addition of a few sculpted parts. And while we explored some fully-sculpted Battle Beasts designs at one point, we were always going to make Minimates first. They're two inches tall, they're really poseable, they cost less than $10 for a 2-pack... it just made a lot of sense for the brand.
TC: How will Battle Beasts Minimates be different from other Minimates lines?
ZO: All of our Minimates lines use additional sculpted parts to varying degrees, but Battle Beasts will be one of our most detailed and visually diverse lines yet. It will still take advantage of the Minimate body's poseability, but with sculpted heads, legs and torso parts that will give them more Beast-like anatomy. We've been making four-legged Minimates for years now -- dogs, wolves, Daggits, etc. -- based on the human proportions of Minimates, but now we're ready to take them even further away from those proportions. And this time around, we really want to play up the interchangability of Minimates. Collectors already trade parts back and forth between their figures, to create different versions of characters, but we're making it so that, in spite of all of these sculpted parts, you can still combine these different animal attributes to create hybrid animals. Goats with scorpion claws, a moose with spider legs... the possibilities will be endless.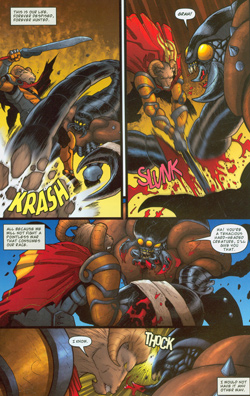 TC: How closely will the Minimates toy line follow the IDW comic book?
ZO: The first assortment will follow the comic very closely. We meet a lot of Beasts in the first issue, including our three main characters, Vorin, Merk and Gruntos. They anchor the first series, and it will be filled out with some of the cooler-looking creatures that pop up in that issue, as well as a few designs that may not appear in the book until much later. We're wrapping up development on the toys now, and the issues are still being drawn, so we'll see! There will also be a couple of figures based on the book's human protagonists. The line is still all about the Beasts, but fans of the book who want to get the human characters will be able to.
TC: How has it been collaborating with IDW on the toy designs?
ZO: Great! Having seen the art shooting back and forth between Mark Wong, our lead Battle Beasts designer, and Valerio Schiti, IDW's artist on the comic, it appears to be going very well indeed. Valerio is bringing Mark's designs into the real world, and Mark is skewing Valerio's designs into a more fantastic realm, and the end result is the best of both worlds -- a true hybrid.
TC: Which animal has been the most challenging to adapt to the Minimates system? Which do you think has been the most successful?
ZO: Believe it or not, Merk has been challenging -- making a Minimate look as deadly as Merk is tricky enough, but factor in the hood and the wings and his weapons, and there are a lot of conversations with the sculptor about how to make him look just right. Some of the most successful figures in the first assortment have been the eight-legged characters. Series 1 has both a scorpion and a tarantula, and both of them utilize a new four-pegged hip piece, which allows them to walk around on four legs. Add in the long foreleg pieces, big claws and chest armor, and they are very, very impressive. I think people are going to like them a lot.
TC: What will be the next Battle Beasts product to reach collectors' hands?
ZO: The first Beast toys we'll have for sale will be a San Diego Comic-Con exclusive two-pack, featuring Vorin with his cloak down and an evil dragonfly character named Zik. Vorin will be in full color for the first time, and he'll be slightly different from the regular release in the fall, and Zik is a fun character we designed just for this set. Of course, the first issue of the comic comes out in July, as well, with a main cover by Dan Brereton and a a limited variant by Ulises Farinas. And there will also be a retailer incentive Minimate of Vorin in "stealth armor," available to comic shops that buy 25 copies of the comic.

To read more about the new Battle Beasts comic book from IDW, check out the article on PREVIEWSworld!