Battle Beasts: Combat, Courage, & Conviction
May 14, 2012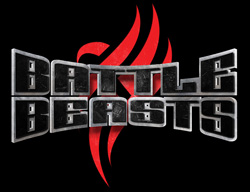 Writer Bobby Curnow and artist Valerio Schiti talk about their new IDW comic series, Battle Beasts, and how they melded their minds together to produce a whole new world in which beasts of brawn replace men and their machines. A new age has begun, and at the front lines are the Battle Beasts!
**********
PREVIEWSworld (PW): Who are the Battle Beasts?
Bobby Curnow (BC): The Battle Beasts are an ancient race of creatures who value combat above all other things in life. That's all I'll say about them for now-- delving into their history and society is something that's going to be fun to explore in the series. Our story focuses on three hero Beasts. Vorin, the Ram, Merk, the Falcon, and Gruntos the Walrus. They reject the Beast way of life and are searching for a way to stop the endless conflict, all for their own individual reasons.
(PW): How has your collaboration been going with Diamond Select? What is the process?
(BC): Honestly, it's been great. [Director] Chuck Terceira and everyone else at Diamond are so enthusiastic about the project, and there's just a ton of energy around it. Then we started putting together the story, Diamond Select had some ideas about the Beasts coming to Earth, and thoughts about the human characters. This was really great, because when I started thinking about the project I was really preoccupied with the Beasts... they were all I was thinking of! But the Earth setting, and our human characters, are so crucial to this story, so I'm really happy they wanted that direction. The end result is a great meld, which I find can be rare.Once we had the basic concept down, I work up a draft of a script, take some minor but very helpful notes from Diamond, then it's off to Valerio, who makes the story ten times better!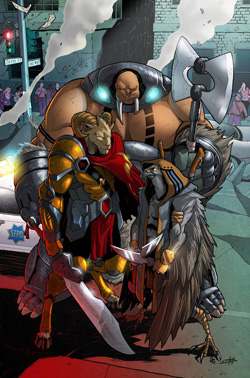 (PW): Has it been a challenge to essentially build this new world from the ground up?
(BC): It's certainly taken time and effort, but I don't know that it's a challenge. This is a dream gig. There's a big life-or-death struggle, interesting characters and a potentially limitless supporting cast of Beasts. All of that is just plain fun to explore.
(PW): How far out have you planned the story of the Battle Beasts? Do you have ideas reaching beyond the mini-series?
(BC): Definitely. I've got a good grasp on what would be the first twelve issues, with some good ideas of where to go beyond that. Beasts on Earth is such a rich concept to explore, with lots of potential twists and turns. Add in the great off-world Beast backstory, and there's loads of stories to dig into.
(PW): The tone of the book walks a line between drama and humor. Is that a difficult balance to maintain, given the subject matter?
(BC): I think that balance between drama and humor has developed naturally. Given all the battlin' beasts, it's easy to default into grim and gritty. We definitely have some serious, heavy things going on, but both Valerio and I didn't want to make this book a drag to read. It should be fun, and incorporate some classic adventure elements. We've got a couple serious characters, and a couple characters that are naturally a little bit more light-hearted and optimistic. Those characters provide a nice, natural mix of tones.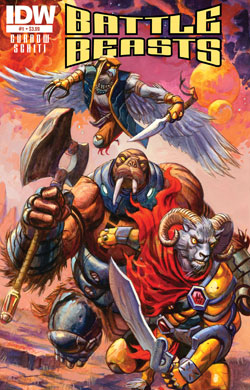 (PW): Who has been your favorite character to write so far?
(BC): There's something I really like about all the characters, I could talk about all of them at length! Developing Vorin's backstory has been really interesting, he's got a lot of layers. His dynamic with Merk is going to go in some interesting places, there's going to be some neat twists and turns within the hero Beasts dynamic. Bliss, the main human protagonist, has been the biggest surprise. She's really different from other characters I've written before, but she's sort of emerged fully formed. I don't have to think too much about what she would do, but I still find myself surprised by some of the things she says and does, which I think is a very good sign.
The characters you don't have to force are always the best. On the other hand, I knew from the start that Gruntos was going to be fun to write, he's just so jovial and takes life as it comes. So no surprise there.
There's also a character that we only see for one panel in issue #2 that I can't stop thinking about, too! I'm grinning while writing this whole response, thinking about these characters. They're all just a ton of fun. To me, at least! Hopefully the reader will agree!
(PW): Why do you think Battle Beasts is a good fit for IDW?
(BC): IDW does many things extremely well. We make high-end collections, and some of the very best creator-owned original books. But probably a majority of our efforts go into licensed properties. We've got a ton of experience working with licensors, figuring out how to make the very most out of their properties. We love finding the stories that best expand the potential of a concept. IDW always tries to find the living, breathing heart of a story, and do something new with it, while honoring what makes it great and attracts its fans. In short we're good at respecting what makes something cool, while thinking about how to push it into new and fun directions.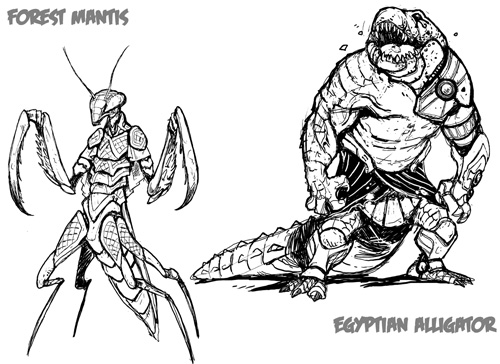 Battle Beasts has absolutely all of the ingredients to make a great comic. Big conflict, interesting characters, and a story that could go anywhere. That 'surprise' factor is built in. Then you add in TONS of cool creatures and designs and give it to an artist as talented as Valerio? That's a recipe for good comics, and that's why Battle Beasts is a natural fit at IDW.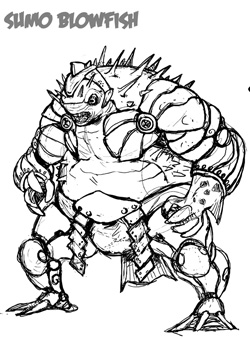 (PW): What do you personally bring to the Battle Beasts table?
(BC): Ha, you are going to make sure I come off as an egomaniac, aren't you? I think, more than anything else, I can see the potential of this story. It's a big story, spanning the globe, involving two different races with the fate of the Earth hanging in the balance. That's the big picture. But at the heart of it are our main characters, each one unique. They are where the real story is. We're going to have tragedy, humor, and tons of action. I like to think I can keep that balance while still respecting the characters that are moving the adventure forward.
So I'll be throwing out some fun ideas, but really it's Valerio who's going to be spinning into gold!
PREVIEWSworld (PW): Okay, so, turning our attention to you now, Valerio, how has your collaboration been with Bobby and DST? What is the process like?
Valerio Schiti (VS): First of all I have to say that I'm very excited for the chance to work on such a thrilling project. I already worked with Bobby on "TMNT" and "Infestation 2", I know how professional he is and I also know the toys and the products of Diamond, so I'm glad and proud to have a part in this project too. As an artist I always try to translate and sometimes improve with pictures the writer's imagination. So, once I read Bobby's script, I started doing the layouts for the whole book. In this way Bobby and Diamond can evaluate which is the main idea and the rough bases of the final panels and then, when I have their approval, I start inking. It's very important to say a few words about the amazing work of Scarletgothica with the colors. We organize our work so while I'm working on inks she usually starts to coloring the first pages. We try to work as a team, she always involves me in her process, asking me the mood of the story, the atmosphere, sometimes even about the weather and what time is in the sequence! She's very talented and I have to share with her the merit for the final result of the pages.
(PW): Has it been a challenge to build a new world from the ground up?
(VS): Absolutely not! Of course it's hard, but it's a comic artist's dream to do something like this, all of my colleagues are very envious. Diamond was very clear about what they were looking for with their creatures, they also sent me some sketches to show me what they wanted and Bobby let me be free about the design of the creatures. He also asked me opinions during the preliminary phase. What we have is a huge population of beasts, all threatening and all different and peculiar! All I had to do was to start sketching beasts as much as I can. Believe me: this is the funniest part of the work!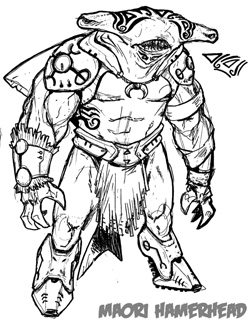 (VS): Who has been your favorite character to draw so far?
This is the hardest question: I created this crew with Bobby so I love them all but probably, if I have to chose, I think that my favorite one is Vorin the ram. I like his fighting poses, his armor and his mixture of leadership, courage and kindness. In my imagination the three beasts are like the Three Musketeers and Vorin is like the noble Athos, my favorite one! For different reasons I'm in love with the Reynolds siblings, the human protagonists. Bliss and Tate are two great characters with a special relationship, they're perfectly balanced and I have to thank Bobby for this. I love to make them play and I really hope the readers will like them as much as I do.
(PW): What do you personally bring to the Battle Beasts table?
(VS): I like to introduce small details, something useful to improve what Bobby and Diamond want from me. I'm talking about silly things like a stupid chubby character in the background, an old woman running away with a dog, a man talking at the phone while the city is crumbling, a realistic outfit for the characters. These may seem just small details but real people in a real city act in this way, and what is really important to me is to make it all believable: in my humble opinion the plausibility is the key in a comic book with a fantasy theme and fictional characters!
(PW): After working on TMNT and now this, are you more comfortable drawing animals than humans?
(VS): I have to be honest: the anatomy is pretty much easier for the animals. The animal-like characters can do poses that a human can't usually do and as an artist, I can exaggerate movements and muscles to enhance the dynamism. Of course there are pros and cons: For instance it's very difficult to draw the beasts facial expressions without making them ridiculous… but in the end, it's a hoot!
To read more about the new Battle Beasts toy line, check out the article on Toychestnews!