Indie Edge April 2012: Doug Paszkiewicz
Mar 14, 2012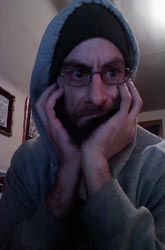 This month's featured creator is…
DOUG PASZKIEWICZ
Douglas Paszkiewicz is a ten-year veteran in the comic book and magazine industry. As a writer and illustrator he has done work for MAD Magazine, Image Comics, Too Much Coffee Man Magazine, and a host of other national publications, including his own independently published comic, Arsenic Lullaby.
In his own words…
I don't sleep very well, and I have almost no idea what is going on in pop culture. You name a popular movie or TV show and I probably haven't seen it. That, along with a lot of hard work, is why my work is so original and offbeat. It is pretty tough to be influenced by anything or travel down a similar road as anything else being done when you have no idea what is being done.
I don't set out to shock anyone or push any boundaries, I just write things that make me laugh and hope there are enough people out there who find those same things funny. So far it has worked out.
What are your favorite projects you've contributed to over the past decade?
I would say contributing to MAD Magazine is not only a thrill but a lot of fun. At first I thought having an editor to answer to would be sort of a drag but it turned out to be just the opposite. As an independent publisher I have no net, no security blanket, no one to make sure I am putting the right spin on the ball. It is a relief to have people who know what they are doing around to give you some input. Especially when it comes to writing comedy.
I had a lot of fun making Arsenic Lullaby short animated cartoons. Being able to add sound and voices was like taking the training wheels off. So much of writing a comic book involves worrying about the timing and how much you can fit on a page. With animation, if you want things to move slower…you just slow it down.
What are you currently working on?
I am currently working on Arsenic Lullaby Cartoons. A full-length DVD of these shorts should be available through PREVIEWS near the end of summer. I'm also putting together another issue of Arsenic Lullaby…a lot of the things I send to MAD get turned down because they are simply too abrasive and dark even for them — no sense in letting those go to waste!
Classic or Current works by Doug Paszkiewicz…
Arsenic Lullaby: The Devil's Decade (OCT100795)
MAD Magazine #515 (FEB120278)
Indie Comics Magazine #5 (See Page 226)
Doug Paszkiewicz, what are you reading?
Let me start with Three Fingers (STAR16313) and The King (MAY053049) from Top Shelf and Rich Koslowski. These books are well drawn, well thought-out, smartly written and very, very funny. For flat out good, original storytelling these may be the cream of the crop.
For sheer fun there is Dork Tower (NOV100852) by John Kovalic. Dork Tower is very much "Charlie Brown meets the world of Gaming." The characters are funny, charming and it is strangely uplifting; I often wonder what writing something uplifting must feel like. I'll bet John sleeps much better than I do.
One guy I know who doesn't is Raven Gregory the man behind Tales from Wonderland (JUL101202) from Zenescope. Wonderland is everything your id is looking for: scantily-clad women, violence, macabre twists and turns, all wallowing in the setting of a familiar fairy tale.
Are you following PREVIEWSWorld on Twitter yet? Follow @PREVIEWSworld