Manga Month: An Interview With Dark Horse Manga Editor Carl Horn
Feb 28, 2012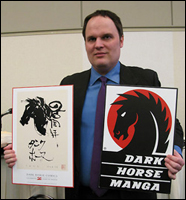 Manga, in all its many forms, is truly here to stay, having long ago settled into its own niche alongside Western-style comics and graphic novels. And while manga's history on our shores is not as long and storied as that of the American comics form which started in the late '30s of the 20th century, manga has been translated for Western audiences for over well over 25 years, with Dark Horse one of the leading importers of Japanese manga.
From classics like Lone Wolf and Cub, Magic Knight Rayearth and Oh My Goddess! to the futuristic thrills of Gantz, Neon Genesis Evangelion or FLCL, Dark Horse has remained dedicated to manga through an individual approach to properties for audiences of all tastes.
Dark Horse Comics Manga Editor Carl Horn took time to speak with PREVIEWSworld about Dark Horse Manga and upcoming projects to watch for.

---

PREVIEWS: The landscape has changed for manga over the past couple of years. What has Dark Horse done to stay at the forefront of the manga scene, and what plans do you have for the future?
Carl Horn: Manga publishing outside Japan requires one thing that never changes — paying constant attention to Japanese titles, new and old, that would be a good addition to our publishing program. The title is the key, because if it's a title people want to read, there will be a desire for it no matter how reading formats evolve.
Those formats, of course, are where change is happening most rapidly, and after beginning our Dark Horse Digital Publishing program for manga last year with the works of Kazuo Koike, we've recently added such titles as Hellsing, Trigun, Blood+, Ghost Talker's Daydream, M.P.D. Psycho, The Kurosagi Corpse Delivery Service and Mail. Each individual manga series has to be approved by the Japanese licensors for digital distribution, but that approval process is part of our everyday, ongoing efforts — so if a Dark Horse manga you like isn't yet available digitally, the chances are good we're working on it.
P: Which titles have been the biggest successes this year?
CH: Our most successful manga in this last year have been the CLAMP and Evangelion books. As you may know, Volume 10 of Neon Genesis Evangelion: The Shinji Ikari Raising Project was at the top of the New York Times manga charts for the week of January 29. It's worth stopping a moment to note the success of those books in a digital age, bought in most cases by readers who have grown up with the Internet. We owe that success to active support from the fans, but I believe it also shows that there is a continuing desire for both physical books and digital formats; that digital is a matter of expanding reader options rather than limiting or replacing them.

P: What are some of your personal favorite titles?
CH: To be honest, each book is my favorite as I work on it — and I think that's a good approach for an editor to take because that book is going to be, or could become, some reader's favorite out there. The manga we release all had readerships in Japan, after all, so you start from the knowledge that they appeal to people. You need to try and understand that appeal, not only for the sake of a good English-language edition, but because it may teach you something new about the original series and its context.
For example, as a longtime fan of Neon Genesis Evangelion, a series with an often dark and cryptic reputation in North America, I was a little surprised at first by the lighter, rom-com approach taken by its spinoff, The Shinji Ikari Raising Project. But what's interesting is that Shinji Ikari is arguably the most well received single spinoff of the entire Evangelion phenomenon in Japan. The truth is, many Evangelion fans can switch modes and appreciate the series either way — serious or funny. The main characters are such icons by now that it's as if the fans wish them happiness. Since that kind of alternate world was a key part of the TV series' much-debated ending, in a way, The Shinji Ikari Raising Project is in fact true to the ideas of the original Evangelion, even though it's a comedy.
P: What can you tell us about upcoming projects?
CH: You should hear announcements about at least five new manga from us (and maybe more!) as we move later into 2012 — as a teaser, fellow manga editor Philip Simon has authorized me to say that one of those five is from Blade of the Immortal creator Hiroaki Samura…
All our regular series are continuing, and look out for the long-awaited return of The Kurosagi Corpse Delivery Service when volume 12 hits stores March 28. Our omnibus of FLCL, the manga version of the anime Adult Swim once said "will change your life," is out May 16, with new content including an SFX translation, color pages, pinups and bonus strip. In September is Book One of our new CLAMP omnibus project, Angelic Layer, which was the prequel to Chobits and a represented a major turning point in their art style. The omnibus collections of Magic Knight Rayearth conclude in April, with the sequel story Magic Knight Rayearth 2, and Cardcaptor Sakura Book Four is out in September — ending in a blaze of bonus color pages, as CLAMP gave us an additional dozen pieces to include, for a total of forty-one paintings!
P: Much has been made of the division between readers of manga and Western comics — conventional wisdom being that a fan of one generally doesn't read the other. What titles would you recommend that might appeal to someone who's more of a fan of American/Western comics?
CH: Dark Horse has published manga almost as long as we've published comics, so we personally have never believed in a wall between the two. A lot of comics fans used to look to manga for science-fiction action epics, such as Akira and Ghost in the Shell. I wrote a recent DH blog post saying if you miss manga like that, read Dark Horse's current series Eden, a sharp and political cyberpunk saga that's one of the best-written manga of the past decade. Katsuya Terada's The Monkey King Volume 2, out in April, is a rare example of a manga painted in full-color. You might call it an Asian take on Conan-style barbarian adventure, and its style reminds me of both the weird fantasy of Rich Corben and the sardonic humor of Eric Powell.
Just the other day I got a letter from a gamer reading our Mass Effect comics, who, knowing that we also publish Valve Presents, demanded to know this: if the Oh My Goddess! characters were to portray the cast of Team Fortress 2, who would be who? I did my best to answer... but honestly, that's just the kind of crossover fan we're glad is reading Dark Horse titles! And that gets back to what I said about Shinji Ikari — that fans have a larger conception of the characters they like than can be expressed by any one book, series, continuity or even universe. There's no way you can fit it all into just "manga" or "comics," so Dark Horse publishes both!