PREVIEWSWORLD EXCLUSIVE: Chasing Robert Kirkman at Image Expo 2012
Mar 10, 2012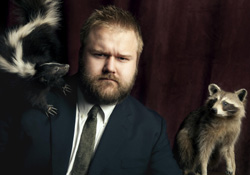 When I walked into PREVIEWS Editor Marty Grosser's office to tell him that I had landed an exclusive interview with The Walking Dead creator Robert Kirkman at the Image Expo, I was armed to the teeth, and ready for battle. Surely insults would be hurled at me as well as office supplies. It was a given. But dodging these projectiles, blocking them with shield and spear, I would be yelling that he was still my friend, despite his actions showing that he only wanted me to stop breathing.
Such is life in publishing.
Rewind. The year: 2011. Marty was excitingly waiting to interview and do a feature with Kirkman in the PREVIEWS catalog, but because of scheduling conflicts the feature never happened. Unfortunately, he ended up having to secure deck chairs on the ship at the last minute to accompany the warning from the crow's nest that screamed "iceberg right ahead!"
It was a harrowing experience.
But now I had just walked into his office to tell him that I had successfully navigated through those icy waters and would be on a plane in two weeks to film an interview with the man he missed in his earlier PREVIEWS issue.
Such is life in publishing. Some days you wear body armor.
"It's not personal, Sonny," I said, holding up my shield. "It's strictly business."
"Khan! Khaaaaaaaaan!" he barked. An Ultraman toy whizzed by my face and landed in the hallway.
I barely escaped with my bald head intact.
********************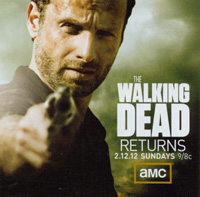 Later that day, all was forgiven, and he sent me an email to explain that the upcoming second half of The Walking Dead on AMC was prefaced by all prior episodes. He knew that I hadn't seen any of them. I had been working on assignments throughout the fall which had kept me from watching any television. Ironically, two of those assignments had been to interview bands like Anthrax and The Devil Wears Prada, both which were quite fond of zombies, and vocal about it. In fact, Anthrax guitarist Scott Ian had been cast as a zombie extra in a Walking Dead webisode, and The Devil Wears Prada had released both an EP and comic titled Zombie.
But to watch a TV marathon and prepare for a Robert Kirkman interview in the same short period of time was suicide- and I knew it. I needed to know and write about the man behind the creation. That was the heart of the gig. At least, that was my rationale at the moment. I was still reeling from the fact that I'd soon be meeting the creator whose book I collected religiously.
Would my ignorance of Season 2 trip me up? Would it hinder me in conversations with Kirkman's Editor Sina Grace? Would I be targeted like Hunter S. Thompson at a Police Security Expo? The crowd in the room staring at me in disbelief. Knowing my briefcase had brain stimulants. Priests and cops with mouths wide open. An uncomfortable silence. The infidel among them.
No. This madman was not without his bag of tricks. Or years of mastering the Jedi mind trick.
I would simply wave my hand if asked about the show, and say "You don't need to ask me about Season 2."
"We don't need to ask you about Season 2."
"I can go about my business."
"You can go about your business."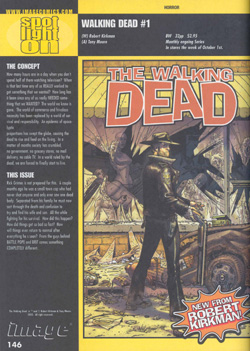 Yes, I had confidence in my ability to cloud men's minds so they couldn't see through me. But I also had history. Product knowledge. The fact was that I had collected The Walking Dead comic book since it had hit the shelves in 2003. And I had been hooked ever since.
After the first few issues, Marty Grosser and I knew that The Walking Dead had raised the bar. True, zombies munching on innocent civilians was always great comic fun. But the book was really about the human condition, and how people will do anything to survive when they're backed into a corner, with no place left to run or hide. Given that we had been at Diamond long enough to be called office furniture, we felt confident in saying that this was "the big one." We were professional armchair quarterbacks. The old men in the room. So when Image Comics released The Walking Dead, we knew we had seen the rookie finally make his mark.
But this time I was flying solo to do an interview. And there was the challenge. No professional photographer on board. And no wife to act as my GPS (it's no secret I'm horrible at navigating through airports). I was going stag as writer/photographer/man-on-the-street/producer. Kirkman's office said they wanted a filmed interview, an article worthy of Rolling Stone, and they wanted both to be at the top of PREVIEWSworld the same day I filmed the interview.
And I was on my own to do it.
"Can you do it?" they asked.
"Of course," I replied. Then I fell out of my chair, and my boss ran over to my office to wheel in a machine, put two charged pads on my chest, and yell over her shoulder, "Clear!"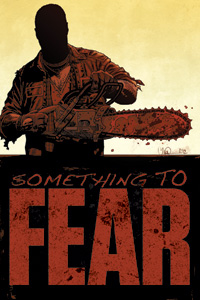 In my near-death experience I remember thinking that Robert Kirkman has a skunk on his shoulder if you look at his Twitter page. I loved that picture. A look of resigned acceptance on his face due to the obvious bad smell of circumstances. His grimace suggested the line, "Should you fall into something stinky, kids, don't worry, just check out this link I have for a ridiculous Japanese zombie movie called Toilet of the Dead. You'll see you're taking life way to seriously." I had actually clicked on that link. And it actually popped up a trailer for a movie called Toilet of the Dead. The man has a great sense of humor.
The truth is that Robert Kirkman does have a lot to laugh about this year. He's made it (whether he believes it or not). Although he's not one of the original founding fathers of Image Comics, he is now the man of the hour who's driving the train at the big "I." His stats speak for why he has the key to the city. The trade paperback collections of The Walking Dead, for example, occupied more than half of the top 25 slots in Diamond Comics' list of top-selling graphic novels for 2011.
So, in short, I had to swallow my fear of flying if I wanted a shot at the zombie king. And hopefully I wouldn't commit a foul deed on this trip, where I would risk being fingered as the clueless guy in the room who just offended the kingmaker, leaving the interview with Men In Black types watching me while talking into their wristband communicators. These guards would doubtlessly be saying "Dispatch Seal Team Six. Target is lit."
No, due diligence was in order. Key word searches. AP articles to consult. Twitter feeds to troll. Journalism was about getting your hands dirty and tuning out the world when a story needed to be told through the camera lens.
I gave up on cramming in all past episodes of Season 2 and got to work on learning about the man of the hour who would be the Big Daddy at the Big Image Expo show in Oakland, California.
****************
And, truth to tell, I had a lot to learn because as long as I'd been reading Kirkman's comics, I didn't know one thing about the man.
But thanks to emailed documents from his office, I was able to get the skinny. The important thing in an interview, of course, is to learn that you don't go asking someone who their favorite football team is when it's common knowledge that sports is the last thing that he/she talks about at the water cooler. And this was the case with Kirkman, as the man from adolescence on up was totally into the comics scene, G.I. Joe, Transformers, Army of Darkness, and Super Mario Brothers. But sports? Maybe if it's a Wii game. Otherwise, next question please.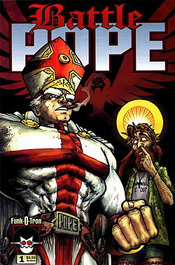 Kirkman, as it turned out, is the living embodiment of self-empowerment and a hard work ethic. He doesn't ask others to do something for him. He does it himself. He is such a driven, type-A personality that he bought his first house at the age of 19 because after high school he had worked a full-time job at a lighting supply store, plus nights and weekends at a comic shop. And before long, Battle Pope was his first title carried for distribution by Diamond Comic Distributors.
That book was when I first took notice of the name Robert Kirkman among a pile of other books I had to read for the PREVIEWS Splash Page. I walked into Marty Grosser's office with the book and a puzzled look on my face.
"Battle Pope?" I asked.
"Right up your alley, huh?" he said.
Yes, and no, I replied. Yes it was up my alley, but no it didn't have me write in my calendar that I had to raid back issue boxes as I'd found the Ark of the Covenant.
That would come in 2003 when Image released The Walking Dead.
"This," I later said, entering Grosser's office while holding issue #1 over my head, "This is what I'm talking about! This is the one we wanted, man."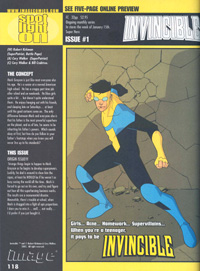 Being fans of monster comics, Marty and I had been saying for years that if only someone would come along and do a zombie book justice that there would be a chain reaction. Horror comics would get back on top, and maybe that would convince some publishers to reprint the pre-codes I couldn't find, or afford. Not that we or others at the office didn't like Kirkman's other work, like Invincible. We did. And proof of this fact was that you seldom, if ever, found comps of Invincible on the rack at the home office. You could, at times, find the occasional copy pop up in the lunch room after someone had finished reading it the prior week. And, so, some of the casual readers simply waited for the "second round" of dog-eared books to make their way into the lunch room so as to avoid a trip to the shop. But that never happened with The Walking Dead. You were on your own if you wanted a copy of that book. Nothing ever fell off a truck when it came to that book.
There were a lot of "experienced" comic readers at Diamond Comic Distributors. And, thus, you COULD NOT get a spare copy of The Walking Dead at the office. Period. Those of us old enough to be office furniture knew that the book was the Holy Grail. It had put zombies back on the map, without question, and our foresight was rewarded when we saw, yes, publishers bringing back the pre-codes.
The return of those old comics was testament to how Kirkman had reinvigorated the horror genre at the comic shop. And in doing so, he doubled down on his popularity by putting on another hat to become one of the industry's most outspoken advocates for creator-owned comic books. Always one to put his money where his mouth is, he launched the Skybound imprint in 2010 to give new creators a publishing house that paid them more. Kirkman had not forgotten what it was like to be the little guy.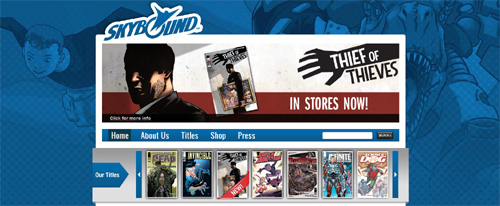 The first book to be launched under Skybound was Witch Doctor, helmed by his protégés Brandon Seifert and Lukas Ketner. The book has already been received to wide acclaim, and Brandon Seifert was one of the follow-up interviews Kirkman's office lined up for me over the Expo weekend. It's no surprise, then, that Witch Doctor has a lot in common with another new series Kirkman is producing with writer Nick Spencer (Thief of Thieves): these books are meant for more than just the comic shop. Indeed. Film and television are obviously phase 2 of the battle plan.
So it seems that the secret to Robert Kirkman's success is energy. Pure and simple. He has somehow managed to split the atom and contain the energy that would blast most of us to bits, and while he holds that critical mass he writes comics in the morning, sits in writers meetings, then writes more comics at night. Then, somewhere in between, he steps into the Matrix, evades the time stream, and carves out precious hours for his family and Super Mario games.
It is chemistry that most of us can't calculate, and you won't get any help in figuring it out from the Periodic Table of Elements. You can either do this stuff, or you can't. It's either in you, or it's not.
It's been said that Robert Kirkman looks for talent online, at conventions, and by personal referral.
Maybe I'll pitch him my story of a guy who wanted to write comics, but only got a job writing about comics.
Such is life in publishing.
And I'm sure I'll die laughing if he rejects my script, hands it back to me with that characteristic grimace, and says "It's not personal, Sonny. It's strictly business."
**********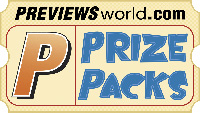 Be sure to check out PREVIEWSworld on Facebook and Twitter soon for upcoming news about our inaugural PREVIEWSworld Prize Pack featuring stuff signed by Robert Kirkman at this interview!
Photo of Robert with skunk and raccoon is ©Copyright Megan Mack. All other artwork is ©Copyright their respective owners.
A lot of people worked very hard to make my interview happen with Robert at the Image Expo. Thank you! And thank you, Robert, for being so cooperative, and for signing all the stuff I brought to the Kaiser Room.
Special thanks to Robert's office, Sarah and Jennifer at Image, Cindy, Elena, and Fred at the Diamond home office, and Dave Bowen for pushing me (as always) to take things as far as possible. And then some.
Keep the faith, folks.
And keep reading comics.
Vince Brusio
2/24/2012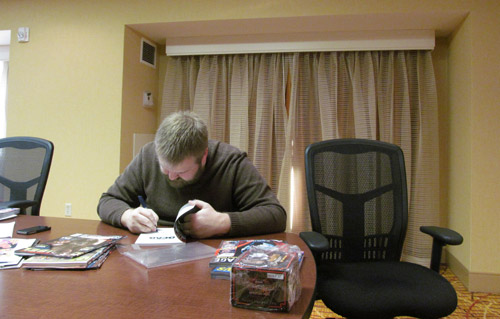 Robert Kirkman signing books for PREVIEWSworld Prize Packs.