You Can't Kill Kiani: An Interview with Vince Hernandez
Feb 01, 2012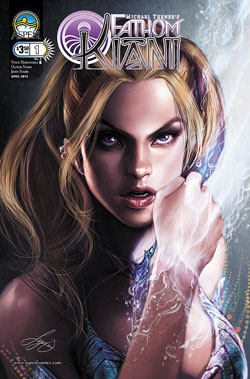 If you're a fan of Aspen's Fathom books, you know that the ladies take center stage in the series, and there aren't any exceptions to that plain and simple rule. And this fact is reinforced with news that one of the most popular characters in the Fathom universe, Kiani, is set to return to duty in the deep blue sea with Fathom: Kiani, set to hit stores this March. Aspen's Editor-In-Chief Vince Hernandez is on board as the writer for this new series, and he was kind enough to have a brief conversation with me to reveal how things will unfold, and what readers can expect to see in forthcoming future issues.
PREVIEWSworld: So, sir, how many hours of the day are spent on the clock now that you've had to do your regular job, as well as sign on board as writer for this new Fathom series? When do you sleep?
Vince Hernandez: Ha! I try not to think about the crushing responsibilities, so that way it's out of sight—out of mind. No, all kidding aside, it's not as daunting as it sounds because I've managed to find a healthy balance between working the full-time editor position and finding the time to fit in the writing. I've actually taken on three comic books as a writer: Fathom: Kiani, Charismagic, and Executive Assistant: Assassins, which comes out later this year in the summer. So, I would say I've been no stranger to heavy workloads the past year but it's all about discipline of schedule. I spend the daylight hours at the Aspen studio fielding the general editorial and creative tasks, and then come evening I'm ready to pour into the writing side of things. I have my entire year mostly mapped out with my writing assignments so it's easy to just jump onto whatever project is next on the priority ladder, and I'm very flexible with being able to adjust to whichever story I'm writing. After about seven years of this process, I feel like I really have found a groove that works for me. Plus, I gave up cable tv and Internet at home so that made a world of difference, trust me, it works.
PREVIEWSworld: Along with Aspen Matthews and Grace from Soulfire, Kiani makes up the trinity of your popular female characters in the Aspen universe. Kiani is thought to have died at the end of Fathom Volume 3. Can you elaborate on what the story is for how Kiani is now back in action?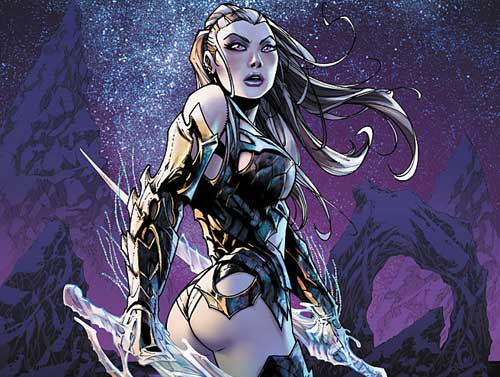 Vince Hernandez: Sure, I can give you the broad strokes so as not to give it away once readers pick up the zero issue. Fathom fans will remember that past conflicts in previous mini-series with Kiani have left her scarred both figuratively — and literally. It's the literal interpretation of that scar that I focused on in order to make sense of her return and how it would work logically. It also helped that before the story arc was planned that ended with Aspen "killing" her, Fathom Volume 3, we already had planned her eventual return as part of a grander arc that readers will see play out over the next couple of years. It's really an epic tale in scope that will reverberate for a long time in the Fathom universe.
PREVIEWSworld: From what I've learned, Aspen Comics will be running two Fathom series this spring alongside Fathom: Kiani and the ongoing Fathom Volume 4. That's a lot of irons in the fire! How do you see this affecting continuity?
Vince Hernandez: Hopefully it'll affect continuity in a groundbreaking way! I think it'll be great, fans will truly get a taste of Fathom under the surface in Fathom: Kiani, and be able to follow Aspen Matthews in Fathom: Volume 4, and they'll be able to see how both series interact with each other and ultimately ripple across the entire Fathom universe. With both series running in continuity parallel to each other, it'll mean double the Fathom action this spring, which I think can only be a good thing for Aspen fans!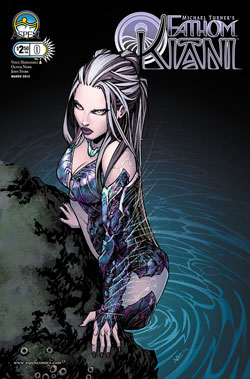 PREVIEWSworld: It's been almost 14 years since the debut of Michael Turner's Fathom. If you had to summarize the legacy Turner left behind for his creator-owned series, how would you best describe it?
Vince Hernandez: I think it's a testament to the man as a person and a creator that his creation has been able to sustain itself this long, even after his unfortunate passing. There's been four volumes, over five mini-series, and countless one-shots since Fathom first debuted. It continues to be our flagship title, which I consider high praise as we have many titles I'm very proud of. I'd say the legacy of Fathom that Michael left behind is matched only by the amazing legacy of the man himself — and that's saying something.
PREVIEWSworld: Once you wrap up your work for Fathom: Kiani, are there any other plans you have for future writing gigs? Any particular artist you'd like to work with because you're beer buddies?
Vince Hernandez: Oh, yes, absolutely. As mentioned before, I have my own series Charismagic with Khary Randolph and Emilio Lopez that will continue into the spring, and then we have some pretty exciting news about future Charismagic titles coming up. I'll also be writing Aspen's first ever ongoing series called Executive Assistant: Assassins that I'm extremely excited about. It's a realistic approach to the assassin story that focuses on some pretty dark themes like drug abuse, murder, and child abuse along with plenty of butt-kicking as well. And I also have a few other items that will be announced soon that are different in scope from a comic book that will definitely be consuming mass amounts of my time.
PREVIEWSworld: Although Fathom is the cornerstone of Aspen, you do have other projects in the works for release later this year. Could you be so kind as to give us a peek at what's down the road in late 2012?
With pleasure! First out of the gates in 2012 we have our supernatural action-adventure series Dead Man's Run, written by Greg Pak and Tony Parker that will take readers into the depths of Hell unlike anything they've ever seen before. It's in association with producer Gale Anne Hurd's Valhalla Entertainment, the talents behind the hit TV show The Walking Dead, so fans can expect serious entertainment value in this book.
This spring will see the return of both Fathom: Kiani as stated, as well as the popular hit Aspen series Shrugged by creator Frank Mastromauro. Shrugged combines action-adventure and humor and for this second volume Frank is really stepping it up to the next level on all fronts. It's gonna be a wild ride just like before!
In early summer we'll be releasing our very first superhero series called Idolized by creator David Schwartz along with Micah Gunnell. We've beyond excited for this one, as the story is really great: it's a mix of action and drama based off of the reality shows of our present, and all of the mental and physical obstacles that come along with that challenge for the contestants. Within that framework, a young girl seeks to win a reality show and join an elite team of superheroes so she can ultimately get revenge on someone from her past. So it's a great mix of dark and light moments.
Also this summer will see a huge Soulfire event called "The Search for the Light" that will span over five different one-shots that will lead directly into the exciting fourth volume of Soulfire with an awesome new creative team on the book! Aspen fans can rest assured, 2012 will certainly be the year of the dragon—actually make that dragons.
In addition to these new titles, we'll also be continuing on with our hugely popular series such as Lady Mechanika, Broken Pieces, Haunted City, and Charismagic, so there will be a steady dose of Aspen titles to choose from all this year!
Check out these interior pages from the upcoming Fathom: Kiani!