Indie Edge February 2012: Derf Backderf
Jan 20, 2012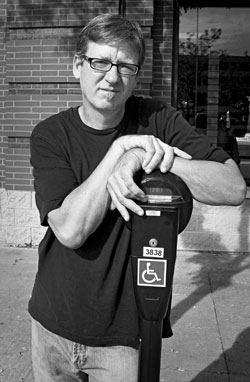 Derf Backderf is a critically acclaimed comics creator and cartoonist. Derf started out as a political cartoonist for a paper in Florida, but was fired for "general tastelessness." He found his way north to Cleveland, where he launched his edgy comic strip, The City, in 1990.
For over 20 years, The City has been one of the most-widely distributed weekly comics, appearing at one time or another in over 100 weekly papers, including The Village Voice. It has garnered numerous awards, including a Robert F. Kennedy Award in 2006.
Derf is the author-artist of three graphic novels. Trashed (SLG Publishing, 2002), is an hilarious, stomach-churning memoir of his experiences as a 19-year-old garbage man, named "funniest book of the year" by Time.com and nominated for an Eisner Award (one of two nominations Backderf has received).
His second graphic novel, Punk Rock & Trailer Parks (SLG Publishing, 2009 / JUL083615) is a raucous, fictional comedy set in grimy Akron, Ohio, at the peak of the Rubber City's famous punk rock era.
Derf's latest graphic novel, My Friend Dahmer (SC—NOV110675, HC—NOV110676) is the haunting account of his teenage friendship with the future serial killer, to be published by Abrams Comicarts in March 2012.
Current and Classic Works by Derf Backderf:
Punk Rock & Trailer Parks (JUL083615)
My Friend Dahmer SC (NOV110675)
My Friend Dahmer HC (NOV110676)
Derf Backderf, what are you currently reading?
I've been on a huge Richard Corben kick lately, just like I was at age 12 when I slobbered over the old Warren mags. How can this guy still be drawing such amazing stuff after like 50 years in the biz?! I'm not much of a superhero fan, but his recent work on Hellboy (Dark Horse) has made those books a must-read. Why didn't this guy ever draw Vampirella? That's a crime!
Hellboy Vol. 10: The Crooked Man & Others TP (FEB100044)
Hellboy Vol. 11: The Bride of Hell & Others TP (MAY118259)
Love and Rockets continues to amaze. I can only dream of being as prolific as the Hernandez Bros. Wish I could draw women like that, too.
Love and Rockets: New Stories Vol. 1 TP (MAY083866)
Love and Rockets: New Stories Vol. 2 TP (JUN090898)
Drew Friedman is on a roll. Used to be he went years between books… but he gave us two this past year: Sideshow Freaks and Even More Jewish Comedians. All is right with the world.
Old Jewish Comedians: A Blab! Storybook HC (AUG063298)
More Old Jewish Comedians HC (DEC073643)
Even More Old Jewish Comedians HC (MAY111082)