The Devil Wears Prada — But Not Kevin Mellon
Jan 12, 2012
The end of 2011 did not come with my normal string of yellow post-it notes across my monitor to remember to buy more Christmas lights at Wal-Mart. Instead, 2011 came to a close with an email from Anthrax's publicist because she liked what I had done with John Milliker in "This One Goes To 11," an article with interviews of Anthrax guitarist Scott Ian and artist Alex Ross. She wanted to know if I could say "Shazam!" again and be a superhero once more to brave yet another metal show — this time with a band called The Devil Wears Prada.
It would put us back in the trenches at The Fillmore on December 12, she explained, and there would be three opening bands before the Devil took to the stage.
The question hung in cyberspace via Microsoft Outlook. It mocked me, and taunted "Can you do it again, old man?"
I typed back "The Devil Wears Prada? Isn't that the Glenn Close movie where she's, like, Cruella DeVille? Wait. That's 101 Dalmations. But she was in that, too, right? Or did that flick go straight to DVD? Wait, is this a joke? This sounds like a joke."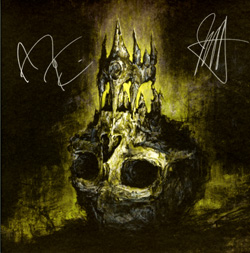 No, came the reply. It's not a joke. And Meryl Streep was in The Devil Wears Prada. Not Glenn Close. This, she explained, was a Christian metalcore band that has developed a zombie comic book and an online zombie game that could be downloaded through i-Tunes. Their new album that had just been released, Dead Throne, hit the #10 spot on Billboard's Top 200 chart, so it was safe to say that this wasn't a joke, and these metalheads were playing for keeps.
The deal was that I would get a video interview, too. The band was into comics, and they thought it would be cool to talk shop with a couple of guys in the industry. Maybe they might want to do something else with their comic and game. The whole thing was right up my alley, so did I want to go back to The Fillmore?
I typed back that my ears were still bleeding from the Anthrax show. A great gig, but I still couldn't hear right. But then, mid-typing, I stopped. Number 10 in Billboard's 200? How many up-and-coming metal bands had pulled that off? A Christian metal band at that? And they were comic fans? I couldn't get a Kodak moment in my brain. But then again, who used Kodak anymore?
I did a quick search on the Net to see what timeline was established for the group.
The answers came back fast and furious from Google and Yahoo. Alternative Press, February 2010, nominated them as band of the year. Rabid fans had propelled them to superstar status before they had even graduated high school. Revolver magazine in March/April 2010 claimed that they were "metalcore's fastest rising stars." Music Connection in August 2010 noted they had 25,000 plays a day on Myspace, and over 300, 000 followers on Twitter. Outburn magazine quoted their label Ferret Records as saying the band's album With Roots Above and Branches Below was one of the label's biggest releases.
These guys were for real, and from what I could tell were not the sort of people you'd find living the party life. No stories of destroyed dressing rooms. No TV's thrown out of hotel rooms. They were addicted Apple nerds. They were gamers. They lived on their i-Phones.
And they liked comics.
Within the hour, I typed back to my benefactor, "I'm in."
And then I pushed away from my desk and buried my face in my hands. Egads, the game was on again.
I could almost hear a chuckle from the reply email, which simply said on the monitor, "I'll make the arrangements." She then sent me a link for their Twitter page.

I bounced back onto my keyboard and fired off a tweet to my comrade in chaos. "John. Pack your earplugs. We're on again. God help us."
I sat back in my captain's chair. Then a press release popped up in my email Inbox. I was on the hook, for better or worse. It was all happening fast. A scene would play out for sure. One that would undoubtedly be too savage. Too aggressive. The name of the band itself suggested doom. I needed to get grounded. First question: what were the facts? The press release sent over said that the band's zombie comic was drawn by someone named Kevin Mellon.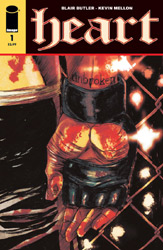 I froze. No. It couldn't be that easy. Things weren't supposed to be this easy. I turned around in my chair, grabbed a stack of alphabetized comics behind me, and flipped to the floppy from Image Comics that I had remembered was a Gem of the Month in our September PREVIEWS catalog. Heart #1. Drawn by Kevin Mellon. Written by G4TV's Blair Butler.
Bingo. Star power.

By the power of Grayskull, the story was already underway! And on the inside front cover of the comic was Kevin Mellon's email address. Life was good.
I picked up the phone and told my wife I was working late that night. I had a box full of cereal bars and a fresh pot of coffee in the lunch room, so I was good to go. It would be me and my electronic taskmaster for the rest of the night. I typed that she should send the paramedics if I didn't crawl into bed by midnight.
With the aid of angels who apparently had given me my Christmas present early, an email exchange soon ensued between myself and Heart artist, Kevin Mellon. The man seemed to be in the right place at the right time not once but twice in a short period of time. I wanted to know more, I said, and I wanted to know more in detail as I would soon interview the band that had recently hired him.
The interview went down like this:
VINCE: Kevin, right now your name is out there as the artist working with Blair Butler on Image's mini-series, Heart. Some people may not know that you did the Zombie comic for The Devil Wears Prada, as I understand it had a limited release. Is that true?
KEVIN: Well, limited is subjective to definition. The Zombie comic I did for TDWP is actually my highest print run book I've done yet, and has been seen and read by more people than anything else I've done. The limited aspect comes from the fact that it was available solely from the band and Hot Topic. It was actually pretty awesome to go into local Hot Topic stores and see displays with my work right at the counter.
V: Could you tell me how you were approached by the band to do the book? What did you think about these guys?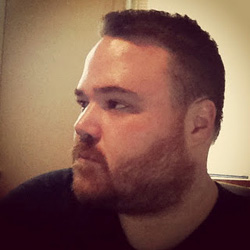 K: We have a mutual friend in journalist Caleb Goellner, he knew they were cooking up something like the comic and threw my name into the hat for consideration. I was already a fan of the band before, so I lobbied pretty hard to get the gig.
I believe in one email, I essentially said "Whatever I have to do to get this gig, I'll do."
V: From what I know, the band gave you photos of themselves to work from for character references. What other references did you use in illustrating the book?
K: A lot of military stuff. I tried to make sure that, while they are all wearing the same kind of tactical outfit, they each have different guns and weapons. It helped to differentiate their silhouettes from each other.
V: Credits say J.L. Bourne was the writer for this comic. Did he alone come up with the book's story, or did the band ever weigh in with ideas for the plot/dialogue?
K: He wrote the script, and the only thing I had to do was edit it down a little to fit the confines of the budget and printing specifics. I actually haven't asked him what he thought of the edits I made, but he did email to say he enjoyed the finished book, so… I guess he liked it well enough?
V: Was the comic done first, and then the Zombie Slay mobile game? Can you tell me how one thing led to the other?
K: I'm not exactly sure of what their internal decisions were, but I did the comic to go with the EP, and then a few months later I reached out to the band's management to see if there was anything they needed that I could do for the new album cycle/touring. They then told me about the game idea, and needless to say, I was stoked.
V: How did you translate the comic story to game scenarios?
K: Well, I didn't actually have to do that much on the story development front. Nothing at all, really. The game developers at ECHO had pretty much worked out a solid outline for the game that worked as a prequel to the comic. That's something that I don't know if most people have noticed, the game is actually a precursor to the events of the comic.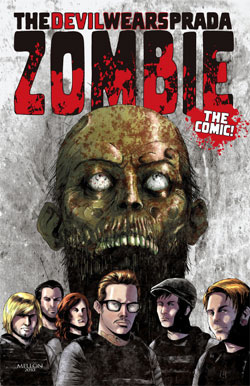 V: Which project was more challenging? The comic or the game?
K: The game was more intensive over a longer time, but they were both ridiculously challenging in a good way. The comic ended up having time working against it on the production standpoint. Because of the nature of the deal with Hot Topic coming into play, my time-table for completing the book was shortened, so that was a challenge that I was glad I was able to meet. The game was a little over 2 months of intense work, 7 days a week, 12-16 hour days.
I did almost all of the game art (some of which you see on the site and in the load screens in various ways, also). I wanted to avoid farming out, or having to bring anyone else in to do the job, so that just meant a ton of hours on my end. I'm really proud of the work I did on the game. I learned a lot, also.
V: I found you because of the work you've done on Heart with Blair Butler from G4TV. How was working with TDWP different from working with Blair on Heart?
K: Well, as different as two situations can be from each other, yet still be fun and creatively fulfilling. TDWP are a working/touring band, so most of my dealings with them have been with their management, and Mike, the lead singer. They had things they needed specifically, but otherwise, they really were great in trusting me to do my thing and deliver something they were happy with.
Blair is awesome to work with. I chose to do Heart with her because she had/has a very specific story she wants out in the world, and it's a story that I really relate to (on an emotional/life level, not so much on the punching level). She's very open to my thoughts and suggestions, but ultimately, it's her story that I'm trying to bring to life with as much energy as I can.
V: Anyone in particular you want to give a shout to who may be reading this?
K: Thanks so much to the guys in TDWP for taking a chance on me and continuing to work with me! It's been a blast and I can only hope to do more with them in the future.
With the interview wrapped up with Kevin, there was only one thing left to do: pack a case of Metamucil in my man bag, load up on crackers, batteries, and last, but not least, pictures of the family to remind me that I was married with children, and not available for the party life. After all, what if I ran into some hot groupies who fancied the old bald guy who appeared to be with the band? It could happen. This was a metal show. There would be temptresses everywhere. Sirens would call to me from atop rocks in the ocean so they could lead sailors to their deaths, and sink our ships in the ocean.
Yet when we arrived at The Fillmore two weeks later for the concert, we were met with a long line of kids who looked like they had curfews at midnight and years to go before graduation.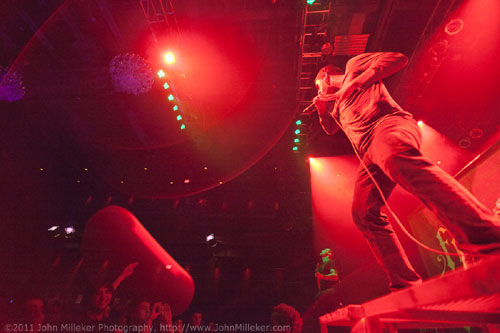 For Today kicked off the ferocious festivities.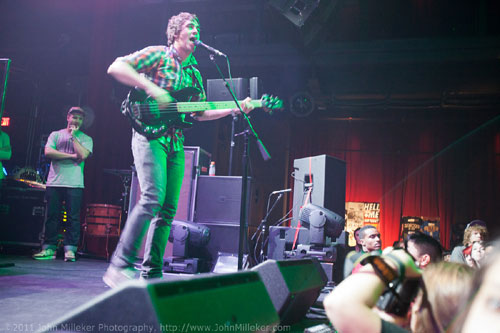 Enter Shakari brought a British brand of hardcore and electronics.
White Chapel unleashed crushing

death metal from Knoxville, Tennesse.
"We've been tricked! Lied to! Ye Gods! People will pay for this!" I shook my hand at the sky. "You hear me, Lord? Someone will pay for this! You tricked me! Oh! Ohhhhhhh!"
"No, we're at the right show, man," John was saying, fidgeting with his bags, and checking his equipment. "You're just old enough now to have kids like this call you daddy. And it wouldn't be a stretch."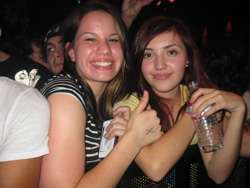 The fact was too savage. Too aggressive. I hated being 40. Rumpelstiltskin with amnesia. The metal scene had changed! These were not your stereotypical headbangers in line for a concert. No long hair. No tour shirts. No abundance of 30-something-year-old women strutting around dressed like they still had their same figures from high school. The girls in line for this show actually WERE in high school. And they were not dressed up to look like they were 30, or something. They appeared to have just walked off the school bus. And they seemed to be ... nice. Behaved. Compliant. Patient.
None of it made any sense. This couldn't be a metal show!
But before I could speak notes into my digital recorder, we were motioned at the Will Call box for our tickets, and the Tour Manager quickly appeared at the door to take us inside for our interview with the band.
The interview went down smooth as cold beer on any hot August night. Jeremy, the guitarist, and Andy, the bassist, were two of the most cordial guys you could ever hope to meet. Honest, straight-up guys with no pretension. These were not the kind of men you would expect to see in a metal band that melted glaciers. But the truth was they were in it to win it, and hoped that the integrity of the band would carry them into the future. They loved what they did, and they wanted to keep doing it. It was that simple. As was the crowd. Simple. The scene was simply nice kids that were there for a good time. All with smiling faces. Everyone seemed to be in the company of friends. The picture I took of two young ladies at the front of the stage proves it. Smiling faces. And when they asked if I could pick up their water bottles they dropped over the guard rails, they said "please."
In between sets of the opening bands (For Today, Enter Shakari, and White Chapel), parents I spoke to downstairs at the bar believed the action upstairs for the kids was a healthy one. They were there at the show to have a good time, take pictures, and tweet .jpgs through their cell phones to all of their social media soldiers. For the same price as a trip to the movie theater, one mother explained, they had four hours to spend with four metal bands. It was culture. It was exciting. And it didn't apologize for what it was: good clean fun. Despite how the music volume levels buildings and cracks the planet.
The band played several songs off of their new album, Dead Throne. They rocked hard, thanked the crowd for its patronage, and did their best to put on a show that had everyone texting before the last encore.
I then understood why Kevin Mellon listened to the band: it was high-energy music that kept you pumped and primed for the next challenge in life. If you're into hardcore, then you understand why The Devil Wears Prada has caught on, and garnered so much attention in magazines. They're good. Real good. And they move you.
I told my wife when I came home from the show that the Christmas lights were going to be a week late that year. I had a story to write about The Devil Wears Prada, and a new zombie comic that I had to find on Ebay.
"You're buying what on Ebay?" she asked.
"Zombie," I said, taking off my jacket. "The Devil Wears Prada."
"The Devil Wears Prada?" she asked. "Wait, isn't that...that Glenn Close movie?"

Concert photos are © John Milleker Photography. "Crowd surfing" photos are © Vince Brusio. All other artwork and photos are © their respective owners.
Are you following PREVIEWSWorld on Twitter yet? Follow @PREVIEWSworld