In Shops 12/21/2011: Transformers — The Death Of Optimus Prime
Dec 19, 2011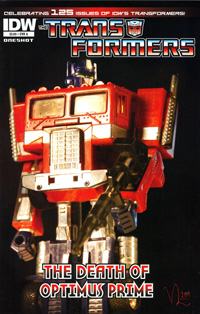 Transformers: The Death Of Optimus Prime
Publisher: IDW Publishing
(W) John Barber, James Roberts
(A) Nick Roche
(Cover) Nick Roche, Photo
Celebrating 125 issues of IDW's Transformers! After Chaos, Optimus Prime's fate was shrouded in mystery.
Was he truly gone or could there be a way he had emerged unscathed?
Now, Optimus sits in contemplation, in a place he does not recognize as home. And with the cost of the battle finally taking its brutal toll, does Optimus Prime even have the will to carry on? Chaos changed everything, and Transformers #125 sets a new direction for the Autobot leader.
Item Code: OCT110326
Price: $3.99
PREVIEWS Page #143
In Shops 12/21/2011