Indie Edge January 2012: Camilla d'Errico
Dec 16, 2011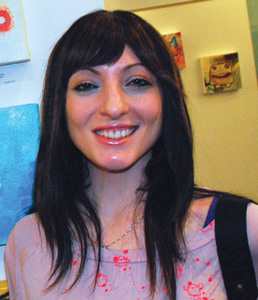 Camilla d'Errico is a Vancouver based Pop Surrealist painter and creator/artist of Camilla d'Errico's Burn and Tanpopo. She has drawn Avril Lavigne's Make 5 Wishes, Sky Pirates of Neo Terra, and her cover art can be seen on Elephantmen #29 and #41, and MySpace Dark Horse Presents Vol. 3. With a manga-inspired twist to her work, her West-Meets-East style appeals to classic comic art fans, as well as the manga loving tween/teen audience. Her art is seen on merchandise, clothing, accessories, and in the new artbook from Dark Horse, Femina & Fauna: The Art of Camilla d'Errico.
Camilla has enjoyed working with clients like Mattel, Disney, and her favorite, Sanrio, where she contributed an original painting for both their 35th Anniversary of Hello Kitty, as well as the 50th Anniversary of Sanrio. She has been working on bringing her passion project, Tanpopo, to life as a series of 10 books plus a merchandise program. Recently she was one of 8 artists who were asked to reinterpret the new Lara Croft for a digital art exhibition, which was a challenging and fulfilling project. Her participation in projects like Neverwear, where she collaborated on a Neil Gaiman short story, "How to Talk to Girls at Parties" by illustrating an original poster, in addition to anthologies like the recent Transmetropolitan Art Book, Womanthology, and Fractured Fables, have been highlights in a career marked by art and comics. She often contributes original art and live painting panels to the CBLDF events and auctions.
Currently, Camilla is working on Tanpopo, new Sky Pirates of Neo Terra web comics, as well as gearing up for a solo exhibition to be held in Tokyo in May 2012 in the new Leonardo Da Vinci Museum.
Current and Classic Works by Camilla d'Errico:
Tanpopo HC (JAN12 0963)
Camilla d'Errico's Burn (JUL091031)
Femina & Fauna: The Art of Camilla d'Errico HC (OCT100044)
Camilla d'Errico, what are you currently reading?
Camilla often reads manga, and some books she's reading now include IDW's Kill Shakespeare, Image's Elephantmen, and Oni Press' One Soul. She would also suggest David Mack's Kabuki series, and Image's Green Wake. Of course, she also recommends reading Burn, and Sky Pirates of Neo Terra!