This One Goes To "11": How Testament and Anthrax led to an Alex Ross Interview
Nov 23, 2011
If someone asks me what I did on 11/11/11, I'll say that I spent it writing this article. Yes, while metal heads around the world rejoiced at Rick Rubin's press conference that announced the reunion of Black Sabbath for a new album and world tour, I typed on my PC about how the stars lined up for me to play a new version of the Six Degrees of Kevin Bacon. I'm calling my version The Six Degrees of Alex Ross.
Here's how it worked out.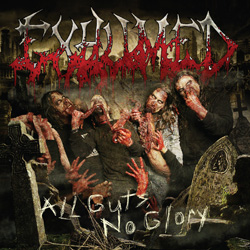 1st degree: In my spare time, I had interviewed Matt Harvey from the band Exhumed for Relapse Records because the band had just released their new CD, All Guts No Glory, which featured them in makeup provided by the folks who worked on webisodes of The Walking Dead.
2nd degree: Matt Harvey was a friend of Will Carroll in Death Angel because they were both comics fans, and Death Angel was on tour with Anthrax and Testament, and Scott Ian from Anthrax had appeared in the same makeup for his appearance in a webisode of The Walking Dead.
3rd degree: The Walking Dead (zombies) were the subject of Anthrax's new CD cover, Worship Music, which was illustrated by Alex Ross. Nick Barrucci from Dynamite Entertainment was looking to promote his new art book, The Dynamite Art of Alex Ross, which was shipping in November, the same month Death Angel, Testament, and Anthrax would be playing at The Fillmore in Silver Spring, Maryland (only an hour from my home).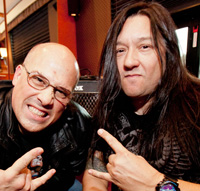 4th degree: Testament is signed to Nuclear Blast, and their label manager always said I had a pass to see the band as he knew they were one of my favorites, and he knew the band's guitarist, Eric Peterson, would like to talk to me as Eric was a comic fan that dreamed of doing his own Testament comic. When I called the label manager to ask if I could go to The Fillmore show to meet Eric — and possibly meet Scott Ian from Anthrax all in one night — he said it could be arranged.
5th degree: Nuclear Blast put me in touch with Anthrax's publicist, who agreed to let me do a phone interview with Scott Ian and get some of his Lobo: Highway To Hell TPs signed while I was at The Fillmore show. That commitment allowed me to call Nick Barrucci at Dynamite Entertainment with my idea for an article, which would tout Anthrax's relationship with Alex Ross (and further tout his upcoming art book) provided I could get an interview with Ross himself.
6th degree: Nick Barrucci lines me up for an interview with Alex Ross, and here we are today reading about how there's something about the universe and how it's all connected by the power of email, Twitter, and Facebook. And, friends, when you see that connection, you can find yourself at the center of the universe talking to a rock legend one minute, and the Norman Rockwell of comic books the next.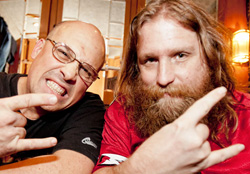 Okay, so the Six Degrees of Alex Ross is a little off kilter from the original Kevin Bacon premise.
But that's why it doesn't have its own Wikipedia page yet. I'm still working on it.
But God bless the Internet, and God bless The Walking Dead because, before I knew it, my friend and professional photographer John Milliker and I were at The Fillmore in Silver Spring doing what we had just done in September at the Ram's Head Live! for Within Temptation.
We had full access to rock music maestros Eric Peterson and Will Carroll, talked with them, took their pictures, shook their hands, and enjoyed a concert that you never forget, and don't want to forget.
Death Angel burnt us to a crisp.
Testament scattered our ashes to the wind.
Then Anthrax picked up the ashes, put them in a beer glass, and set the glass on top of an amplifier that was turned up to "11."
Their original singer, Joey Belladonna, had rejoined the group after a 20+ year absence, and their new CD Worship Music had brought back anthem rock.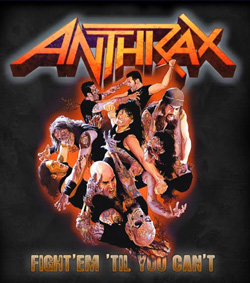 The new song from the CD which they performed at The Fillmore that first had everyone pump their devil horns into the air was "Fight 'Em Till You Can't"— the same song's that had Alex Ross do an additional painting for the band (on the CD's inside cover) which showed the group fighting for their lives against zombie doppelgangers.
My phone conversation with Scott Ian confirmed how Alex Ross and Anthrax had that kind of communication going for the past 10 years as Alex had become pretty good friends with drummer Charlie Benante.
Alex's art has graced not only Anthrax's CDs, but a DVD and merchandise as well.
I asked Scott if it was Charlie that lead the charge on working with Alex regularly for cover concepts, or if Scott and other members of the band get to chat with Ross and hammer out ideas.
"Uhm, mostly Charlie," he said. "But even with Alex it's kind of like...he usually has his own ideas, you know, for things. And...well...heh...we really don't need to tell Alex Ross what to do. I work with Alex Ross because he's... Alex Ross.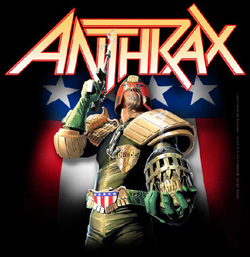 "So, generally, he'll have a concept for something, and then he'll start doing some sketches, and send them our way, and then maybe we'll give some notes one way or the other. But, you know, you don't go to Alex Ross to tell him what to do. It's kind of like, let's work with Alex Ross because when it comes to art...he's on the highest level. And we want HIS brain. You know what I mean? We want HIM to come up with something amazing."
I could relate, I said. It was like, how does one go to Paul McCartney and tell him how to write a song?
It was something maybe only one or two people in the world could do with any amount of confidence.
And with the topic of confidence, I asked Scott about his own level of confidence in his last work for DC Comics, Lobo: Highway to Hell (which he conveniently signed for me at The Fillmore).
"It looked like you were having a lot of fun when you were laying out the script," I said.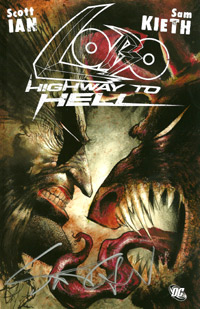 "Yeah, well, I figured, my Lobo, why wouldn't he be into pop culture? He's a worldly kind of guy, and I wrote him kind of as myself. Except I'm not a murderer. So, everything else, though, a guy like that would certainly be into heavy metal. The book kind of takes off in my world where he just has some down time, and he's catching up on things he's been missing. Much like Lemmy, he loves to play the trivia machine when he's just hanging out at a bar, so he fancies himself as quite the pop culture expert."
"Have you ever thought about doing an Anthrax comic?" I asked.
"Yeah," he said. "It gets brought up to us here and there. It's something that in my mind I would think, well, yeah, it would be super cool. But what that book would be I have no idea. Someone would have to come to us with an idea that we actually thought was killer, and was able to then run with it, because none of us are certainly in a position at this point to have the time to do it right. I mean I barely have the time to do anything outside of being in Anthrax. It's obviously a full-time thing. It's something I would love if the version of an Anthrax comic would be something closer to Love and Rockets where we're not superheroes or anything. Someone should just come on tour with us and write about the day-in and day-out minutiae of being on tour. It could be interesting."
Scott then added before we ended the interview that DC must have liked what he did because he had been approved to another comic, this time writing a story about The Demon.
"With a cover by Alex Ross?" I asked.
"Ah...no. No." Scott said flatly.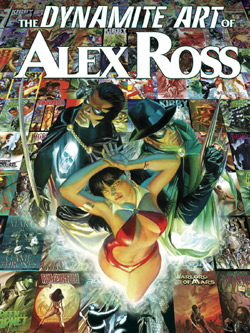 To which, I learned, was true because Alex Ross is quite busy these days doing a lot of work for Dynamite Entertainment.
Which now causes us to shift gears.
So if you think what Alex did for Anthrax's Worship Music is top-notch, you'll see that you barely scratched the surface once you check out The Dynamite Art of Alex Ross in a comic shops near you as of November 30th.
True to his word, Nick helped me connect with Alex Ross to pick his brain a bit, and try to find out how among all of the work he does in comics he finds time to do work for bands like Anthrax.
It turns out that Alex is quite the connoisseur of music, and is quick to talk about what tunes make him tick.
I first wanted to know which bands inspired him artistically.
"The Beatles, Queen, Badfinger, the Monkees (yes, really), the Who, XTC, and on and on. There's a lot of obscure stuff that's also influenced me as well as many contemporary bands, too."
Could he tell his fans which album covers inspired him artistically?
"Aside from the Queen II album cover, I think the Sgt. Pepper album cover is one of those obvious things that also helped inspire my Kingdom Come type of covers. I once did a blatant rip-off of a back cover image from the German-speaking band Laibach for a cover of a Universe X Fantastic Four one-shot called simply Four."
I then asked if he would he like to know which bands are inspired by his art, and appreciate him as much as he appreciates their music.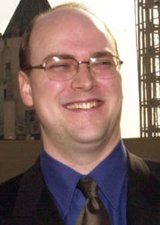 "Sure, I'd love to know," he said. "The only one I'm aware of is that the band Barenaked Ladies did a photo cover that was (as I was told) inspired by my compositional style."
"Given that Todd McFarlane has worked before with bands like Korn and Pearl Jam," I said, "What would be your dream opportunity to work with a band of your choice?"
"Actually, in this case, I always hoped for the opportunity that passed me by when a band who seemed to have some love for comic artists doing their covers broke up before I could reach out to them. The band was Kula Shaker, who did at least two albums with comic art -- one from Phil Jimenez and one from Dave Gibbons. I absolutely adored their music and would have loved to have worked with them. That being said, I've loved the times I've been able to work with Anthrax."
"Last question," I asked, "Could you tell us about your relationship with Anthrax, and how you communicated with one another while you worked on the cover art for Worship Music?"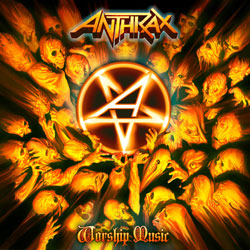 "I've worked with Anthrax for almost ten years now, and it's been a great relationship, since I've become pretty good friends with Charlie Benante. He lives in the same general area I do, so we get together annually at least and talk on the phone relatively often. Charlie approached me about the new album almost three years ago, when they were first putting it together. The painting was done that long ago, but slightly different than what you see now. The figures swarming around the central image were actually swarming around an old Victrola record player that was playing a record with the Anthrax "A" logo on it.
"It was decided this year, in fact, to alter that to be a large version of that emblem. It does work better that way. My inspiration in the painting came in part from an old MAD comic book cover from the '50s. Mainly, I was working to bring to life Charlie's vision for the cover graphic, and I did a T-shirt image for them earlier this year of them all fighting zombie versions of themselves, which you can see in the CD package."
And so the circle was complete. Anthrax and Alex Ross. A famous thrash band and a famous artist. A unique synergy, to say the least.  And it's one that works. I give many thanks to the people who helped make these interviews possible. Given that Black Sabbath is reuniting, and Todd McFarlane once published an Ozzy comic, maybe my next article will be called "The Six Degrees of Ozzy Osbourne."
Vist the official Alex Ross web site.
Death Angel & Anthrax photos are © John Milleker Photography. Testament photos are © Vince Brusio. All other artwork is © their respective owners.