The Evolution of Ferals: An Exclusive Interview With David Lapham
Oct 21, 2011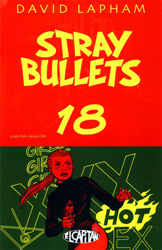 David Lapham cut his teeth on his indy book Stray Bullets, and he hasn't stopped his verbal rampage since he moved on to other projects. David has been tearing things up recently for Avatar Press with Caligula and his Crossed books Family Ties and Pychopath. Now the writer has some more red meat to chew. In this PREVIEWSworld interview, we look inside the mind of David Lapham to find out more details about his latest ongoing Avatar series, Ferals.
**********

Please tell us a little bit about yourself – what are your favorite projects you had an opportunity to contribute to over the past decade?
I've been doing this since 1991.  I started at Valiant Comics where I got my chops.  First as an artist then writing.  In '94 My wife Maria and I started El Capitan Books to publish my creator owned and most known work Stray Bullets.  Since then I've worked at most every company in comics.  Including this one Avatar where I've seemed to have produced some very horrific comics, which is a good thing when you're doing horror comics.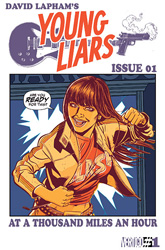 As far as favorite projects there have been so many, but I have to highlight the ones that are closest to me which are Stray Bullets, Young Liars which I created wrote and drew for Vertigo, and an original I created for Avatar which I can't tell you the name yet but it's is a twist on the noir, private detective genre, and I can't wait till we can announce it.
On other stuff I've had some great collaborations with artists.  David Aja on Wolverine, Patrick Zircher on the first Terror Inc. series I did.  (The good one.)  And Leonardo Manco on Damaged. Among MANY others. 
What comics are you reading – are there any you are really excited about and enjoying right now?
Scalped I love.  That's the one I look forward to.  Great noir from Jason Aaron and R.M. Guera's such a damn genius.  I hate that guy.   Love and Rockets is always great and forever classic.  
Everyone is excited about your new project, Ferals.  What can you tell us about how this story came to be?
William Christensen wanted to do Ferals, a new take or twist on the werewolf idea.  I don't want to reveal too much but the idea was to take this to a big place.  We hashed it around and I took off from there, brought the ideas together into a general concept. Then got into the fun part of creating my characters and towns and story arcs and all that good stuff.  What excited me most was the idea that once we got started that this was my world—total world to create and take wherever the concept led.  That element is going to let us give the reader an experience they haven't seen before and don't expect.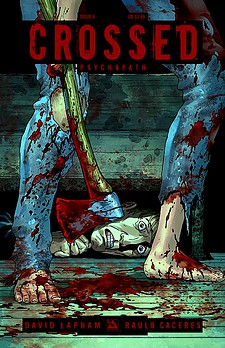 With the success of Crossed: Psychopath and Caligula, how does Ferals fit into the dark storytelling you've build a legacy upon at Avatar?
Again it's a horror book.  Plenty of dark twisted tales.  The real trick is to not just make Crossed with fur.  This book has a totally different story feel.  It's ongoing and we're following certain characters that we'll come to know and see evolve through the series.  Don't worry, it's plenty dark and twisted, but instead of tales of the dark side of human nature where the Crossed are more a force of nature than actual characters, this is about a new type of being that exists in our world, The Ferals, and they are real and do have their own culture, their own thoughts, history and plans.
What are two things every comics fan should know about David Lapham?
That I've never killed anybody, and I'm smart enough to deny everything.  A third thing is that I can fly.
Ferals is being called "supernatural crime horror" by reviewers.  Are there any comparisons to your award winning series, Stray Bullets?
Well, first off Stray Bullets was the purest form of me, so everything I do has elements of Stray Bullets because Stray Bullets is what I do.  But yes there's more of a noir sense in this and a cast of characters that extend from a small town domestic setting.  It starts with small town people with their own little Peyton Place dynamic and a small town cop, named Dale Chesnutt whose a charmer and a womanizer and a screw up and he suddenly IS hit by the Stray Bullets and finds himself in a whole new world.
It seems like the story for Ferals is built upon a strong and dynamic character driven drama.  Will we be following the cast for multiple story arcs as they develop in this new world?
The Dale Chesnutt character is probably the main character, and he'll be central at least for a while.  I reserve the right to kill anybody at anytime—and deny all responsibility.  But right now I'm liking Dale.  Other characters will add in around him and we'll follow their stories as well.  There's nobody that's safe though.  Plenty of people we'd like to follow will unfortunately meet a bad and bloody end .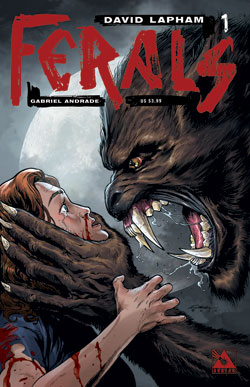 The Ferals aren't exactly "werewolves" – what can you tell us about these creatures and how they differ from classic lycanthropes?
Without revealing too much, this isn't a take on the mystical werewolf, full moon and all that.  This is about a different kind of person.  There are different forms to them but they don't change back and forth like the Hulk.  A person who is feral could be your neighbor and you wouldn't know it.  He doesn't change when he's pissed or when the moon is full.   The basic form starts with the idea of Alpha male on crack.  There are several other tricks up a Feral's sleeve, and we'll see that and some other more altered forms of the Feral condition, but we'll save that for the comics.  The classic werewolf is about a monster.  A monster story.  This is a drama and a noir where the Ferals are a very real thing.
Do the Ferals represent the animal nature of man and are you telling a deeper story about the violent tendencies in the human race?
No.  They're who they are.  Their nature is their own and a byproduct of their tradition and condition.  They don't represent regular human beings.  They might, however, be telling a deeper story of what happens when you stick your nose into other people's business.  This is about live and let live...or die horribly.
What is your favorite scene from the first issue of Ferals?
I was very happy with how it started the Chesnutt character and the dynamic of the small town really came together right off the bat.  My favorite scene is the morning after Jackie and Dale sleep together, when Jackie meets the Feral Wolf.  I think the suspense pulls together everything that has happened in the story and it's a great horror scene.
If you could speak directly to the Avatar fans and comic book retailers, what would you tell them about Ferals and why they should join in for the ride?
If you were longing for an HBO series about werewolves, forget that and buy Ferals.  It's everything that TV show would be if it existed — which it doesn't — and more, because we have no rules.  This is a solid series full of true horror and violence, and built on strong characters that has no limits in terms of where we take it.  No limits.  Plus Gabriel Andrade's art, besides beautiful, is immersive.  This guy was built for an ongoing and this series will suck you in.