Jam Session: An Interview with Rocker/Writer Tom Morello
Oct 06, 2011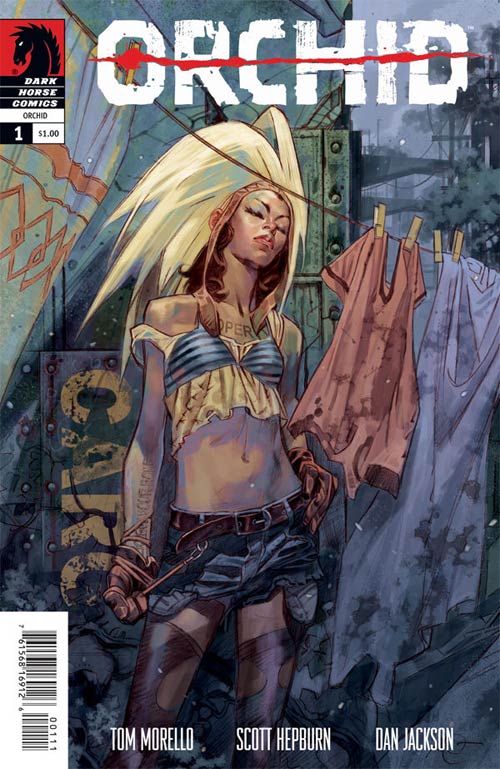 Grammy Award-winning musician Tom Morello has made a name for himself in music with his guitar solos, riffs, and tapping in famous bands like Rage Against the Machine and Audioslave and in his solo performance as The Nightwatchman.
Now the guitarist brings the same level of creativity to comics, telling an epic fantasy story infused with his worldview in Dark Horse Comics' Orchid.
Orchid #1 (AUG110011), carrying a cover price of $1.00, is on sale October 12, issue #2 (SEP110024) continues the exploration of this post-apocalyptic world in November, and issue #3 (OCT110028) is offered in October's PREVIEWS.
Taking some time from his rock- and writing-filled schedule, Morello talks about using the talents he's fostered as a musician to create his first comic, one filled with social commentary and action, in our exclusive interview.
"I love the idea of exploring and creating new worlds, and digging around in the silt of my own physique for twisted characters and plots," Morello says here.
To get more of the creator's insights, read on. No backstage pass required!


---
PREVIEWSworld: What would you say were the influences for Orchid – either in or out of comics? 
Tom Morello: The influences were the epic, heroic sagas – Lord of the Rings, Star Wars, Dune, Stephen King's The Stand. But then also movies like the Battle of Algiers and gritty tales of political terrorism. I wanted to make an epic story arc that was infused with a class consciousness. 
PREVIEWSworld: When did you first come up with this idea? How long have you been working on Orchid?  
Morello: It's been ruminating for about three years. I had the idea to tell this story of a 16-year-old street prostitute that becomes this "Spartacus of Whores." And I didn't want to be another Hollywood jackass with a screenplay, and given my busy rock life, I didn't have time to sit down for a stretch and write a 700-page novel. So I tapped back into my love of comics, which I had as a kid and a teen, and found that over the course of the last five years or so, comics had come a long way. 
PREVIEWSworld: "Spartacus of Whores" is a really great hook. Can you talk about the character a little bit? Who is she, and what inspired her? 
Morello: Sure. She's someone at the absolute bottom of the economic and social ladder. In this dystopian future, it's no longer the "haves" and "have-nots," it's "have-nothings" and "have-everythings." And the have-nothings are the Bridge People, which live in the wet, overcrowded, drug- and crime-riddled shanty towns that are modeled after the slums of Manila. I spent some time in the Philippines with my rock band, and that's like the most abject poverty I've seen, and that's the world of the Bridge People.  
This is the world Orchid is born into, and she's a 16, hard-as-nails street prostitute that only cares about providing for herself, her little brother, and mom. Then she gets swept up into this almost imaginary rebellion. This is a world in which a major revolutionary upheaval has happened and failed, and it's this small group of 20-somethings that are basically playing at rebellion that she gets swept up into, and it ends up changing her life pretty dramatically.
PREVIEWSworld: How did you decide you wanted to bring this particular book to Dark Horse? How did you get hooked up with them?  
Morello: Through Gerard Way – who's the singer of My Chemical Romance, a friend of mine, and also, of course, writes The Umbrella Academy. This is a 12-part story arc, and I'd sent him the 30-page outline, and he liked it and was kind enough to pass it along to [Editor] Scott Allie at Dark Horse, and they were interested in pursuing it. So that's how I was introduced to Dark Horse, and I've had a great relationship with them. I think they were also intrigued by the idea that there was going to be a musical component to this book. With every issue, there is free, new Tom Morello music as a soundtrack or as a musical score to each comic.
PREVIEWSworld: Talking about the music aspect of things – obviously that's a big part of your life and an interesting part of this. How did you decide which tracks made sense for the comics, and what sort of music are people going to get with Orchid?  
Morello: Well, I have a pretty extensive experience in scoring films. I worked on the score for both Iron Man movies, and I've scored or worked on the score of about a dozen major pictures. So that is a bullet I have in my clip. The idea with this was to apply that to my own work. The song that is free with the first issue of Orchid is probably the only real rock band song of the 12. It's a song "It Begins Tonight," which is also on my new Nightwatchman "World Wide Rebel Songs" record. The idea was to tie those two worlds together – to let people that are interested in my music know that, yes, there is a comic; let people that are interested in the comic know that yes, he is a musician. 
And beyond that, it will all be instrumental score for the rest of the book. One thing I like to do with my guitar is make it sound like things other than a guitar, so I'm going to be twisting and bending that electric guitar and Marshall Stack into a variety of atmospheric sounds and textures to paint the picture of the world of Orchid.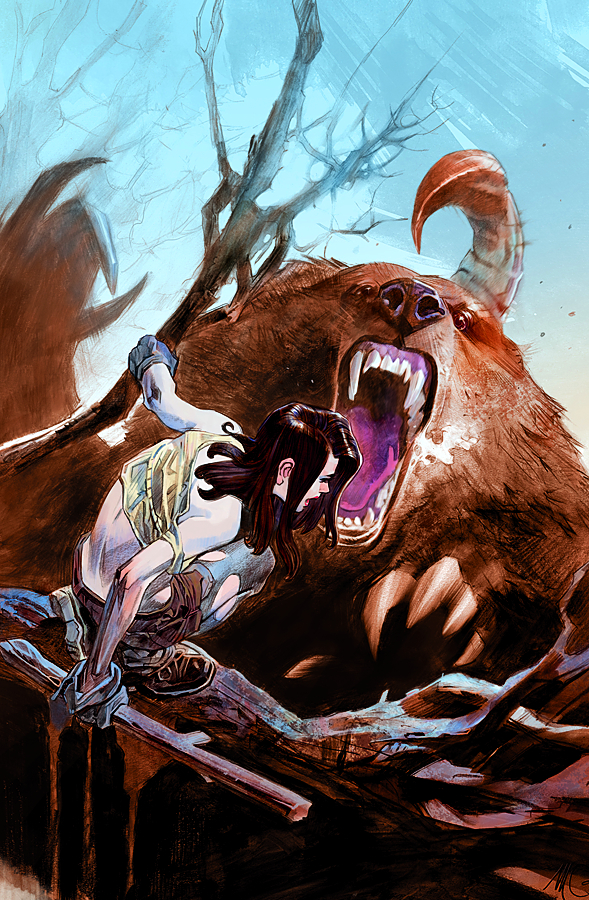 PREVIEWSworld: Music is obviously a collaborative thing, where you're working with band mates, and so is comics in a different way, where you're working with artists and editors. How did you decide on Scott Hepburn, who's illustrating Orchid, and how would you say the collaborative processes of making music compares to that of making comics? 
Morello: You've asked an excellent question, because it is very analogous. The chemistry you have with a rock band, when it's good, is all-important. Any idea that one band member has is transformed through the chemical process of playing together – and it's an idea that, hopefully, grows to be better than the sum of its parts. It's very much the same in comics.  
We looked for over a year to find the right illustrator for Orchid, and some very major comic artists threw their hats in the ring, but we didn't have the right chemistry. After really going down the aisle to the alter with a couple of guys, we decided this wasn't right for this particular project. Scott, the first thing he did was send sketches for three of the characters, which I thought were just brilliant. We got on the phone, and he had all these ideas for fleshing out the world, and he was thrilled about making this world come to life. Our creative process has been inspirational to me. Because, as a first-time comic writer, I had a story and the characters all lined up in a row, but making that story come to life panel-by-panel...Scott has been very crucial in doing that.  
We've been doing Orchid in arcs of four issues, and so, say, for the first four issues we'd spend a couple days together in person examining all the plot details to make sure it was congruous, and anything I had overlooked we examined closely and figured out. And then Scott and I will take issue one, and say, "This action will take two pages," and "This action will maybe take five pages." And Scott will draw thumbnails based on our conversations, we'll discuss those, and from those thumbnails I'll write the actual text.
PREVIEWSworld: What's been the most exciting surprise for you as far as writing a comic book goes as opposed to putting together music or any other creative work you've done before? 
Morello: Well, I've always had a vivid imagination, and have been known in my circle of friends as a storyteller since I was a kid. [Laughs] So the idea of getting to use those storytelling abilities in a medium that's different from song writing has been very exciting. I grew up a comic book geek, man. I was a huge Dungeons & Dragons dungeon master, and a Star Trek fan. My geek passport needed more pages. I've always had an imagination that could not be contained to the narrow suburb I grew up in, or even the political and rock life that I lead now. I love the idea of exploring and creating new worlds, and digging around in the silt of my own physique for twisted characters and plots.
PREVIEWSworld: You have a lot of different music projects you're working on – stuff for The Nightwatchman, and Rage Against the Machine, and others. You're obviously a very busy guy. When do you find time to write? Is that something difficult to do? 
Morello: I also have two children under two years old that I'm raising, too. [Laughs] So you're right. My plate is quite full. But I find the writing process to be tremendously enjoyable. It's both a Zen affair and a great challenge, too. I have to divide my time accordingly between raising my children, rocking the planet, and writing the comic; but I have a studio which I record in that's also my writing studio as well, and it gives me a place to hide away from family and musical obligations. In the course of the day, I'll take between two to six hours in the middle of the day during the kids' nap time, head up to my studio – the blissful silence of my studio – and just delve headlong into [writing]. It's something that I have to do with complete attention focused on the comic. It's not something I can do between phone calls or Blackberry texts. 
PREVIEWSworld: That said, some people can write while on a plane or on a bus. Are you someone that needs to be in a particular space, with a certain amount of time set aside for writing? 
Morello: I can do the peripheral stuff on a plane or on a bus, like the proofreading or something like designing scimitars or things like that, but for the actual dialogue and panel-by-panel [storytelling] I have to do that in like a hyperbolic chamber. [Laughs] 
PREVIEWSworld: There are a lot of poetic lines in Orchid. Just you're opening line is a good example: "When the seas rose, genetic codes were smashed." There are a lot of almost-lyrical lines in this. Do you think your music career is going to make your voice a little bit stronger than somebody else's voice? 
Morello: I have a tremendous amount of experience creating excitement and drama in my music, and I've tried to apply those skills to the comic. From the lyrical poetry of The Nightwatchman to helping to craft an experience with Rage Against the Machine or Audioslave that is one that can invigorate a stadium, I try to weave that in. That's something that's in my artistic DNA, and that's something I'm certainly not going to leave out when it comes to writing. I'm also a fairly well-read gent. I graduated from Harvard University with honors in Political Science, and I'm also a big fan of world literature. And I've also drawn from my Kenyan heritage and some of the Kenyan folk tales as well to pepper the story. I'm all in with Orchid, you know what I mean? There is no branch of my experience I'm leaving out.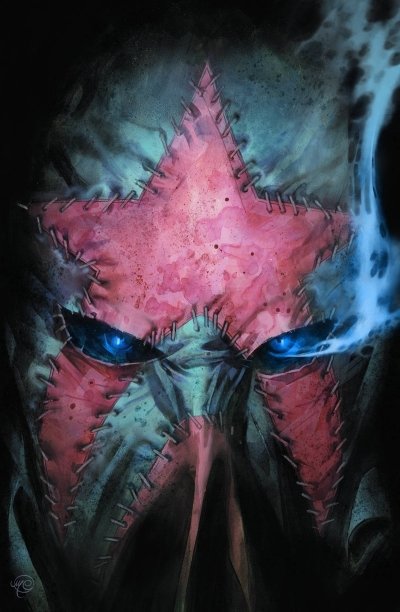 PREVIEWSworld: Can you talk about any promotional ideas you have for this book. Are you going to be doing any convention appearances or have any comic shop appearances coming up? 
Morello: I'm signing and performing at New York Comic-Con. I'm going to be doing a couple signings there and also be performing a Nightwatchman show. And then, yeah, there are plans to do a number of signings. I know we're going to do a big one in Los Angeles. Also, schedule permitting, when I do my touring in the cities, there's time to kill, and I'm very open to doing comic signings when I'm on the road. I think that's a great way to meet both comic and music fans and meld those worlds together.
PREVIEWSworld: You mentioned Lord of the Rings, Dune, and a lot of other influences earlier. If we were going to say that if somebody liked X, they'll probably like Orchid, would you point to the books you mentioned as being X? Any comics you'd point to? 
Morello: I'd say there are certainly elements from V for Vendetta and Red Star – which is a graphic novel that's very important to me. If you and I were riding in an elevator, and I had to give you the elevator pitch, I'd say it's somewhere between Lord of the Rings and Battle of Algiers. The two elements are the epic story arc with battles, and escapes, and cool monsters on the one hand, but then the gritty class warfare and politics of street terrorism on the other hand.
PREVIEWSworld: Is there a site, Facebook page, or Twitter account we should point out for people that want to follow Orchid stuff online? 
Sure. All Orchid stuff is directed through nightwatchmanmusic.com. 
PREVIEWSworld: I think that was the last question on our end. Anything else you'd like to point out? 
Morello: Yeah. The Shepard Fairey variant cover for issue #1 was very exciting. It was very exciting to get Shepard to do that. He's been a friend for some time, and the fact that he used his considerable talents to help with the comic was pretty awesome.  
And one thing I emphasize – I emphasized it at Comic-Con – is I'm writing this. It's not a vanity project. It's not a side project or a dalliance. I love doing this, and I'm fully committed to it. I frankly drive some of the people at Dark Horse crazy; I'm so detail-oriented. It's like "You have to approve the cover today," and I'm like "Mm…but the scimitar's not just right," or "I need more of a shadow on the guy's face." [Laughs] This is something I care about very deeply.
Orchid #1
Publisher: Dark Horse Comics
(W) Tom Morello  
(A) Scott Hepburn
(C) Dan Jackson
(Cover) Massimo Carnevale
(Variant cover) Shepard Fairey
From the mind of musician Tom Morello (Rage Against the Machine, Audioslave, The Nightwatchman) with art by Scott Hepburn (Star Wars: Knights of the Old Republic), Orchid is the tale of a teenage prostitute who learns that she is more than the role society has imposed upon her. When the seas rose, genetic codes were smashed. Human settlements are ringed by a dense wilderness from which ferocious new animal species prey on the helpless. The high ground belongs to the rich and powerful that overlook swampland shantytowns from their fortress-like cities. Iron-fisted rule ensures order and allows the wealthy to harvest the poor as slaves. Welcome to the world of Orchid.
Item Code: AUG110011
Price: $1.00
PREVIEWS Page #24
In Shops 10/12/2011
Download the preview
PREVIEWSworld filmed Tom Morello at the Dark Horse panel for this year's San Diego Comic Con.