God Save The Queen (and their comics)
Sep 26, 2011
What started with the Within Temptation article has since become a snowball of questions from people through social media. The record label Nuclear Blast linked to our article about how the band was getting involved with a new ongoing comic, and since then we've been getting questions from people about what other kinds of comics are in circulation for rock bands.
Over the past weekend I replied to a dozen or so emails, but the one that stood out the most was about
Queen
. Were there Queen comics?
I'm sure the question was sparked by the recent Google video. It was only a few weeks ago that Google posted an animated video tribute to Freddie Mercury, as he would have been 65 on September 5.
It was a moving tribute to the late great Freddie, and the song they chose for the animation apparently struck a chord as "Don't Stop Me Now" was the Queen song that was once again made famous a while back when it appeared in the now classic zombie movie, Shaun of the Dead.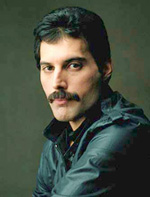 Maybe that was the connection? Queen. Zombies. Zombies are hot in comics again because of The Walking Dead, which is coming back to AMC with the show's second season. The domino effect can go in any tangent (and I'm sure it can all be linked back to Kevin Bacon somehow) but the point is that everyone knows that Sacha Baron Cohen has been signed on to star as Freddie Mercury in a new biopic, and so two-and-two had been put together and the question was were there Queen comics? Were they in circulation? If not, when were they published? Could you buy them online?
And the answer is…see "all the above."
In 1992 Revolutionary Comics published Rock 'N' Roll Comics – Queen, and Hard Rock Comics - Queen: A Night at the Opera. Then, in 1993, the publisher added Rock 'N' Roll Comics - Queen's Greatest Hits to its lineup of titles. But in 1999, it added Queen: Those Magical Dreams That We Shared based on Queen... As It Began (the official biography by Jacky Smith and Jim Jenkins. 
For those of us not lucky enough to have these comics come on our radar (because smart phones weren't as commonplace back then), we may have been fortunate enough (guilty as charged) to have picked up the Rock 'n Roll A Cartoon History Volume 2: The Seventies from Re-visionary Press. That TP gives a lengthy discussion about how Freddie, Brian, Roger, and John started out small, but went on to became a music juggernaut known for it's hedonistic parties.
And, because I was nice enough to convey this information to someone on a Saturday afternoon, I was rewarded with further news about digital comic publisher Dog Star Comics, which had "just released Black Opus Vol. 1 by Donnie Lee, R. E. Brown, and Howard Daniels, which features a story inspired by a Freddie Mercury biography."
Moreover, I was told, Freddie seemed to have been reincarnated recently, as some talented individual  was making the round on Ebaum's World and YouTube because he could be found singing "Somebody To Love" in his flat. And the gent sounded just like the legendary Queen frontman. No joke.
And here my wife argues to this day that reincarnation is bunk.
And, again, I will tell her she's wrong. Don't believe me? Watch this video.
So now it's up to you, people, to check out web sites like Ebay or
Queenpedia.com
to get those out-of-print Queen comics, and to visit the official Queen
web site
to contact the remaining members of the band and tell them to hear this guy singing in his apartment.
We miss you, Freddie.
God save the Queen (and their comics).