Indie Edge October 2011: Alex Segura
Sep 23, 2011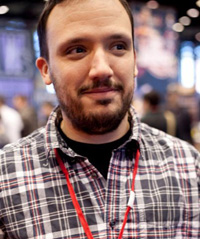 Alex Segura is the author of Archie & Friends #156, "The Great Riverdale Comic CON" and the upcoming "Archie Meets KISS" storyline starting in November's Archie #627 (see Page 229).
Alex has also written two crime novels and is working on a third. You can also find his work in the DCU Halloween Special 2010 in a story titled "Flash for Frankenstein." Guess which characters are in it?
Alex has worked in comics for over a decade, currently serving as the Executive Director of Publicity and Marketing at Archie Comics. Before coming to Riverdale, Alex served as Publicity Manager at DC Comics and was a daily blogger at The Source.
Alex has also worked at Wizard Magazine (Associate Editor), The Miami Herald (online news editor), Newsarama.com (freelance writer/editor) and various other outlets and websites.
Alex lives in New York City and was born and raised in Miami, FL. He is in a band — Faulkner Detectives — and has a cat named David Byrne. Seriously.

Classic Works from Alex Segura…
For Your Reading Pleasure, Alex Segura Recommends These Personal Favorites…
I just finished re-reading Return of the Dapper Men (SEP100782) from Archaia, by writer Jim McCann and artist Janet Lee. Superb stuff — it stands out and creates a world all its own in a few pages… really lovely, distinctive stuff. Stumptown (OCT108157), by Greg Rucka and artist Matthew Southworth, is a piece of excellent crime fiction: flawed protagonist, great gritty art and surprises at every turn. Just good, good stuff. And if you want a dash of creepy Twin Peaks-esque horror, then track down writer Ben McCool and artist Nikki Cook's Memoir (collected edition TBA) from Image Comics. Hard to put down — I know I couldn't.