Indie Edge September 2011: Craig Yoe
Aug 19, 2011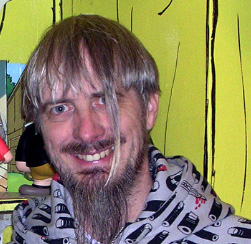 Craig Yoe has been called "The Indiana Jones of Comics Historians."
Yoe lives in a comics and art-filled castle outside of New York City with his wife, newborn son and countless cats.
Yoe has 6 patents in his name for toy inventions and his design and cartooning clients include Microsoft to MTV, where he created an animated station ID that was the heaviest rotated in the network's history.
Yoe has a life-long passion for the history of comic books and comic strips, and has won many awards including the Eisner, The Gold Medal from the Society of Illustrators, and the Mobius.
To learn more about Craig and his works, visit YoeBooks.com.
Classic Works from Craig Yoe…
| | | |
| --- | --- | --- |
| AUG100382_hi_ARCHIE_CELEBRATION_OF_AMERICAS_FAVORITE_TEENAGERS_HC" width="165" /> | OCT090994_hi_COMPLETE_MILT_GROSS_COMIC_BOOK_STORIES_HC" width="165" /> | SEP090893_hi_ART_OF_STEVE_DITKO_HC" width="165" /> |
| Archie: A Celebration of America's Favorite Teenager (AUG100382) | Milt Gross: The Complete Comic Books & Life Story (OCT090994) | The Art of Ditko (SEP090893) |
For Your Reading Pleasure, Craig Yoe Recommends These Personal Favorites…
I wish I knew more about animation. I do know that the Looney Tunes cartoons are the funniest cartoons of all time. So I have been greatly enjoying reading Insight Editions' The 100 Greatest Looney Tunes Cartoons (MAR101241), edited by Jerry Beck. I read the fascinating commentary on each cartoon and then watch the 'toon cited on dvd — what a treat!
People who know me, know that I'm a sucker for a well-drawn sexy girl. And nobody draws the female form better than Dean Yeagle. Yeagle is a master pin-up cartoonist and I buy each and every one of his books and delightedly pore over them. A great start is the recently updated Melange: The Art of Dean Yeagle HC (MAR111381).
When I worked on Archie: A Celebration of America's Favorite Teenager,it cemented in my mind what a brilliant artist and humorist Bob Montana was. So I really love IDW's Archie: The Complete Daily Newspaper Strips—1946-1948, featuring Bob Montana, and edited by Greg Goldstein.