Garth Ennis' "Stitched" Released On DVD
Jul 27, 2011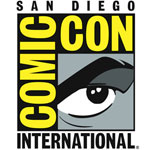 It was Wednesday night. 11:30. The scene (of course) was the San Diego Comic Con, and my job was to cover the entertainment, the masses, the announcements ... even, if need be, flying sharks that threatened people at Diamond's PREVIEWS booth.
But a rare opportunity presented itself after my wife and I left the BOOM! Studios party. Something that required re-scheduling. I ran into Jim Kuhoric, Vice President of Publishing at Avatar Press. We used to work together at Diamond, but now he was the man of speed at Avatar who worked hand-in-hand with President and Publisher, William Christensen.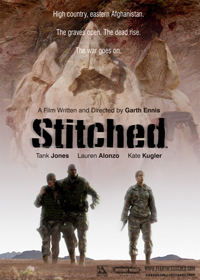 Jim and I found ourselves at the same party: his. Or, rather, Avatar's.
Jim had the job of helping to promote Garth Ennis' new 15-minute movie, Stitched. As he explained to me, Stitched was about three survivors of an American helicopter crash (played by actors Tank Jones, Lauren Alonzo, and Kate Kugler).
These soldiers had to make their way across the high mountains of Afghanistan. They were banged up with no food or water, they didn't have a first aid kit, and they had the fun job of crossing through Taliban-controlled territory.
Not exactly a day at the park with the family.
But that wasn't the worst of it: they were going to discover something worse than enemy fighters: they would have to face a murderous, unstoppable, supernatural power.
Jim explained he had just coordinated things with his Director of Sales and Marketing, Keith Davidson (also a Diamond vet), to set up interviews for me with the cast and crew of the movie, which was premiering at the Comic Con Thursday night. I could film and record my interview, and I might even get a free moment with Garth himself.
It looked like the gods were in a good mood that night. I had just finished off a great dinner, successfully Skyped with my son and daughter, and had finished taking my pictures of the Exhibit hall before the close of Preview Night. I was on a roll, it seemed. On schedule. On target. And now I had just been told that this little piggy would go to market for an exclusive interview with actors and film director, Brian Pulido. Not bad for one night in San Diego. A Grand Slam in twenty-four hours.
"Where do I sign? Who do I have to mug?" I asked.
Jim grabbed a table with me, my wife, Keith, and Jacen Burrows. Armed with drinks, Jim soon gave me the details on what room I should visit to make the press junket on Thursday night after dinner. Top floor of the convention center. Room 6. Be there at 7:30, or 7:00 pm if possible.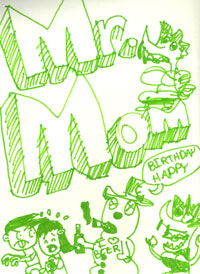 I turned to my wife to tell her I needed to write down the room number on a napkin, but she was already engaged in a conversation with Jacen. Here was a guy that had just wrapped up Neonomicon with Alan Moore, but was now generous with free advice for my son who, my wife explained, wanted to be a cartoonist some day, and make a living of it. He had already started his own strip for the web, Mr. Mom. Jacen was advising her to load up my son, Joey, with as many art classes as possible in school before he stopped abruptly … and then pointed over my shoulder.
I turned around to see that Stan Lee had just sat down in the chair behind me. A random act of coincidence. But nevertheless, mindblowing.
"I'll take that as a good omen," I said. Then I headed to the bar for a beer. While I waited for drinks, I rehearsed in my head that I was technically at the party for business, and that it wouldn't be a good idea to geek out and see if I could shake Stan Lee's hand when I got back to our table.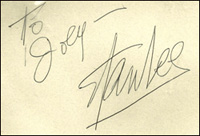 But by the time I got back to our gang of five, my wife, Julie, had already introduced herself to the Godfather of Comics to confess that a Spider-man poster was in our son's bedroom.
The Man who gave birth to timeless Marvel characters listened while he simultaneously whipped out a pen and scribbled on a piece of paper,"To Joey, Stan Lee."

"Definitely a good omen," I said, and walked past them to sit down at my table for what seemed like a front row seat at the Super Bowl.
**********
The interview with the cast revealed that Ennis had decided psychology was important prep work for the actors if they were to get properly into character. The British soldiers were isolated from the American soldiers on the set so as to purposefully make them feel alienated. They were made to live like soldiers. Train like soldiers. Roll in dirt like soldiers. And dirt was even packed underneath their fingernails so as to make them understand what it was like to live without indoor plumbing.
These folks were very friendly, polite, and articulated how Ennis was very precise in what he wanted from them, and why. Costumes had to be perfect. Soldiers had to hold guns like soldiers, not actors.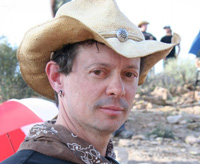 After this interview, I was then able to speak with the production crew of Mischief Maker Studios, among them Producer Brian Pulido, and his wife Francisca Pulido.
They were kind enough to share a few words with me on how things get underway for the film, and how they went about finding the location for the project.
You can hear the interview as an .mp3 file by downloading it here.
The interview went on for about 10 mintues before William Christensen came along to signal that the film premiere was about to get started in Room 6DE. And with that nod, they, the cast, and Garth (who had been in the same room with all of us) had to be scooted out to attend the screening, and then go to a press conference afterwards.
I was content. But Jim Kuhoric wasn't. He was determined to let me have my minute with Garth.
"Come to the Avatar booth tomorrow at 10:30 am," he said. "I'll set this right for you."
And he did.
The next day, at the Avatar booth, William Christensen was asking Garth to stop signing lithographs with a Sharpee so that I could get an exclusive sit-down, and write about how Stitched would soon launch as a comic book series from Avatar Press after the debut of the DVD.
Garth looked at the pile of work in front of him and said, "Right. We're not exactly small press here."
William motioned to forget the stack. "We can make time for this," he said.
And with that, Keith Davidson managed to materialize from thin air to grab the Flip Cam from my hand, and film my interview with the man who has easily become one of the biggest rock stars in the comic book community.
Check out the interview below.
Since I had a chance to interview these wonderful folks, the word has gotten out on Avatar's Twitter account that "Mike Wolfer's been working furiously on the Stitched ongoing series. Superb, atmospheric artwork, with expanded content beyond the film." Something Mike will undoubtedly expand up on when he appears at the Avatar booth for this year's Baltimore Comic Con (where Stan Lee will once again make an appearance for the fans). And something which I intend to expand on later on our own Twitter feed and Facebook page.
No doubt a lot of work is going into the comic, as the same amount of dedication went into the DVD movie.
Here's hoping Mike, Garth, and the rest of the Stitched gang have a wild rollercoaster ride with this new war/horror hybrid, that's soon to deliver a new flavor of chaos comics and cinema.