Old City Blues: An Interview with Giannis Milonogiannis
May 16, 2011
Gainnis Milonogiannis is the creator of Old City Blues, a cyberpunk webcomic whose first episode will be put into print for the first time by Achaia Entertainment. Since 2006, Milonigiannis has been creating short story webcomics. Old City Blues however, is Milonogiannis' first book and where we see his aptitude for the industry really shine through. Dramatic black and white scenes combined with a manga-esque artist style, and filled to the brim with action and intrigue; make Old City Blues a comic you won't be able to put down.
To get ready for the release of his comic this summer, Giannis Milonogiannis spoke with us about how he views the comic world, how Old City Blues got started, and even cheesy 80's sci-fi detective stories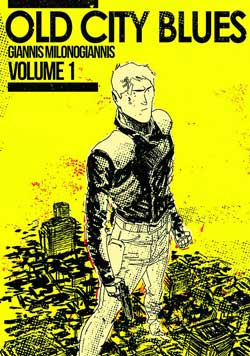 PREVIEWSworld: What inspired you to create Old City Blues (OCB)?
Giannis Milonogiannis: OCB exists mostly because submitting art samples to comics publishers was a dead end for me. After doing that for a while, I realized it was a waste of time, and decided to write and draw my own full book, not intending to pitch it unfinished anywhere, instead giving it out online for free in its entirety. That was the main drive behind actually putting the work into making OCB.
PREVIEWSworld: Archaia will be publishing OCB, how did that partnership start?
Giannis Milonogiannis: You could say the Archaia partnership is a result of good timing and blind luck. I'd put OCB up online as a webcomic and had submitted that to Archaia, who happened to stumble upon the project on their own in the meantime. I say this a lot but, from personal experience, I've come to understand that the best thing you can do to improve your work and get it noticed, is to throw it up on the internet for free.
PREVIEWSworld: You said that you only started drawing comics in 2006. What were you doing before that and why did you start?
Giannis Milonogiannis: Before that I was mostly a slacker teenager, I suppose. I'd been drawing comics for fun as a kid, just like everybody did, but I only started seriously studying and drawing comics in 2006. Can't say I'm exactly sure why I started making comics--drawing stuff was the only thing I was ever any good at, so it made sense I'd go after that as a career.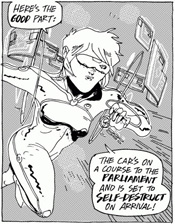 PREVIEWSworld: There is a consistent Asian influence on your work in Aptera (Nausicaä) and OCB (Hayashi Corporation). Having been born in Maryland and then living in Greece, where did that influence come from?
Giannis Milonogiannis: I've been into Asian cultures (pop and otherwise) since I can remember myself, with Japan being the most obvious influence in my work. Growing up with the internet gave me access to all kinds of art from around the world I never would've been exposed to without it, so you could say most of the Japanese influence comes from being able to find Japanese comics, movies and music online.
A lot of my favorite things also concern themselves with Japan and the Orient, too, so the influence goes beyond the direct fascination with the cultures of the Far East.
PREVIEWSworld: OCB incorporates a lot of different technology. What sparked your interest in incorporating cyborgs into the plot and where did you get your inspiration for all the different technological pieces in the book?
Giannis Milonogiannis: From the very beginning I knew I wanted to include stuff like robots and cyborgs in the story. The relationships between humans, cyborgs and robots are a staple of science fiction in general, and especially cyberpunk, and I realized early on that I wanted to do my own take on the subject and see what happens. Looking back now, I think Asimov's Robots of Dawn had a big part in including a cyborg murder in OCB. Most of the technology in OCB is visual-- I really have no idea how most of its future mechanics actually work. I'm more interested in making the story interesting to follow and look at, and the different kinds of high-tech-looking elements help achieve that. I'm really not one of those people who go to extreme lengths to make sure all of their technology and science would actually work in reality.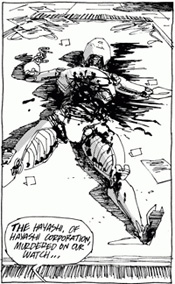 PREVIEWSworld: Who do you think influenced you the most in creating OCB?
Giannis Milonogiannis: The most obvious influences are probably Masamune Shirow, with his Ghost in the Shell and Appleseed comics, and early cyberpunk authors like William Gibson and Neal Stephenson. I could go on forever mentioning things I like, but those seem to be the most-recognized influences in my work. With OCB I tried to channel all of my favorite things, most of which are cheesy science fiction detective stories from the 80's.
PREVIEWSworld: You go from a dune-esque sci-fi desert epic to a cyber punk thriller riddled with technology. How are you able to make such a complete 180˚ and create two completely different comics?
Giannis Milonogiannis: I'm not particularly good at staying focused on one thing for too long-- I get bored of working in one style for extended periods of time, so it's enjoyable for me to change it up every now and then. Trying different story directions, art styles, even drawing tools, is a good way to keep the drawing process interesting and fun.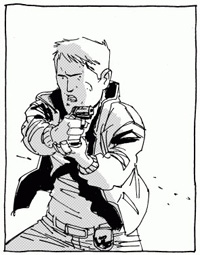 PREVIEWSworld: If OCB's audience could come away with one message after reading it, what would you want that to be?
Giannis Milonogiannis: That action comics can kind of be thought-provoking, too. I don't know if the story itself tries to make any sort of cohesive point, but there are sprinkles of reflective dialogue in the book that could make a reader pause and consider some of the aspects of this future world -- or, one could ignore those entirely and just enjoy the action.
PREVIEWSworld: With so many police thrillers out there fighting crime, how do you intend to make OCB stand out?
Giannis Milonogiannis: There are lots of great police thrillers out there, sci-fi ones even-- it's great to be considered part of that genre! I guess what sets OCB apart from other police comics is the combination of the manga influence and the nostalgic 80's cyberpunk feel. 
PREVIEWSworld: How did you come up with your characters? Do you model them off of people you know in real life or do you pull them out of your brain like some type of magical hat trick?
Giannis Milonogiannis: A little bit of both, probably. Some of the characters are modeled after actual people, others were created to help the story move forward, and some just happened to exist in the comic since the beginning. Like the main character, Solano, who I don't recall ever actually "creating" -- he just happened to be the starting point when I was first laying the story for the book down. Even though most of the characters are abstract creations, it's fun to hear people say they are reminded of actual persons when looking at them.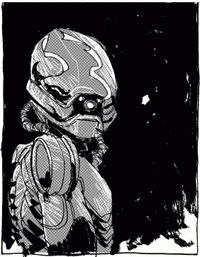 PREVIEWSworld: OCB is a high-action black and white comic. Do you think that lends something to OCB that wouldn't be there unless it was black and white?
Giannis Milonogiannis: I'm a firm supporter of the idea that "less is more", especially in comics. Over-rendering your art and overdoing the colors and shading can end up making your story seem static and stiff. Black and white comics might sacrifice a lot in the way of detail, but keeping the art simple is one of the surest ways to keep your panels flowing seamlessly. Fast-paced action comics really work best for me in black and white. 
PREVIEWSworld: OCB is your first book. Now that you've got the ball rolling do you have any other storylines you'd like to pursue?
Giannis Milonogiannis: Definitely. It might take a while to figure out the best course of action when it comes to further OCB stories and other comics in general, but there's a whole lot of New Athens left to explore. The plan for further OCB stories is to switch to a more concise, to-the-point style with the writing. If things go as planned, the next book would feature 2 self-contained stories, instead of a single story told in chapters, as with the first book.
PREVIEWSworld: What is one thing that not many people know about you, but you wish more people would know?
Giannis Milonogiannis: Most people are not aware that I also make music on the side -- although, to be fair, I haven't been very vocal about that in the first place. Anyone interested in ambient, post-rock-whatever instrumentals is welcome to visit my music site, where I put out the better of my musical efforts.
To learn more about Giannis Milonogiannis and Old City Blues visit: http://www.oldcityblues.com
Old City Blues HC
Publisher: Archaia Entertainment Llc
(W/A) Giannis Milonogiannis
Item Code: APR110780
Price: $14.59
PREVIEWS Page #225
Download a preview of Old City Blues here.